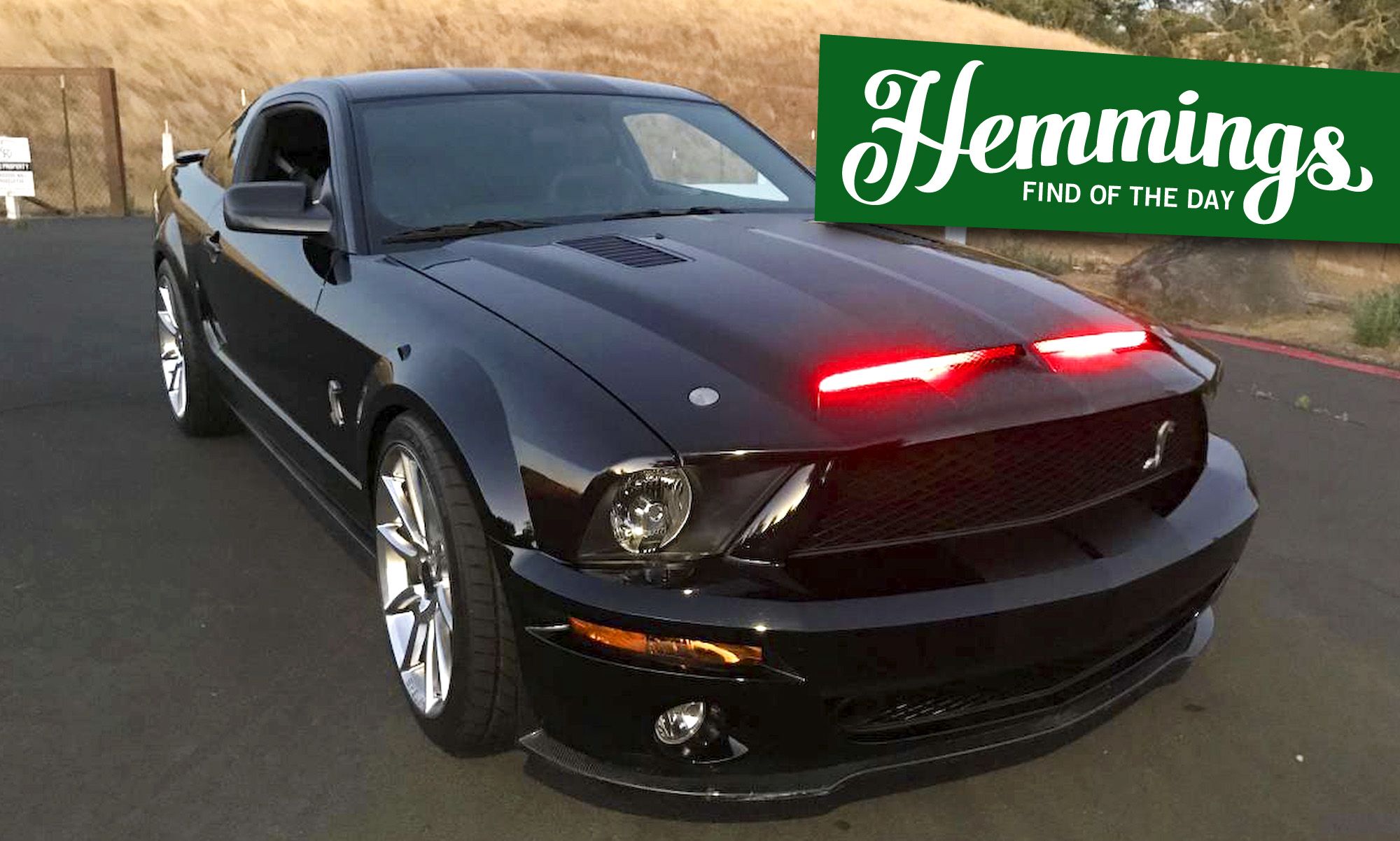 Hemmings Find of the Day: Knight Rider KITT 2008 Ford Mustang
Did you ever want to own KITT? No, the other KITT, but still an actual KITT and not a clone. This is the car from the 2008 TV movie that turned into the single-season, 17 episode series. It's a 2008 Ford Mustang for sale Hemmings.com. From the seller's description:
The original KITT from the 1982-1986 Knight Rider television series was a highly modified Pontiac Trans Am. For the 2008 TV reboot of Knight Rider, NBC requested a new KITT. NBC worked with Ford to make a custom Mustang to be the next KITT (Knight Industries Three Thousand).
This one-of-a-kind 2008 Ford Mustang was the primary car used in the 2008 Knight Rider NBC TV movie that served as the backdoor pilot for the rebooted television series. It was the primary hero/screen-used car and was used for most of the filming of the TV movie and for the publicity tour, including being on NBC's The Today Show. This car has not been modified since it left the studio. It only has 1885 original miles!!
The car was patterned on the upcoming Shelby Mustang GT500KR that was not ready for market at the time. Ford took a stock 2008 Mustang GT and turned it into a GT500KR with some one-off features. The car has a Ford Racing Whipple supercharger bolted to a 4.6L V8 engine that produces 400+ horsepower. It also has an automatic transmission that is preferred for stunts and for actors to concentrate on their lines. Other added studio equipment includes a Ford Racing handling package, high-flow Ford Racing X-pipe with Ford Racing mufflers with stainless tips, 6-piston Brembo brakes, genuine Shelby GT500 fiberglass hood, front carbon fiber and rear fascia, spoiler, 20″ forged SVT Shelby aluminum wheels, matte gray LeMans stripes, matte finish rocker panels, and most important, the K.I.T.T. sweeping red LEDs inserted into the hood scoop. The interior was completely modified with custom racing seats, Momo U-shaped steering wheel, deleted radio and temperature controls (to fit the computer screen), super computer in the rear with special molded fiberglass rear back seats, and a center console that hid the automatic shifter so it looked like K.I.T.T. was actually driving.
The car was signed by Val Kilmer, voice of K.I.T.T.; Rebecca Holden, actress; Paul "Billy" Campbell, actor; Ann Turkel, actress; Catherine Hickland, actress; Don Shanks, actor; Michael Scheffe, K.I.T.T. designer; Don Peake, music score for Knight Rider; Jack Gill, stuntman; George P. Wilbur, stuntman; and James A. Smith, stuntman. The car is street legal and registered in California but does not have airbags or HVAC controls (removed by production team). The car was recently serviced and has 1,850 original miles and has a clean title. It passes California Smog, etc. I would rate the condition of the car a 9 out of 10–it's beautiful and needs nothing!
More info on the TV show is here:
https://www.nbc.com/knight-rider
Provenance of this car:
https://www.barrett-jackson.com/Events/Event/Details/2008-FORD-MUSTANG-GT-KITT-FROM-KNIGHT-RIDER-63909
Price
$44,000
Location
Pleasanton, California
Availability
Find more Ford Mustangs for sale on Hemmings.com.