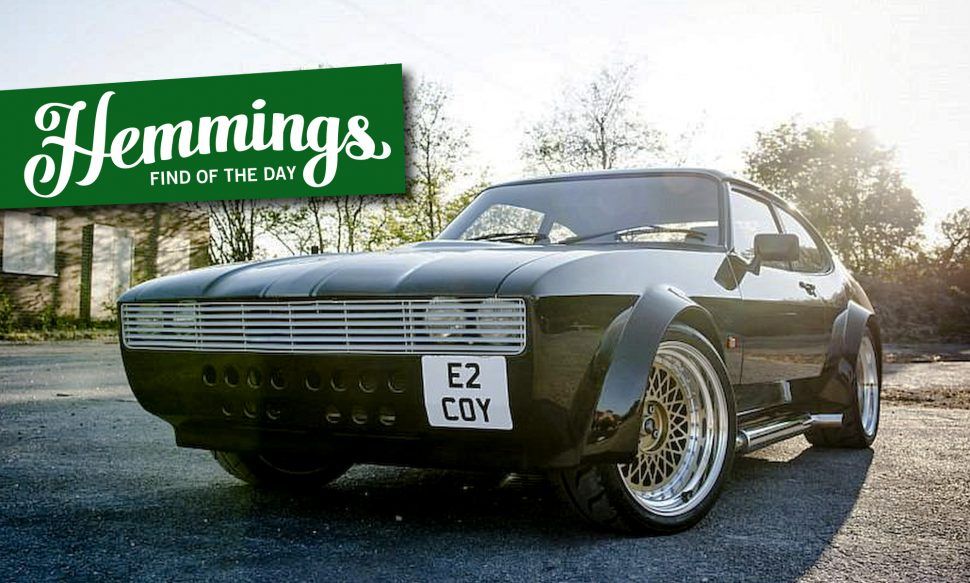 Hemmings Find of the Day: 1987 Ford Capri with Coyote V8
Coyote-powered 1987 Ford Capri for sale on Hemmings.com. From the seller's description:
This 1987 Ford Capri Coyote V8 is one of a kind.
It was built for a TV series called Goblin Works Garage. It was sponsored by Quest and Discovery Channel. It has appeared on Motor Trend US and Velocity US.
First appeared on TV in the UK in January 2018.
Genesis.
The Capri started out its life as a Black MK3 2.8 injection – Ford Europe model. Built in Cologne Germany. It has a meticulous document history file when it was in it's pre modified state.
The original car was faultless, fabulous bodywork and a perfect blank canvas for a daring project such as this.
The V8 Capri project was one of 6 undertaken by Goblin Works and the consensus is that the Capri was the publics favourite.
The TV episode could have easily been a 2 hour programme to enable Capri buffs and engineers the facility to gorge themselves on the whole build. Be that as it may, when TV and advertisers call the shots – you get what you get.
So, the car was sketched out and agreed to be built as a V8 with the Ford Coyote 5.0 V8 motor as used in the 2017 Mustang 500 GT.
I can provide a full SPECIFICATION sheet for a genuine buyer.
The car was completed inside of 6 months or so. Total costs as of November 2017 – £55,000.gbp
Since then another £2000 has been spent perfecting the car for every day use and driver comfort.
The Capri on it's debut did a 12 second 1/4 mile at Santa Pod, with 2 people in it.
The top speed according to calculations is just over 170mph. Realistically less than this though.
WHY?
Why build it, why buy it?
The brief was to make a Capri like no other. Mission achieved!
Make it go like it looks and engineer it professionally – Mission accomplished.
Why buy it?
Well, I was smitten in the first 2 minutes at NEC Classic Show, "it had me at Hello"!
I took it out in May 2018 to it's first 2 shows just as a chance to stretch its legs. Never entered in any competition as such.
However, it won Gold at Capri Club Nationals and Best in Show at Pure Ford Castle Combe out of 500 amazing Fords.
It won Best Modified Capri in Luxembourg 2018. Top 5 Modified Ford at Modified Nationals Stoneleigh April 2019.
What next?
Well, if you are the one person in a million that would want this creation – call me and have a chat. Can't hurt.
As a rider I would say that this car is serious metal. It is not for the average Capri or classic car owner. It may look a bit stealth but it is pure adrenaline and in the wrong hands a WMD.
Car is based in U.K. and can be viewed any time by an agent on your behalf.
Specifications for Ford Capri 5.0 V8 Coyote
Engine: Ford Coyote (Mustang) crate engine 435BHP 32valve 4 cam V8. With Ford Racing ECU and wiring loom.
Exhaust: Custom stainless steel dual side exhausts, V band connectors. H balancer pipe
Fuel System: Bosch -048 (GPA) HP pump, BF Goodridge braided lines throughout, alloy fittings.
Cooling: Bailey 4 core alloy radiator with custom Bailey alloy header tank.
Transmission: Tremec T3550 manual 5 speed, hydraulic clutch.
Atlas rear axle with ZF LSD, HD (large spline) side gears, 3.44:1 ratio, semi floating hubs with 2 piece half shafts. Custom Bailey-Morris single piece propshaft.
Brakes: F- Wilwood 310mm rotors with 4 pot alloy callipers, R- Ford Cosworth spec rear disc conversion, Comp brake adjustable bias top mounted pedal box, new copper brake lines throughout. Brake pads CarboTech XP8. Twin compact brake servo.
Suspension: R- single leaf 146LB de-cambered rear springs, bilstein dampers, F- Bilstein struts with 250LB 2-1/4 springs. adjustable ride height.
Wheels & Tyres: Front- BBM 3 piece 'BBM 19′ 9Jx18 (unique build for this car)
TOYO R888R 255/35-18 tyres, Rear- Image 3 piece 'BBM' 10.5Jx18 with TOYO R888R 295/30-18 tyres.
Steering; Capri power rack. Special pump and aluminium reservoir.
There is a Heidts PS101 – power steering bias valve (adjustable from cockpit) to permit full power or limited power steering according to driver preference.
Battery: fitted into side pod in boot area.
Security: Central locking and Thatcham approved immobiliser.
Performance: Max theoretical speed 171mph @6500rpm, Standing 1/4 mile 12.1 seconds
Interior: Original interior, seats and door cards re-trimmed – same carpet and headliner because it was in such good condition.
Capri original dash. Clocks have silver faces. Radio is genuine Capri. It is fitted but not wired in.
Exterior: Original colour was black – re-sprayed in black with a satin grey GT stripes. Added wide wheel arches to house huge wheels and tyres, bumpers removed front and back giving the Capri a new face and rear end.
Capri has an E reg age related number that is be-fitting the Coyote Capri creation. Original number retained to help with full doc history.
It has a custom grill with removable headlight covers (to make it road legal) and a custom front panel with swaged holes to let in more air allowing cooling of that Coyote as much as possible.
Price
$38,500
Location
Bridgend,
Availability
See more Fords for sale on Hemmings.com.