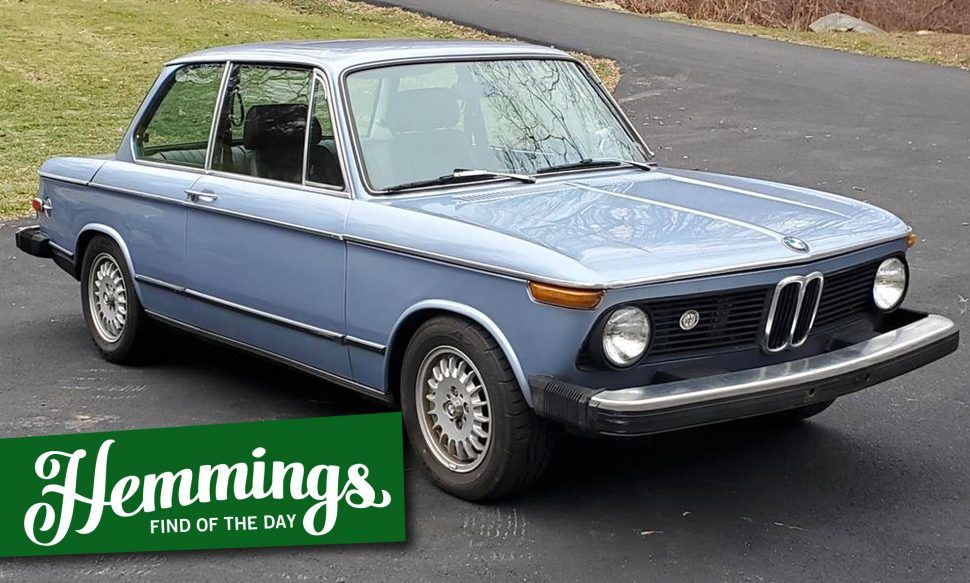 Hemmings Find of the Day: 1976 BMW 2002
It's a 1976 BMW 2002 for sale on Hemmings.com. From the seller's description:
Very Nice 1976 2002 E10 Fjord Blue. Original 4cyl. M10, 4 speed manual.
Upgrades include: Weber carb conversion, E21 Recaro seats, E30 bottle cap wheels, Momo wood steering wheel, electric radiator fan, twin tube Koni shocks with H&R springs, Poly bushings and Petronix breakerless ignition. Options include factory sunroof and air conditioning (deactivated, parts included). Speedometer shows 94K, but has been replaced several times, therefore total mileage is unknown. I have maintenance and restoration receipts totalling over $34K from previous owners in VA and MD. Recent maintenance includes valve adjustment, filters, new clutch and brakes. Carpeting and door seals also replaced. Very nice crack free dash. Tires are Falken Azenis 195/60 R14 with 8/32 tread remaining. Additional items include front and rear Coco mats, dash cover and full all weather car cover.
This is a nice solid, well driving 2002 with no major issues.
Price
$14,900
Location
SHERMAN, Connecticut
Availability
Find more BMWs for sale on Hemmings.com