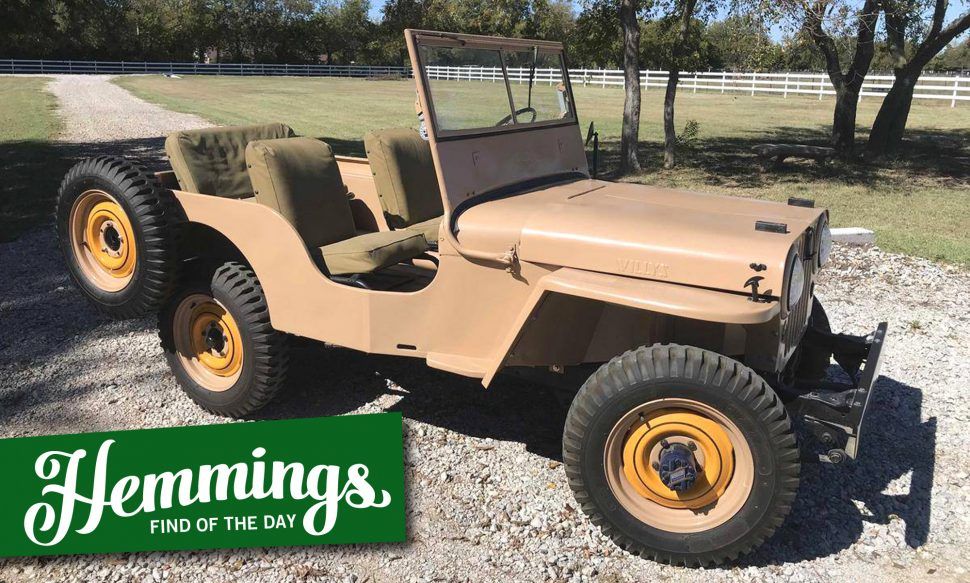 Hemmings Find of the Day – 1946 Jeep CJ-2A
Restored 1946 Jeep CJ-2A for sale on Hemmings.com. From the seller's description:
This beautiful 1946 CJ-2A has undergone a frame-off, nut and bolt, rotisserie restoration. This is a very early civilian version, identified by square windshield plates, column shift, tool indents, frame tag on the outside of the driver front gusset and three data plates on the dash.
This Willys Jeep CJ-2A was from a Kingman, Kansas flying service where it was being used as an airport tug. Everything was original, uncut, matching numbers and well preserved in several coats of orange paint. The frame tag, dash data plate and the Willys body tag are each numbered 17968 and correctly located. The motor number is CJ-2A 18464. The AMC numbers on the tailgate and front gusset are matching and both read 8620.
All documentation regarding the rebuild including receipts and notes is included with the vehicle in its restoration notebook. The engine has been professionally rebuilt by Vilas Motor Works of Bryan, Texas. The transmission and transfer case were shipped to Herm Tilford – aka 'Herm, The Overdrive Guy' in Brush Prairie, Washington where they were also professionally rebuilt.
The body was completely media blasted and rusted panels removed by drilling out rivets with a rivet extraction tool. New body panels from Krage Motorsports were then welded into place and include the front floorboard with hat channels and the right rear quarter panel.
Meticulous care was taken through extensive research to identify correct paint color for each component. The Harvest Tan was mixed using the original color found inside the headlight rings (a small section of the original paint has been preserved inside each ring for posterity). Wheels were painted to match very early advertisements and photos in the rarely seen two-tone configuration – Sunset Red surrounded by Harvest Tan with hand painted black pin stripes. Paint is a catalyzed 3-part Polyurethane Acrylic by Matthews.
The electrical system has been gone through and components rebuilt (starter and generator) and replaced with period correct items where needed including a replacement wiring harness from Walck's.
New period correct components include radiator, NOT tires, water hose kit and tubes, air hoses, generator arm, generator bushing support and tension bracket (early), battery tray, battery hold down hardware with correct wing nuts, dash knobs, volt meter, front bumper, fender welting, firewall grommets, cogged fan belt, radiator welting, radiator felt, wooden hood bumper blocks, hood tie-down strap, rebuilt vacuum wiper engine, wiper vacuum lines, bulbs, accelerator pedal, exhaust system, oil plug gasket, oil hoses, brake hoses, windshield glass, windshield welting, windshield tape, missing windshield star washer, body to frame welting and bolts, tailgate chains and covers, tail light, rear reflector, master cylinder, gas tank and sender, brake sender, brakes, wheel cylinders, 's' lines, plugs, plug wires, points and condenser, footman loops, hood latches and seat covers from Beachwood Canvas mounted on original springs and seat frames (except for back seat bottom cushion – original is included on request along with original gas tank and sender). There is much more, but basically the entire vehicle has been disassembled, inspected and reassembled with replacement and correct hardware added where needed – receipts will bear this out.
Vehicle odometer showed 24,745 miles before the rebuild. Odometer was reset to zero and approximately 80 miles have been put on the vehicle since recent engine work.
The vehicle runs perfectly as it should. All gauges and lights work as they should.
Price
$25,000
Location
Dallas, Texas
Availability
See more Willyseseseses for sale on Hemmings.com.