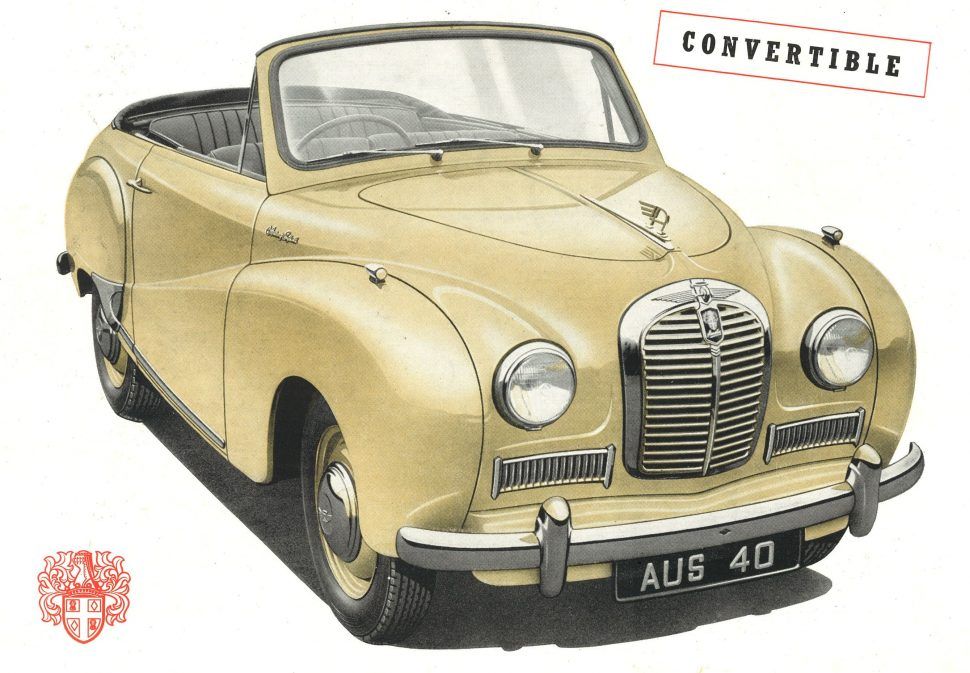 The County Set: 1953 Austin A40 Somerset Convertible brochure
It may come as a surprise today, but Austin of England was one of the largest importers of cars to America in the years following World War II. This venerable firm, founded by namesake Herbert Austin and building motorcars since 1901, had become popular for its economical, well-built small cars. The sleek, unique A90 Atlantic of 1949 was this company's first entry in what would become our British sports car market, and while that posh droptop was a bit of a flop on these shores, its twin SU-carbureted 2,660-cc (162.2-cu.in.) four-cylinder would power the future classic Austin-Healey 100. The A90 Atlantic was only sold here through 1953, overlapping the availability of Austin's smaller convertible, the A40 Somerset.
Its nomenclature following Austin's contemporary tradition of naming sub-models after English counties—Devon, Hereford, and Hampshire were other examples—the Somerset was introduced in 1952 in four-door (Saloon) form, powered by a single Zenith-carbureted 42-hp, 1,200-cc (73-cu.in.) four-cylinder engine. That car was the basis for 1953's "Coupé," as the Convertible was called in its home market. First shown at the Earls Court Motor Show in September 1952, alongside the prototype Healey Hundred, the A40 Somerset Convertible used a clever three-position "Coupe de Ville"-style folding cloth roof that could be fully closed, fully open, or open only over the front seats.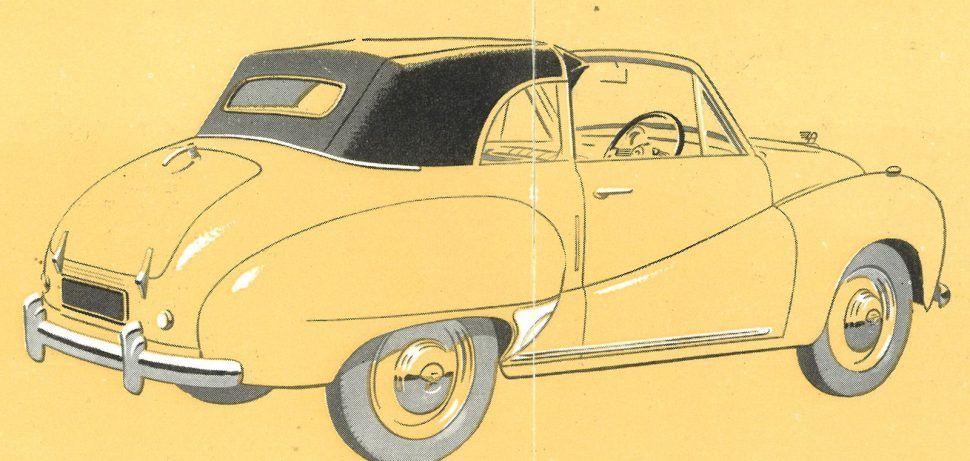 The Coupé/Convertible—a product of the newly formed British Motor Corporation—sported two-door coachwork made by Carbodies in Coventry, a longstanding company that would best be known for building the iconic London cab, the Austin FX4. Final assembly of the soft-roof Somerset was in Austin's Longbridge plant, though. Examples sold here cost $1,945, the inflation-adjusted equivalent of around $18,740, a figure notably less than the $2,295 (roughly $22,110) commanded by the more conventionally stylish, Jensen Motors-bodied A40 Sports Convertible.
The Somerset Convertible would remain available through 1954, when it was the only two-door soft-top Austin sold in America. The U.S.- and Canadian-market brochure, shown here, offered comprehensive specifications and charming illustrations. Just 7,243 examples of this model would be built, and few are known to remain today. Have you ever seen a Somerset stateside?
Click on the brochure images below to enlarge.