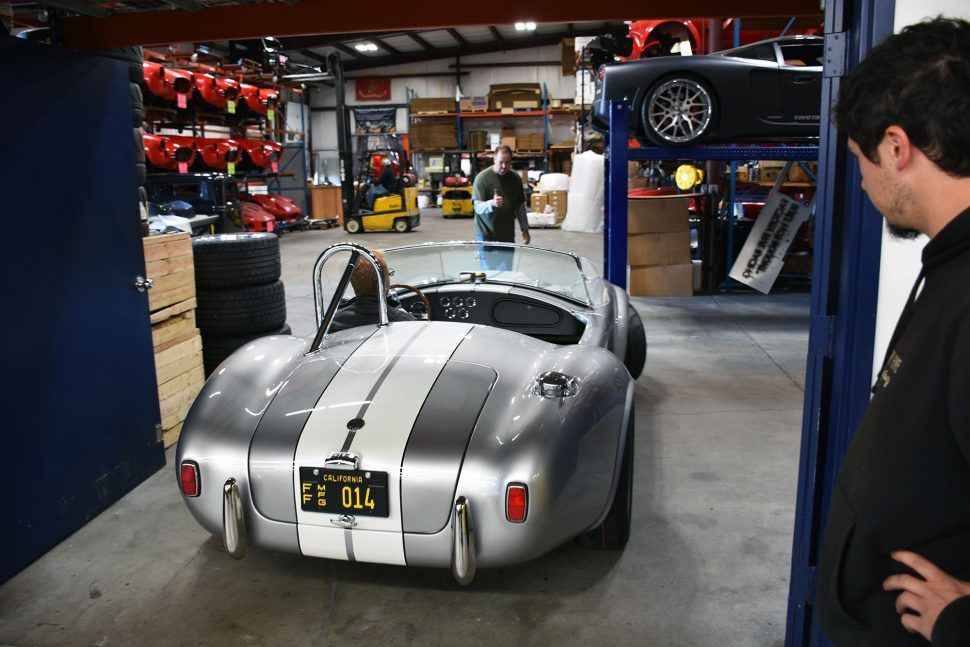 After SEMA files lawsuit, NHTSA drafts replica car rules
With a looming deadline to respond to the Specialty Equipment Market Association's lawsuit over the replica car law, the National Highway Traffic Safety Administration issued a draft of its replica car regulations earlier this month, more than three years after the law required the department to do so.
"They had to respond by Friday, so I think these regulations are the result of filing the lawsuit," said Stuart Gosswein, SEMA's senior director of federal government affairs. "We're very pleased that this gets us to the next stage."
Under the Low Volume Motor Vehicle Manufacturers Act, which passed in December 2015 as part of a highway funding bill, replica carmakers would be able to sell turnkey replica vehicles, provided they adhere to production caps (no more than 325 vehicles per year, built by companies that construct no more than 5,000 vehicles per year worldwide), use EPA- or CARB-certified current model-year engines, and replicate vehicles at least 25 years old.
The law also mandated that the EPA and the NHTSA draft guidelines and regulations for anybody who wanted to take advantage of the law within a year of the law's passage. While the EPA issued its draft guidelines by the end of 2017, the NHTSA didn't do so until about eight weeks after SEMA filed its lawsuit asking a federal appellate court to compel the federal agency to act.
Representatives from the NHTSA did not respond to requests for comment about the proposed regulations and the timing of their release.
NHTSA's proposed regulations include a number of boilerplate interpretations of the Low Volume Motor Vehicle Manufacturers Act—replica carmakers have to issue 17-digit vehicle identification numbers for their vehicles and conform to NHTSA-mandated recalls—and close loopholes that would otherwise allow importing new foreign production vehicles or allow subsidiaries of production carmakers to take advantage of the law.
However, the proposed regulations also restrict replica carmakers to building vehicles with the same overall dimensions (length, width, and height) and the same—or, at least, mostly similar—appearance as the vehicles being replicated. While restricting the replicas to the originals' dimensions won't alter the plans of some companies planning to take advantage of the replica car law (i.e., De Lorean Motor Company), other companies have announced plans to build looser interpretations of the vehicles they intend to replicate.
"The key word here is 'resemble,'" Gosswein said. "As it's used in the text of the law, we take that to mean it provides a little flexibility and that it's not just a copy of something."
Gosswein said California state law's interpretation of "resemble"—which provides for replicas to be within 10 percent or more of the original vehicle's size "seems reasonable." "We would like to work with NHTSA on that," he said.
NHTSA's proposed regulations also effectively outlaw replicas of prototypes or concept cars by eliminating as source material any vehicle not originally for consumer sale.
According to Gosswein, SEMA and the dozen or so companies that have expressed interest in taking advantage of the replica car law have been reviewing the proposed regulations in anticipation of the upcoming 30-day public commenting period on the regulations.
"There's been no real surprises so far," he said. "And the only feedback from the companies is 'hooray.'"
SEMA's lawsuit against NHTSA, Gosswein said, will likely be stayed but not dropped. "We would like the court to remain engaged and to have jurisdiction."
With NHTSA's adoption of the regulations, the replica car law will go into effect. Gosswein said he anticipated that will happen by this coming spring or summer.