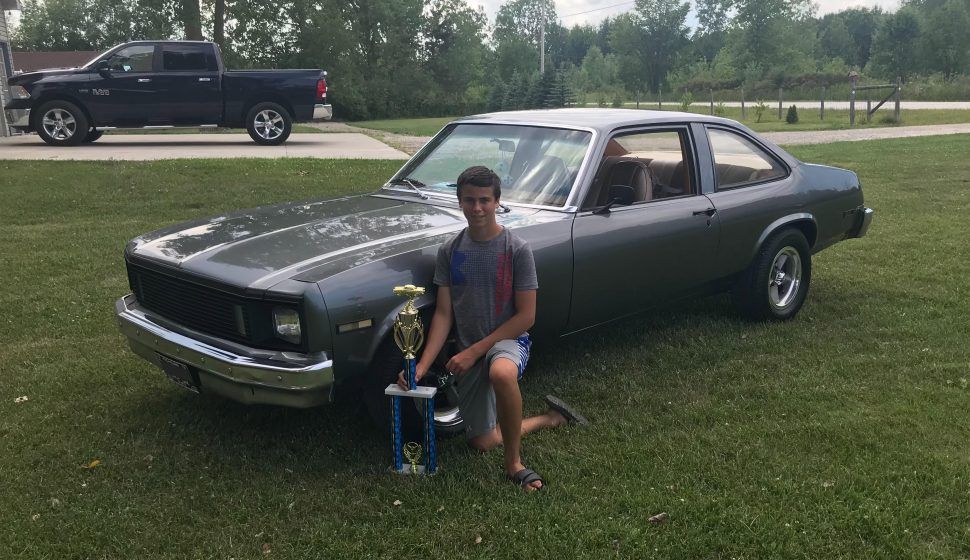 How to bring new blood into the car hobby, according a father and his Gen Z son
We at Hemmings sometimes lament that the next generation of young people have more interest in phones than cars; they just want to be online and, if socializing is needed, they can hail an Uber to get there. The stereotype, while not always true, can be self-defeating. If we don't cultivate a new cadre of enthusiasts, our hobby may well vanish.
But how to bring in new blood? When I was putting an interior into my 1974 Buick, documenting my progress and setbacks here in Project Apollo, I gutted a 1976 Olds Omega that yielded seats I decided not to use in my car. Listing them soon found Steve, up in Michigan, who wanted the entire interior. His goal? A modified 1979 Chevy Nova he and his son were building. Carter was 14 years old at the time, but the Nova would be his car. I love X-Bodies and find them to be good cars to modify, so this warmed my Malaise-Motors heart.
As soon as I saw Carter working on the engine block with a pal, in photos Steve sent my way, I knew I could provide one answer to those fretting about the old-car hobby. While not all kids have an interest, and lots of Gens Y and Z wait a long time to get their driver's licenses, the work by Carter and Steve argues that we might not see the whole picture. Carter's car went on to win a trophy at the Marine City Maritime Days Car Show, too. I could hardly believe the "after" pictures of that interior out of the Omega.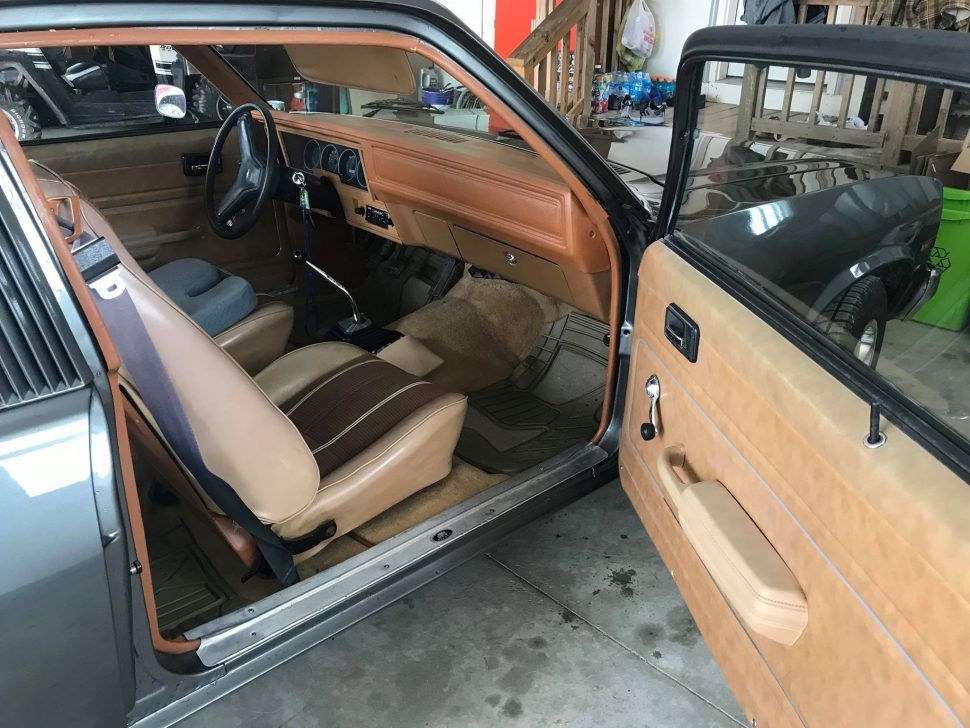 I decided to ask them a few questions about their project and the bigger picture for old cars and young people. Their project suggests that if, to quote Steve, "we as car enthusiasts created a culture that is like none other" we can get those interested started.
We should reach out to young gearheads. Father/son partnerships are not always possible, and helping newcomers may take time away from our own cherished projects. We might lend a hand on vehicles that purists would disdain. Remember the case 50 years ago, when the owners of Model As kept stock looked askance at those kids modding Camaros and Mustangs?
So just do it. I recall how I once gushed over a lowered Civic, done by a neighbor's son, complete with underbody lighting and soup-can exhaust tips. He beamed with delight and showed me every mod he'd made. It was not the sort of car I'd hot rod, even though I'm a Honda fan. A reminder to put our snobbery aside and get new blood in the hobby and wrenching away!
Joe Essid: So how did this father/son project get started? Have you wrenched other cars before?
Steve: I grew up listening to stories of fast cars and mean burnouts from my Dad but we never did a project together and I never witnessed one of his projects. He worked lots of hours, so I tinkered with my own cars in the garage. One day sitting around with my buddies I caught myself telling stories about my cars to my son. I thought to myself, I never got to see the cars my Dad built and I don't want to do the same with my son. So I made him promise, if he takes the initiative to rebuild an engine, I would help him find and build a car. So with a free engine and every penny he had, Carter and his friend Aiden rebuilt their first SBC with an $200 EngineTech overhaul kit. I grew up working on cars and continued to do so until my mid 30s when I left the dealership. Some of my hot rods consisted of a 1978 Cutlass followed by a 73 Roadrunner and 66 Coronet. Carter actually helped with the Coronet but he was only months old, he didn't do much but lay around on the floor of the car. Regardless, this is the first father son project we have done together.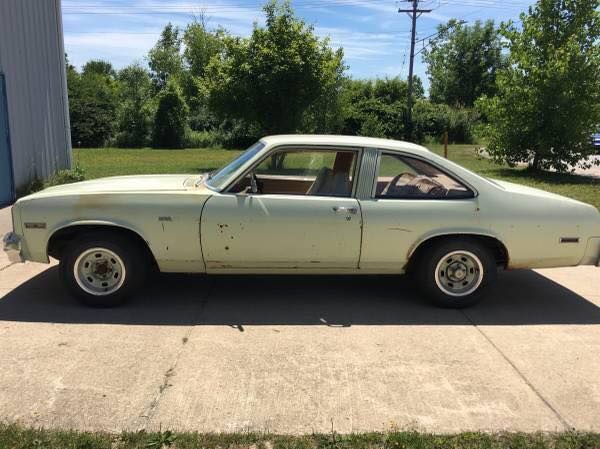 JE: Why a Nova? And how did you find the car?
Carter: My dad told me that if I rebuild an engine he would find me a car to put it in. We didn't have an idea in mind for what we wanted, we were just looking. He constantly searched for a car and there was this '79 Nova that he kept scrolling by, because the pictures taken of the car made is appear to be rotted. My dad set up a time with the previous owner of the car to come look at it, and that is when we came to find out that the car was fairly solid and the only rust on the car was just surface.
Steve: It was the right car at the right price. This car was really built by a community of car enthusiasts that I have been acquainted with over the years. The 350 SBC was given to Carter by a coworker in the auto industry. The Vortec cylinder heads where given to him by a buddy I spent years in the dealership working in GM products with. They were then reconditioned by another friend who I grew up with, he is now attending the automotive program at Macomb Community College. The tires on the car where sold to Carter by a long time friend who owns a transmission shop in Marine City at wholesale. The car was painted by a neighborhood automotive refinisher that I grew up with trading services back and forth. The interior was…well you know that story. The bottom line is that we as car enthusiasts created a culture that is like none other. We are not in it for the money like the network shows, we are in it for the thrill of helping and teaching others so that that can pass it along.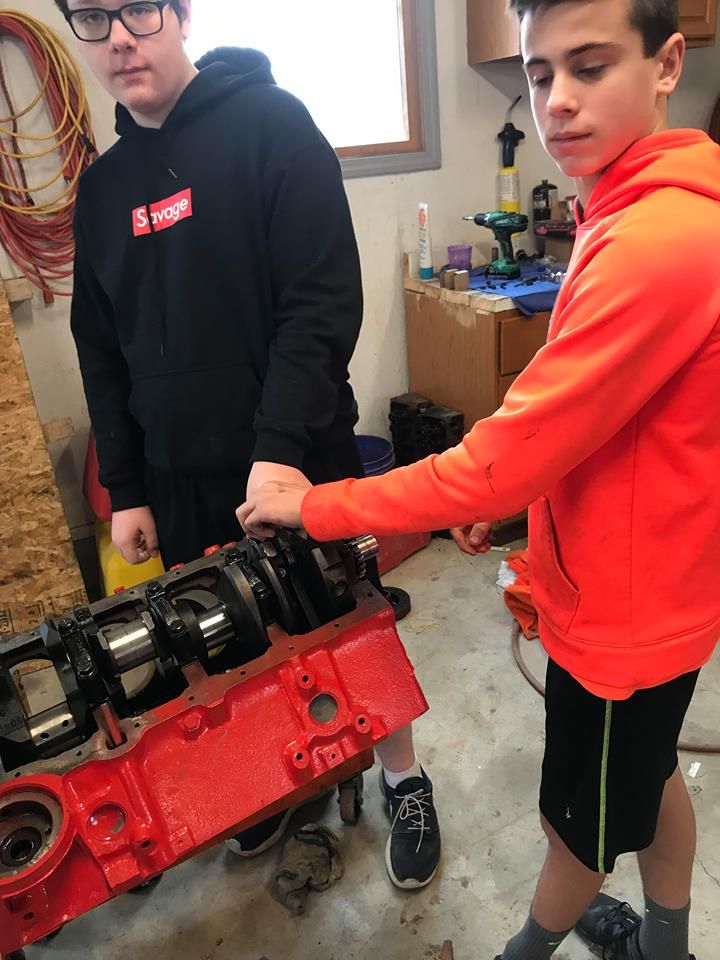 JE: Tell us your vision for the car–appearance, performance, use–you have in mid for when it's finished.
Steve: This one is all Carter, he had all visionary rights to the car.
Carter: I was going for an aggressive look for the car, something that lets people know what the car is capable of without actually having to show them its capabilities. I want the car to stand out in a crowd of other cars but still be visually appealing. When using the car I want it to still be functional on a normal road but when I go to a track to be able to have some fun and go fast.
JE: Carter, a question or two for you. What sort of cars have you always wanted to own? And what do your friends think about the Chevy?
Carter: At first I was into the new high dollar supercars but after building the Nova I feel that my interests have changed and now I lean more towards wanting to own some of the old Dodge muscle cars like the Coronet my dad rebuilt, or Chevy cars from the 70's. My friends have been supportive of me building the car and they think that it is cool and they are excited to ride in it.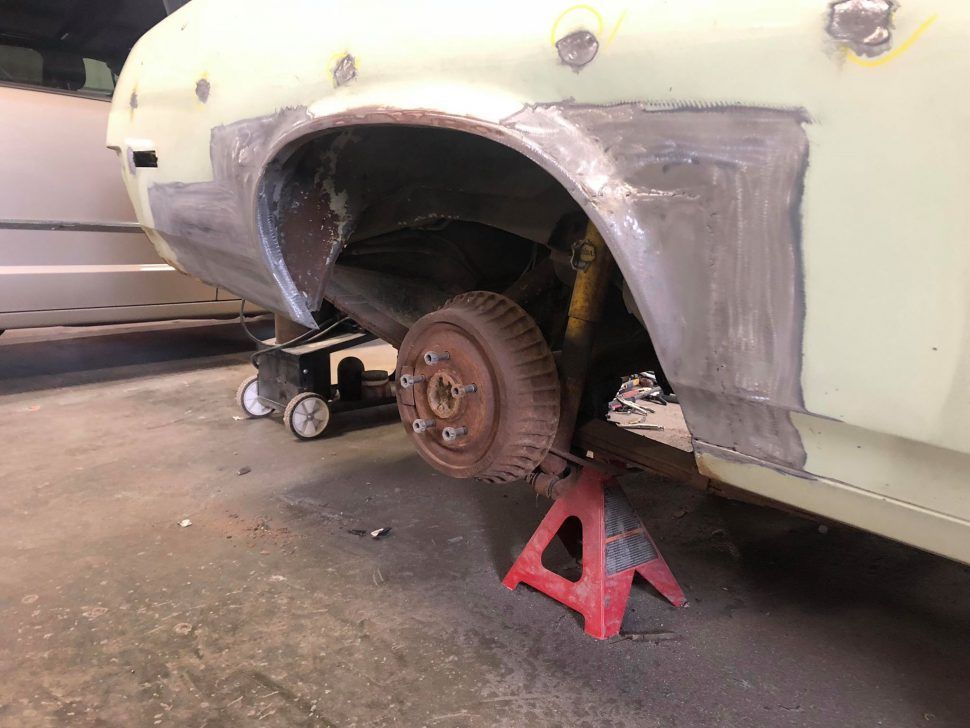 JE: What has been the biggest challenge with the project?
Carter: The biggest challenge with the project I would say was the original camshaft that we had in the car rounded off during the initial engine break it. The lifters were sheared and there was metal in the engine. My dad and I pulled the engine the engine back apart but this time the engine was in the car and we did the best we could to wash everything out. By this time we already had a new cam on the way and as soon as it arrived at the house we put it in the car and ever since then the car has been running great.
JE: After all this work, will you be afraid to drive the Chevy regularly?
Carter: Depending on the weather, no. During the summer when it's not raining and weather conditions are good I would drive it regularly, but when it is raining or snowing I would not drive it. The car gets very little traction in even the most mild weather conditions. The pavement has to be completely dry … in other words I would drive the car regularly in dry summer conditions.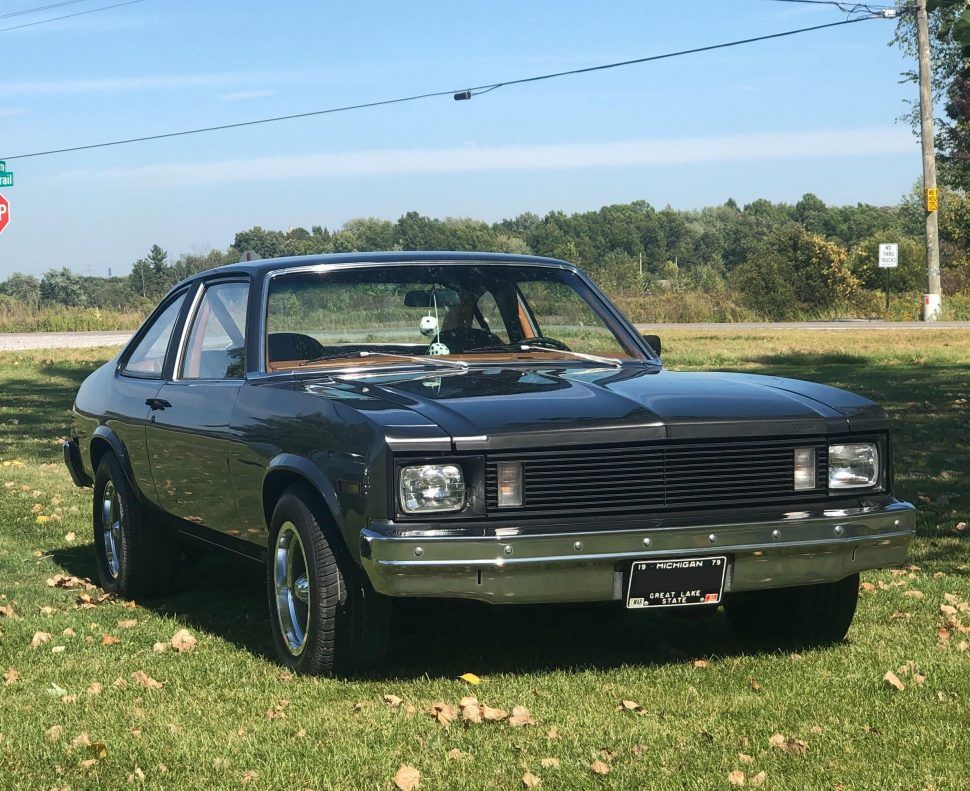 JE: What advice do you have for other young people who want to get involved in working on old cars and driving them? Or for older folks who want to keep the hobby vital with young people?
Steve: For the younger generation I would suggest finding a project and just start going at it. You will make connections through the purchase of used parts and the information the older generation has to offer is priceless. I was extremely happy with every interaction we had when purchasing used parts, sellers had a passion for showing Carter their projects and offering him advice on what they found to work the best and things they found did not fare well. Listen to their experiences and consider their advice. For the older generation I recommend going the extra mile to help the newcomers. We have created a culture rich with experience and the ability to help each other. The kids that show up on your doorstep looking for a deal on that set of heads are the same kids that are going to keep the hobby alive and preserve the vehicles along the way.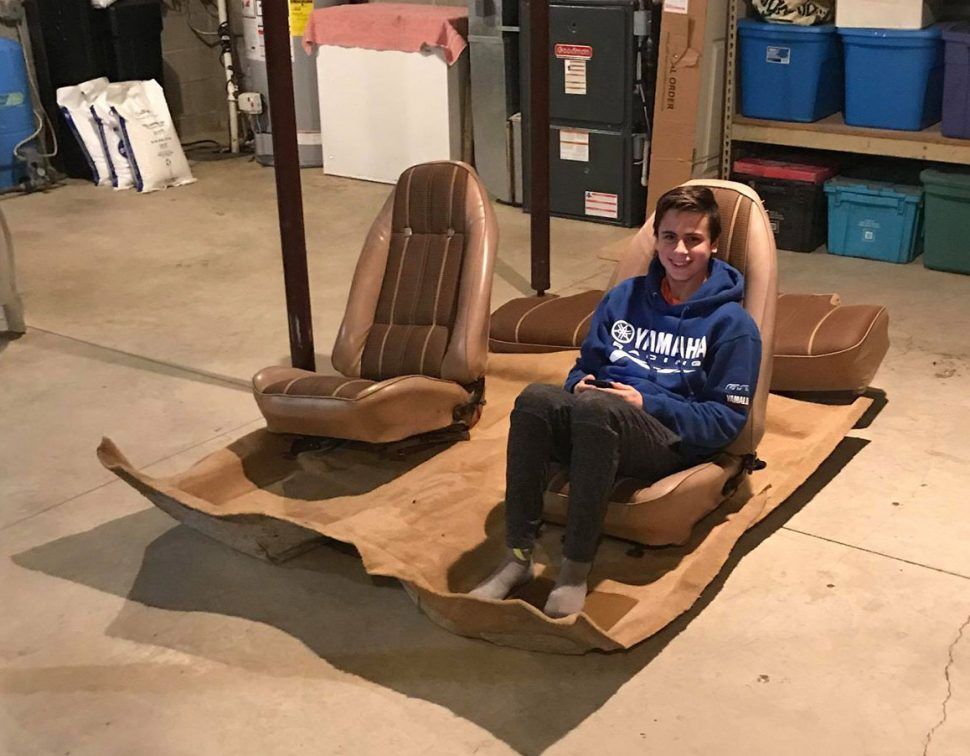 Carter: For the younger generation I would recommend just finding anything to work on, whether it is a car or not. Just get out into the garage and pick up some tools and work on anything. Find and make connections with people that will help you with whatever you are building. There are many people out there willing to help you as I have learned from this project. For the older generation I also would recommend going the extra mile to help the newcomers because without my dad helping me get started with this project the car would not look the way it does. Also for the older generation it is never too late to start working on a project car. Like my dad said the kids that show up on your doorstep looking for part are the kids that are going to keep the hobby alive, and I would recommend giving them a deal on the parts because later on they will return the favor in some way shape or form. I was given deals on many of the parts that are on the car now from people my dad had connections with.

JE: Do any of Carter's friends plan to build or modify a car of their own, after seeing the Nova build?
Carter: Yes, my friend Nick from school is rebuilding a 1963 Mercury Monterey. [See picture above.]
Joe Essid teaches writing at the University of Richmond. He's a part-time farmer, too, and he writes about rural life at http://tractorpunk.blogspot.com.