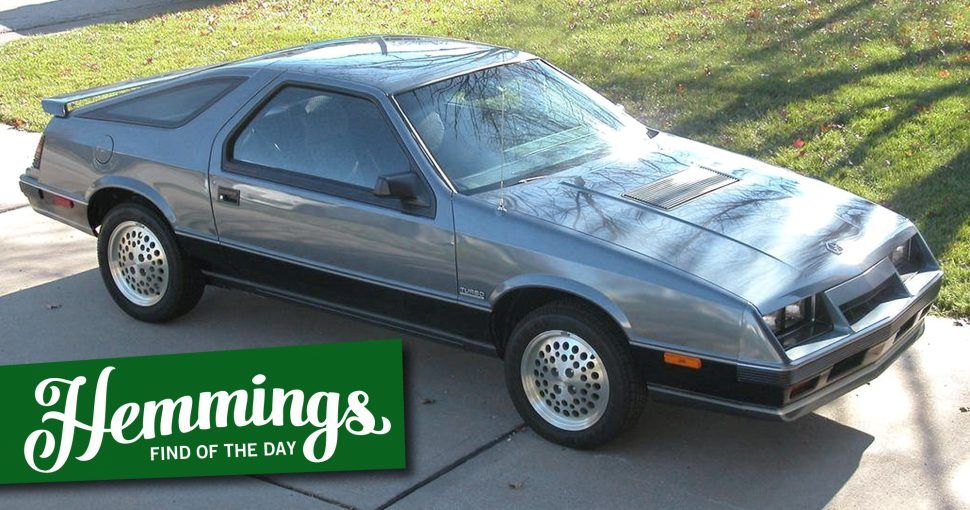 Hemmings Find of the Day – 1984 Dodge Daytona Turbo
Single-owner 1984 Dodge Daytona Turbo for sale on Hemmings.com. From the seller's description:
I've decided to finally let my first new car go to another person to enjoy. I have had it for 36 years and it has been stored in my garage on jackstands and covered since the first part of 1985. In fact, our house was specially designed and built to safely store the Daytona in a climate-controlled environment. I have mainly used it for 20 years as a backdrop to show how our kids were growing.

I am the first and only owner of this Daytona Turbo 5-speed that was specially ordered in June 1983 and delivered around the 24th of September 1983. I drove it on a couple of short trips and put it away for the 1983 winter and then drove it only a few times in 1984. I never wanted t ohave anyone wreck my first new car so I quit driving it.

The Gunmetal Blue Daytona has never been wrecked, hit, or even scratched. It was never driven on a wet street and was never on any sort of salt or cinders. In fact, once it left Hallmark Dodge, the windshield wipers have never been on. Ever. It still smells new inside.

It has cruise control, air conditioning, tilt wheel, the light package, the AM-FM premium cassette radio with the rear power amplifier system, and the manually pumped-up lumbar support in the driver's seat. It has the original Goodyear Tires and essentially everything it was built with (other than the few items described below). No one has ever worked on it other than one dealership mechanic, me, and two Chrysler Service Training Instructors. It had one warranty issue with a strut and one of the original rims had to be replaced within a few months because the aluminum had porosity and the tire would deflate slowly.

When it was a few weeks old, I installed the Direct Connection high volume oil pump because I knew then it would be sitting and I wanted it to always have plenty of oil, quickly, when it started. When it was a few months old, it had an issue shifting into second so we installed a new 1-2 synchronizer assembly. I think we also replaced other parts while inside but I never wrote it all down, unfortunately.

I did change some things to make the Daytona look like the one I had tried to order and the ones shown in early magazine articles in 1981-1982. I removed the large "Turbo" decals that were on the door. I changed all the black trim pieces to chrome ones. I added the "Turbo Electronic Fuel Injection" logos that the early prototypes had. However, everything that was removed was safety stored away and/or new replacements were purchased and stored.

I have shop manuals, Service Training manuals, all the Service Training New Model highlights, the dealer order books, the window sticker, the brochures, advertising papers, magazine articles and many other pieces of literature that will go with this early turbocharged performance car. I also have the 1984 parts book and a front end "bra" and a Beverly Hills car cover for indoor storage. For the few things I changed, like the oil pump and transmission internals, I installed new pans or covers that I had chromed. I still have those on the car but I have the original non-chrome ones wrapped up and safely stored. I documented all fluid changes to the car and gasoline additions. I even have special Daytona keys, a pen, a name tag, and a Daytona jacket I bought in 1984. And, I have a 1988 vintage Chrysler OEM battery to go with it.

The Daytona has some issues that make it not perfect. After it had sat for a few years, the air conditioning compressor started leaking oil out of the front seal so I removed the belt so it would not fling oil on the hood insulation pad. I still have the belt but I imagine all the R-12 refrigerant is gone by now. At around 21 years old, the headliner dropped due to the foam degrading (those being driven had this happen at around seven years). At 22 years old, all the radio pushbuttons and some dash pushbutton urethane internal rubber return "springs" lost their tension. However, I had changed these switches in another similar radio so I bought new ones for all locations. After many years of storage, the phenolic font disc brake pistons started to swell and seize. I removed them and replaced them with stainless steel pistons. I changed the brake fluid to Dot 5 silicone to prevent any paint damage that might occur someday. I noticed last year the rear hatch air/nitrogen springs are getting weak.

This Daytona has not been driven for many, many years and it has been on jackstands since 1985. The tires look perfect and everything underneath is in great, as new, unmolested condition. Starting a few years after I put it away, I would fire it up in the fall, run it for long time, let it pump the one year old fuel out and once it was empty, would refill it with fresh, non alcohol premium fuel with added StaBil.
Price
$9,900
Location
Lee's Summit, Missouri
Availability
See more Dodges for sale on Hemmings.com.