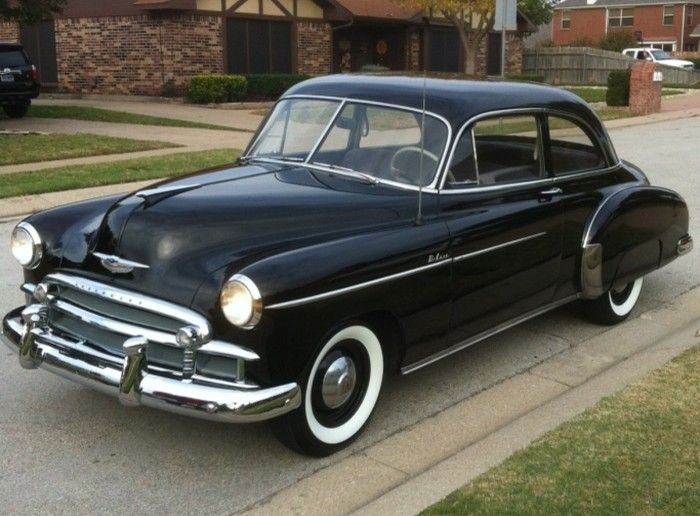 Car tunes of my youth
As Dinah Shore belted out "See the USA in your Chevrolet," I felt pride in Dad's 1950 Chevy while it bumped along New Jersey two-lanes, my friends and I jawing on chewing gum in the backseat.
The "Plain Jane" two-door was the most basic model you could buy. It had only two options: a bread-box-sized heater under the dash and a vacuum-tube radio that needed "warming up" before sound emanated from its weak speaker. What it lacked in fins and chrome, however, it made up in practicality and reliability.
We did "see the USA" in our Chevy and its radio introduced me to many car commercials with memorable tunes. One of the earliest I remember extolled the virtues of the "Rocket 88." Even as a boy, I knew there was a difference between a Chevy six-cylinder and an Olds V8. After all, wasn't there a rocket ship on the Olds trunk?
"Thrill to the power of the Rocket engine!" crooned Diana Lynn, her words filling me with excitement. What's a "rocket engine" and how fast can the Olds go, I wondered?
"Lucille and Johnny" sang about the Olds being "the hottest number on the highway," and actors Mel Torme, Bing Crosby and others sang "What a thrill to take the wheel of a Rocket Oldsmobile." Even today, I hum Crosby's hit "In My Merry Oldsmobile."
Sometime in the early 1950s, I heard a car-tune that changed my musical tastes. Jackie Brenston, Ike Turner, and the Delta Cats came out with "Rocket 88," a song that had a big influence on my libido. I didn't realize it, but I was being brainwashed into liking "muscle cars" before the term was invented.
Thanks to that song, the sight of our neighbor's 1950 "Rocket 88" made my blood boil. It had a V-8 exhaust burble that I savored. So did the 1953 Caddy parked in the driveway across the street. These cars were "fast" and made Dad's Chevy sound like a wheezy vacuum cleaner.
Enter TV car-tunes
A year after my parents bought a television, I lusted after the 1958 Chevy Impala convertible in an ad featuring a teen who wanted to take a girlfriend for a ride in his jalopy. Feeling sorry, father turned over the Impala's keys and the family waved as the boy and his date drove off. As "See the USA" played in the background, I wished I was that teen. But watching the ad today, I like the jalopy better than daddy's Impala.
Other car-tunes got my attention, as well. Dad bought Texaco gasoline and I enjoyed the company's ads featuring singing men in service station uniforms: "You can trust your car to the man who wears the star." During the gasoline wars of the 1950s, Dad switched to Esso when the company's price was a penny lower. Like the Texaco song, Esso's jingle was on my mind, too: "There's a smile for every mile at the Esso sign."
Dad hated rock-n-roll and turned off the car radio when Chuck Berry introduced me to hot rods in his 1955 hit, "Maybellene." My imagination ran wild thinking about Maybellene, who drove a Caddy Coupe de Ville, when she raced Berry in his hot rod Ford V8. An overheated engine cooled by a sudden rain shower allowed Berry to pull ahead and win at 110 miles per hour. What happened after that, I wondered? Did he ask her for a date? Why wasn't she true?
Although he drove a Chevy, Dad was a "Buick man" at heart, mainly because his father owned several Buicks starting in 1905. I remember hearing Buick radio commercials with the classic lyric "Wouldn't you really rather have a Buick."
Grandfather Van Orden owned a 1925 Buick touring car that took him and Grandmother Helen from New Jersey to Miami in 1927. The Buick blew a water pump during the 1,500-mile journey, but they got it fixed in Virginia and, after arriving in Florida, drove the car on Ft. Lauderdale Beach. Exhausted, they decided to return by train with the Buick parked in a baggage car.
"Craftsmanship with a flair" was Studebaker's slogan, starting around 1956 and carried on in commercial jingles through the 1950s. I was enthralled with Studebaker's Loewy-inspired design starting in 1953 and its supercharged Hawk two years later. A neighbor was a Studebaker executive and parked a new model in front of his house each year from 1948-'57.
Tunes and jingles about Ford vehicles drew my attention in the mid-1950s. The tune I liked best was "Hot Rod Lincoln" by Charlie Ryan and the Livingston Brothers. It was the type of tune my parents didn't want me to hear. But I liked the lyrics, especially the description of the driver's Model A Ford. It got me asking questions about "souped-up" engines.
"Have you heard this story of the Hot Rod race
When Fords and Lincolns was settin' the pace
That story is true, I'm here to say
I was drivin' that Model A.
It's got a Lincoln motor and it's really souped up
That Model A Vitimix makes it look like a pup
It's got eight cylinders, uses them all
It's got overdrive, just won't stall.
With a four-barrel carb and a dual exhaust
With 4.11 gears you can really get lost
It's got safety tubes, but I ain't scared…."
As the '50s wound down, along came Chrysler Corporation's big TV ad push for "flight-swept" rear fenders, "jet-fin styling" and the "forward look of power in motion." To my chagrin, the new designs were advertised each week on my parent's favorite TV show, Lawrence Welk. It was painful watching "old folks" dancing to champagne-and-bubble music. But I endured it and waited impatiently to see new car commercials. My parents would laugh if they could see me today enjoying the music they loved and I hated as a teen.
Other new and creative car-tunes hit the airwaves at about the same time. "Beep-Beep" by the Playmates in 1958 showcased a "David vs. Goliath" contest between a lowly Nash Rambler and a powerful Cadillac. The first car I remember my parents owning was an underpowered 1937 Nash, followed by a string of six-cylinder Chevys. The "Beep-Beep" song must have inspired them because, much to my horror, they soon bought a Nash Rambler.
Today's 'Earworms'
I really miss the 1950s car-tunes that made me hum when listening to the radio or watching TV. Today, advertisers call these tunes "earworms," easy to remember songs that compel consumers to buy. The modern versions often are commercially licensed hits by well-known artists.
Car-tunes may have lost their innocence in the 1980s. As an adult and young father, my blood boiled once again when I heard George Thorogood's "Bad to the Bone" accompany the TV ad for Buick's 200-horsepower Gran National. Then, a decade later, Bob Seger's "Like a Rock" became the theme for Chevrolet pickup trucks, a gig that lasted a dozen years. Seger's "Detroit Made" later payed homage to the Motor City.
"Ground control to Major Tom" kicked off David Bowie's 1969 hit, "Space Oddity." I never dreamed it would show up again in modern Lincoln MKZ TV commercials. Mathew McConaughey is cool in today's MKZ ads, but Bowie's music made the earlier Lincoln commercials very special.
Dozens of other contemporary rock songs have been adapted to car commercials over the years, such as Sheryl Crow's "Every Day is a Winding Road" (Subaru) and Dirty Vegas' "Days Go By" (Mitsubishi). What car-tunes will be adopted by advertisers when cars fly, I wonder? Hey, no waiting required…there's already a song titled "Flying Car" by Ninja.