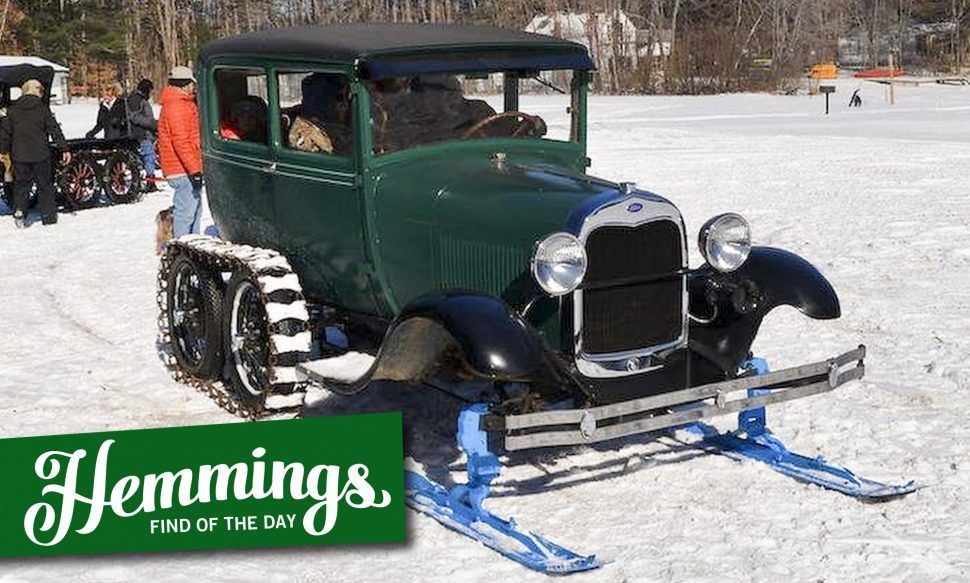 Hemmings Find of the Day: 1928 Ford Model A 2 door snowmobile
Does your snowmobile have a cabin and room for passengers and luggage? It's a 1928 Ford Model A 2 door in snowmobile configuration for sale on Hemmings.com. From the seller's description:
This is a very early Model A Ford built at the Massachusetts plant in March of 1928. The snowmobile attachment conversion was manufactures by the Snow Flyer Corp New Holstein WI. Snow Flyer bought out The Snowmobile Company that originated in Osssipee New Hampshire in 1926 and incorporated the Snowmobile parts into their own designs. This machine has 8 inch wide tracks , four inch wheel extension, all steel Snow flyer skis and spindles and a 4 inch drop center axle. The front wheels are mounted on their own axles that swap on and off very easily.
This car was located in Maine in 1917. The car is in great condition. The floor boards are original and have the original paint on the underside. The is no rust through under the rear seat. The top is in very good condition. The windows all operate. The wiper operates and the heater is very unique with a level to operate. The timing gear was replaced in February of 2018. This car will go any where. At the 2018 Thorton N.H. Tuckers meet Model A's & T's snowmobile meet this car ran all day flawlessly in deep heavy corn snow. The model T's couldn't go but this car went great. At the national meet 2018 this car was driven over 70 miles in one day giving rides to many many people. On a flat ice covered lake / pond this car will run over 40 MPH. This is a real Nice worry free Model A Snowmobile that can be used and used and used.
Price
$26,900
Location
Ashland, New Hampshire
Availability
Find more Fords for sale on Hemmings.com