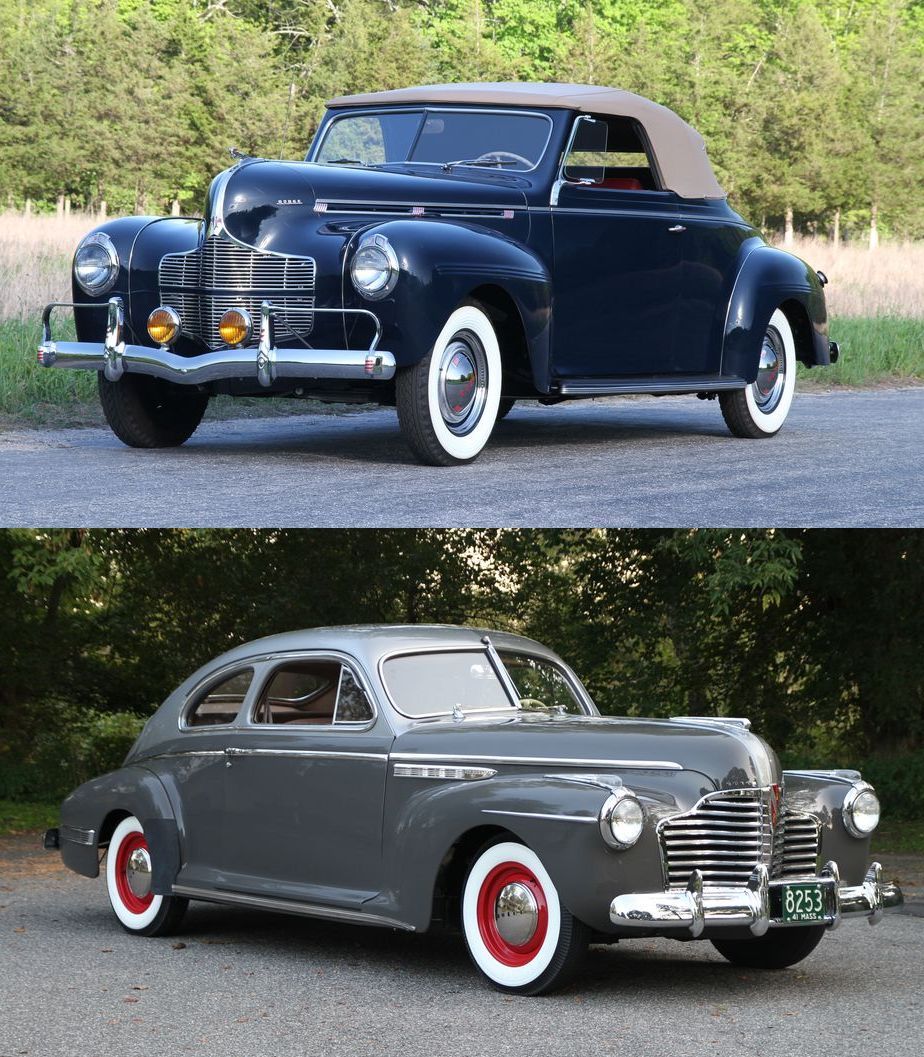 This or That: 1940 Dodge D-14 DeLuxe or 1941 Buick Special 46S?
1940 Dodge D-14 DeLuxe convertible (top); 1941 Buick Special 46S Sport Coupe (bottom). Images by the author.
Season Four of This or That continues this week with a pair of two-door models from the immediate prewar era: a 1940 Dodge D-14 DeLuxe convertible and a 1941 Buick Special 46S Sport Coupe – also called the Sedanette. Both vehicles were previously featured in our Hemmings Classic Car magazine as Restoration Profiles.
[Editor's comment: Please note that the This or That column is not a comparison report between two or more vehicles (in the original spirit of the Hemmings Special Interest Autos/Hemmings Classic Car/Hemmings Muscle Machines articles), but rather a feature that enables us, in an idyllic world, to add a collectible vehicle into our dream garage on a regular basis — with a catch: We can only pick one vehicle from this group, and it has to be for enjoyment purposes rather than as an investment. So let's climb into the ultimate automotive fantasy time machine and have a little fun.]
Let's start with Dodge; a division that entered the model year touting, "A new kind of beauty dictated by the laws of nature," with a "new Full-Floating ride" for the entire Luxury Liner family. The beauty aspect was plainly visible, thanks to a completely restyled front end, the fenders of which featured sealed bead headlamps blended into the bodywork. Parking lamps were now integral to the headlamp bezels as well, and the entire illumination system flanked a smoother hood-to-grille transition. Door hinges were now concealed on both the entry-level D-17 Special and upscale D-14 DeLuxe series while running boards became optional equipment. Below the bodywork was an 87-hp, 217.8-cu.in. straight-six engine – accompanied by a three-speed manual transmission – secured to a 119.5-inch wheelbase frame. A coil-sprung suspension up front was complemented by a rear leaf spring arrangement.
Specific to the D-14 series, the DeLuxe line was obtainable in seven body styles: two-door Business Coupe, two-door Town Coupe, two-door Sedan, four-door Sedan, seven-passenger Sedan (on a longer 139.5-inch wheelbase chassis), and the seven-passenger Limousine, also built on the longer chassis. The most affordable was the Business Coupe at $803, while the Limousine – which found just 79 buyers – cost $1,170. Near the top end of the scale was our featured Convertible, which attracted 2,100 buyers at the cost of $1,030 each (or $18,484 in today's dollars).
Like Dodge, Buick restyled the front end of their 1940 models, in part by relocating headlamps from separate teardrop pods directly into the fenders. Coupled with an updated divided grille, the fresh appearance cloaked an otherwise unaltered platform. A litany of changes – including but not limited to a new side-opening hood and revamped grille – finally arrived to the GM division for the 1941 season, when Buick offered no less than 26 separate body styles among four series. Officially. In truth, the new Buicks were offered in five series when one considers that the entry level Special was divided into the 40-A series, built atop a 118-inch wheelbase chassis, and the 40-B series, which continued to utilize the previously-developed 121-inch wheelbase chassis.
Our featured Buick Special, a Sport Coupe that was known both by its Model 46S designation and "Sedanette" nickname attained by its sleek fastback body style, originated from the long wheelbase 40-B sub-series. In base form, the chassis cradled one of three, new-to-1941, "Fireball Eight" engines. Since the Special resided at the affordable end of the spectrum, they utilized the smaller 248-cu.in. straight-eight that was rated for 115 hp. All Specials, however, could have been optioned with a 125-hp version, made possible "Compound Carburation," which was the use of dual two-barrel carburetors secured to a unique intake manifold. Our featured car was furnished with the induction system from the factory; a forerunner to the widespread adaptation of four-barrel carburetors within a decade. Either engine was backed by an industry-standard three-speed manual, while the frame was supported by a coil-sprung suspension front and rear.
The Sport Coupe (a.k.a. Sedanette) cost $1,006 in base form (or $17,925 today) making it one of the most popular models from Flint, having attracted 87,687 buyers (for the record, it was second only to the 91,138 four-door Touring Sedans made, also within the 40-B sub-series). It should be noted that the Sport Coupe could have also been obtained in "Super Equipped" guise, with a sticker price of $1,063. Model nomenclature would have been 46SSE, and aside from automatically provided Compound Carburetion, SE badges would have been included, while the interior was dressed in the same style – complete with a full bank of arm rests – as the mid-range Super series. It added another 9,591 buyers to the Sport Coupe total.
Which of the two would you add to your dream garage and why?