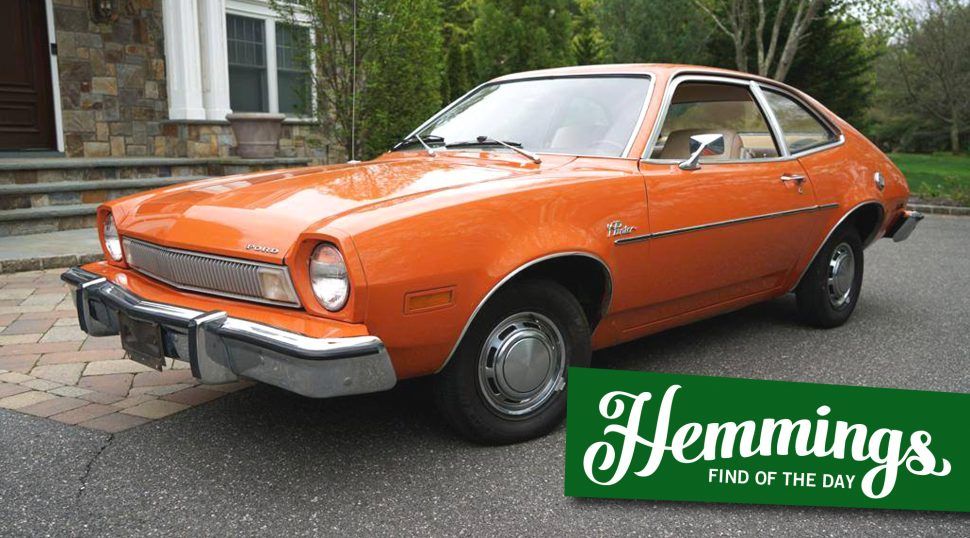 Hemmings Find of the Day – 1974 Ford Pinto
Unrestored 1974 Ford Pinto for sale on Hemmings.com. From the seller's description:
This all original Pinto is in excellent condition in appearance and running condition. The paint is factory Orange (Ford paint code 5W). It has never had a repaint and still looks excellent. The same goes for the first year of 5 mile per hour chrome bumpers and trim. Most likely the California climate where this car was born and raised had alot to do with it.

The interior is completely original and also in excellent condition for its age. The only notable flaw is the ware from usage on the drivers seat which is shown in the photos. Other than that, it looks incredible. Every feature and option works like new including the factory air conditioning. Wipers, lights, turn signals and aftermarket AM-FM Stereo work as well.

Overall, this lil Pinto is very clean with no rust ever. The factory Red Oxide is still visible just about everywhere on the undercarriage.

The engine is its original 2.3 liter (2300cc) Inline 4cylinder. This was the optional engine choice on the Pinto. Its original 2 barrel carburetor and factory 4-speed transmission are in perfect running order. This car is actually fun to drive. She starts immediately, idles smoothly and goes well enough to keep up with todays traffic. Shifting is unbelievably smooth. Tires and brakes have plenty of life left. The is absolutely nothing to do but go!
Price
$12,500
Location
Old Bethpage, New York
Availability
See more Fords for sale on Hemmings.com.