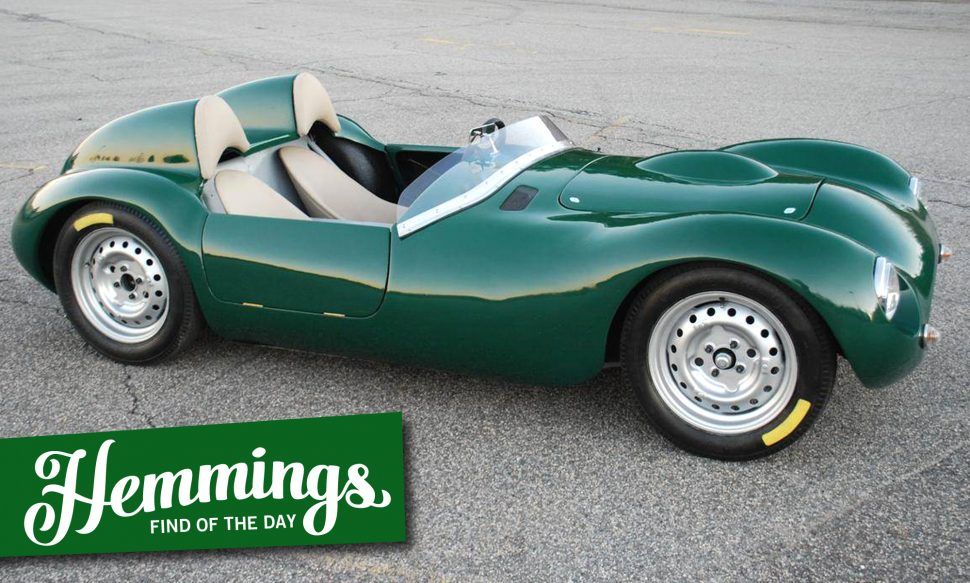 Hemmings Find of the Day: 1957 Falcon Mk II Competition Sports Racer
Terrier-chassis 1957 Falcon Mk II Competition Sports Racer for sale on Hemmings.com. From the seller's description:
This 1957 Falcon MKII Competition Sports Racer is a factory built race version with a Len Terry designed Terrier frame. Powered by a race prepared 997cc Ford 105E 4-cylinder paired with a 4-speed manual transmission, it was reportedly raced in period at Silverstone, Daytona, and Cumberland. Owned for 15 years, it recently underwent a complete restoration and has had only shakedown miles added since. This Falcon MKII is sold with all restoration receipts, a photographic dossier of the process, and a clean Georgia title document in the seller's name.
Falcon Shells was founded in 1956 in Essex England and produced fiberglass bodies for a variety of existing chassis as well as complete kits with a chassis and engine. Len Terry was a chassis designer who worked briefly for Falcon Shells before going on to a successful career with Lotus and Dan Gurney's AAR team among others. Finished in British Racing Green, this works racer was restored for street use and still wears all of the original equipment with the exception of the original Smiths gauges, fuel cell and steering wheel.
The Terrier tube frame chassis can be seen in the interior which features bare floors and vinyl covered seats with dual headrest fairings. All controls are functional period items, but the steering wheel is not correct and the gauges have been replaced with newer Smiths Magnolia units. Modifications added for street use include a horn and turn signals.
Power comes from a race prepared 997cc Ford 105E overhead valve 4-cylinder with new dual Weber 40 DCOE carburetors. The 4-speed manual transmission is also of Ford 105E origin. The seller reports that the engine runs well but has only 1 hour test time since restoration.
The Terrier chassis was comprised of both square and round tubing with triangulated A arms. The chassis was completely disassembled, inspected, and rebuilt where necessary during the restoration.
The race history consisting of an appearance at Silverstone in 1960 as well as placing 19th at Daytona and a DNF at Cumberland in 1961 as shown on the result sheet above. All receipts and photos of the restoration process will be provided. Multiple videos of the car have been provided by the seller.
Price
$31,000
Location
woodstock, Georgia
Availability
See more cars for sale on Hemmings.com.