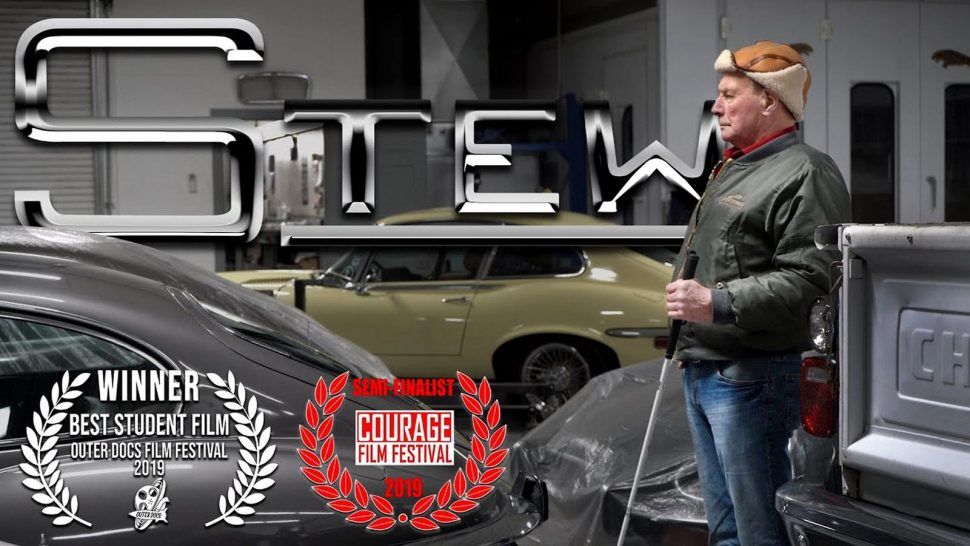 Loss of sight hasn't stopped Jaguar restorer Stew Jones, as this award-winning documentary shows
Striving for excellence is a most human trait, one that isn't bound by limitations either inherent or imposed. Why should the loss of a physical sense—eyesight, as an example—preclude a person from resolutely following his or her dreams, and achieving the ultimate honors in their chosen field?
When the professionals behind Stew Jones Restoration prepared and presented the first-ever 100-point-judged restoration of a Jaguar E-type Series 3 V-12 in the Jaguar Clubs of North America Class 7 history, there was no dispensation given in consideration of the proprietor's different ability. Nor was any leeway given to this firm's JCNA slalom record holder, "The Beast," a car that, with Karen Jones behind the wheel, redefined the modern performance potential of Jaguar's often-misunderstood 12-cylinder engine.
No, for 35 years, Stew Jones has rarely paused long enough to ponder what he "shouldn't" be able to accomplish. Since its founding, his company, Stew Jones Restoration, has quietly been expertly restoring, refining, and modifying some of America's finest classic Jaguars in a pair of modest, surgically clean shops perched on the edge of Highland Lake in Winsted, in the northwest corner of Connecticut.
That is the story that young filmmaker Elias Olsen set out to tell in his award-winning, 13-minute 2019 documentary film, Stew. You can watch it below on YouTube.
We recently sat down with Elias, a Documentary Studies student in the Roy H. Park School of Communications program of upstate New York's Ithaca College, to learn more about the inspiration behind this project, how it was created, and how it was ultimately received.
Elias found out about Stew through the local connections that are part of everyday life in places like his Norfolk, Connecticut hometown. His father is a pastor, and a couple from the church told him about Stew's work with Jaguars during dinner. "I knew I wanted to do a project on Stew because his story sounded really inspiring, but I also wanted to know I'd have the resources to be able to do it properly, so I sat on it for a while. This Nonfiction Production class seemed like the perfect opportunity to do that, because we'd have four people working on it, instead of me, by myself. We'd have the resources and talents of four people, which is really helpful."
The film crew Elias gathered together brought some specific expertise to different aspects of production:
"Our group included Caroline [Bissaillon], who would play a co-producer role with me, because she was interested in the production and interviewing side of things. She's really personable, and great with interviewing subjects, so she did a lot of that as well. Alex [Klein] is really good at editing, that's his niche. He would be very helpful in putting together the story after we had the footage and steering the direction of how we'd lay things out and tell the story. Our fourth was Clara [Montague], who's really good at audio. Audio is a really underrated part of filmmaking, and for her to be able to focus her energy on that was really great. I would do most of the production work, which included reaching out to Stew, coordinating when we would go, and working with Stew and Karen and the crew to see what they were comfortable with and what we could film. We all shared the job of filming, each one ending up filming here and there.
With a team lined up, the next step was looking further into the subject. "We did some research on Stew; we found his website, detailing some of his awards and background information, and contacted Hemmings to get a sense of what his work was like, and how open he might be to doing the project," said Elias. And that's where the small-town connections came back into place. That couple from the dinner was Jason and Christine Woodcock, who were Stew's tenants. "I'd mentioned Jason's name in my email introduction, and Stew later told me he'd decided to do this project because Jason had vouched for me, since he knew me personally. It all hinged on Jason, so we're really grateful for his support in that way."
Filming took place over several weeks, which helped give Elias and company an idea of what goes into a serious restoration:
Stew was really receptive to us, especially in our first meeting. We got to know him and his crew, and to see the spaces they work in. Our first visit entailed getting to know him, and his crew, and to see the spaces they work in. I think we did four visits over three weekends, and one during the week over one of the semester breaks; we did some filming that time because they were doing a big project, putting an engine in an XJ13. It was really interesting to see that, because those are really rare cars, and that was a project they would be working on for a good amount of time. It was nice to see that big of a step.
As with any film, there are hard choices that are made during editing. In this case, a closer look at Stew's wife didn't make the final cut. "We had a lot of conversations with our professor, John Scott. We'd worked with him pretty closely on the editing, and how we were going to lay things out. We wanted to focus on Karen and her racing, because her story is a big part of Stew's life; their story is one and the same, in a lot of ways," Elias explains, "We ended up cutting a bit of it because we really only had her interview footage, and we wanted to do more showing versus telling. Unfortunately we couldn't do that with her racing story because that car is currently dismantled, and it's been a little while since she's been on the track. That was something we were bummed about because it's such a fascinating part of their life."
Elias held the first screening for friends and family. "Stew was received well, generally. I think people liked it. Stew and his large extended family came they're all close, and it was really nice to be able to have them receive it and to pick out the different things they all knew Stew for. That was rewarding."
The next step was entering, and eventually winning the Best Student Documentary award, at the Outer Docs Film Festival:
Participating in the Outer Docs Festival was a first for me—my first film that's appeared and gotten an award, so that was super exciting. Outer Docs is a local festival, but that's the charm of it; you get to interact with so many people from the Ithaca area, and beyond. A filmmaker there on my Q&A panel was from the San Francisco Bay area, and her work was really great, so to be able to meet a cohort of filmmakers so diverse, as well as local people working on similar stuff as you, was fun.
Looking back, Elias puts much of the success of Stew on the man himself. "I felt like I was almost spoiled in a way, because we had so much access, and Stew was so willing to work with us. I've been working on a project this semester where we've had a lot more hurdles to jump over. Having that first experience where everything went really smoothly, and Stew was such a great character, and there are so many layers to his life and his relationship with Karen and his workers. It was definitely encouraging, especially since we got the reception that did."