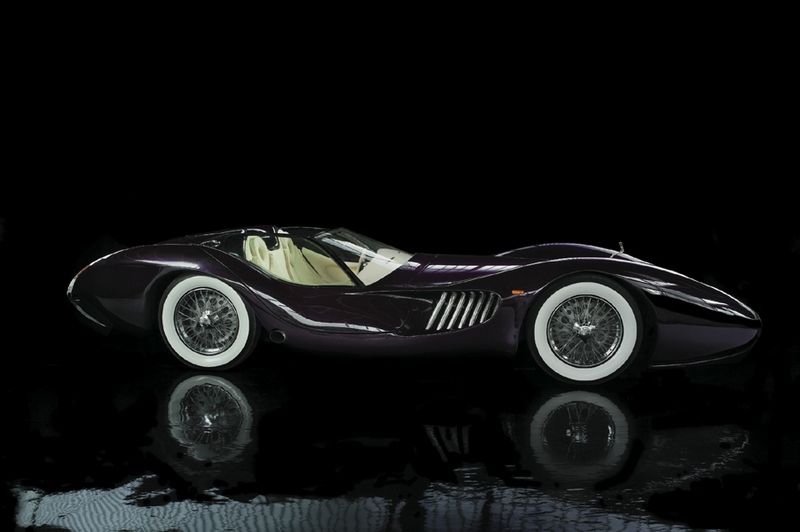 Colani's Horch resurrection prototype resurfaces in debt collection auction
Somewhere out there a metal figurine of a naked woman — her hair windswept back, her body prone but struggling for purchase against some hard-to-overcome force, and her left hand clutching for a grip while her right hand holds a Horch car logo — likely sits on a shelf or in a box or maybe a display case. That is, it sits anywhere but where it should reside: the long hood of Luigi Colani's 1996 Horch resurrection prototype, a car that comes up for auction next month.
Like much of Colani's work, his Horch prototype proposed all sorts of excess — excess in line and curve, excessive consumption, excessive power. Fitting, considering Horch did produce eight-cylinder luxury cars up to and during its time as one of the four carmakers combined to form Auto Union in 1932.
Also like much of Colani's work, it made extensive use of his signature style of sensual biomimicry in the guise of advanced aerodynamics. Colani always intended the lack of straight lines in his designs to reflect the human form, and he couldn't have put a finer point on his intentions than with the aforementioned hood ornament.
Likely not an authorized design by Audi, the Horch was reportedly Colani's follow-up to his L'Aiglon concept car from 20 years prior, a sort of neoclassic design with bulbous front fenders overshadowed only by the cartoonishly long hood and cowl-to-front-axle ratio. While not as long, Colani's Horch concept remained equally ostentatious with its Utah 8-like fenders, taffied Buick-like grille and proposed 16-cylinder power.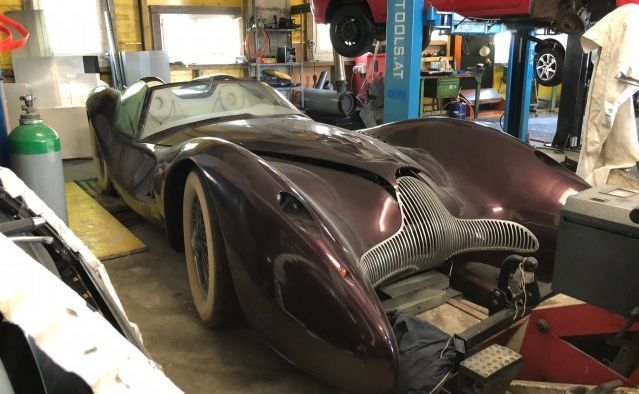 In actuality, as we can see from the photos of the Horch on its auction profile, Colani employed a Ford V-8, reportedly a 460-cu.in. version good for 620 horsepower. The cowl appears full of GM components while the dash looks like Colani made use of his Jeg's catalog.
Dubbed the Mega-Roadster, it initially appeared painted silver with a hardtop spanning the cabin and with blackwall tires before Colani resprayed it purple and added the whitewalls. Exactly how it ended up in a debt collection auction in the Swiss canton of Aargau, the auction description makes no note; according to the auction company, no paperwork accompanies the car, nor does the unique hood ornament.
The auction, which will take place December 11 outside of Küttigen, is at least the second of Colani vehicles since his death in September. Many of his Automorrow vehicles failed to sell at auction last month. Bidding on the Horch Mega-Roadster starts at 1 Swiss franc.