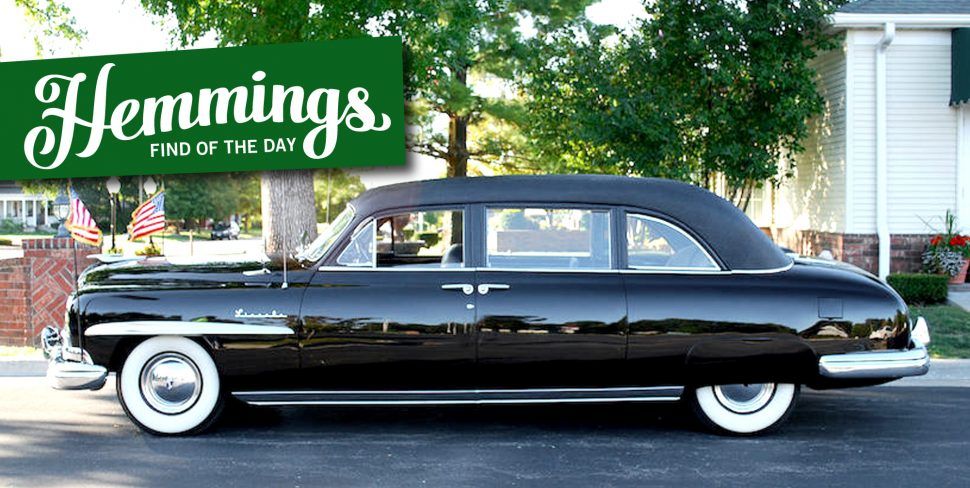 Hemmings Find of the Day: Harry Truman's 1950 Lincoln Cosmopolitan Presidential Limousine
One of nine coachbuilt examples made for President Harry S. Truman, this 1950 Lincoln Cosmopolitan Limousine is for sale on Hemmings.com. From the seller's description:
Coachwork by Henney Motor Co.
Chassis no. 50LP6237H
Engine no. 0EL6520
*336.7ci, 152hp L-head V-8
*145″ wheelbase
*Custom ordered for President Harry S. Truman
*Built at the behest of the White House
*One of only a handful surviving, most of which are in museum collections
This specially bodied limousine is one of the nine custom-built 1950 Lincolns built at the behest of the 33rd President of the United States, Harry S. Truman. The seven-passenger car rides on a 145-inch wheelbase extended chassis and measures 240 inches overall. It weighs more than 6,000 lbs.
Leased to the Government by Ford Motor Co., the 1950 Lincoln Presidential Limousines replaced the aging pre-World War II White House fleet Truman inherited when he ascended to the presidency after Franklin D. Roosevelt's death in 1944. Truman chose Lincoln over Cadillac after GM had snubbed his requests for vehicles during his presidential campaign, which he had been expected to lose. The 1950 Lincolns remained in Presidential use well into the Eisenhower administration.
The Henney Motor Company, renowned builders of limousines and professional cars, constructed the special limousine bodies, under Lincoln supervision. Production 125-inch wheelbase Lincoln Cosmopolitan chassis were lengthened 20 inches to accommodate the stretched bodies. Lincoln coupe and sedan body sections were joined to create the stretched body shell. The roof was raised seven inches, to provide clearance for top-hatted passengers. The Presidential cars were finished in black, with a black landau-grain pyroxlin-coated fabric top covering.
Lincoln press releases from 1950, and Thomas A. McPherson's 2009 book, The Henney Motor Company: The Complete History, indicate nine Presidential limousines were provided to the White House. Other reports indicate an additional eight cars may have also been built for Presidential use and scattered throughout the country. An extended-wheelbase 1950 Lincoln open-top parade car, with custom body by Ray Dietrich, was constructed from one of the original nine cars ordered for American Presidential use. Only one limousine was not delivered to the White House—Edsel Ford set aside that car for Chaim Weizmann, the President of the newly formed State of Israel.
Reportedly originally maintained for President Truman's use in New York City, the 1950 Lincoln Limousine here offered was restored in the late 1990s. It was displayed in a Florida museum prior to its 2001 acquisition by the vendor, a collector of professional cars. The Lincoln garnered a first-in-class award at the 2002 Professional Car Society's annual international meet.
The Presidential car's leather-trimmed chauffer compartment is separated from the luxuriously appointed cloth-upholstered rear cabin by a division window. There are two fresh-air heaters, the normal under-hood unit up front for the driver, and a trunk-installed custom unit for the rear-passengers. A special air inlet on the rear deck channels outside air to the rear heater.
Powering the Presidential Lincoln is a standard 1950 Lincoln 152hp L-head V-8. The car is correctly equipped with a Cadillac-sourced commercial service four-speed Hydra-Matic automatic transmission.
The 1950 Presidential Lincoln offered represents an extremely uncommon opportunity, as all other known examples are held in museum collections. The Henry Ford Museum retains the open, Dietrich-bodied car. The Truman Museum retains one among its permanent holdings.
Another is exhibited at Historic Auto Attractions in Roscoe, Illinois. Reports place an additional example in a prominent Nevada collection, and the first built may be in a European museum. The restored Weizmann car is currently displayed at the Weizmann Institute of Science outside of Tel Aviv.
Authenticated by the Harry S. Truman Presidential Library, this well-restored, historically important and most impressive American head-of-state motorcar is sure to command attention whenever and wherever it next appears.
Price
$235,000
Location
Odessa, Texas
Availability
Find more Lincolns for sale on Hemmings.com.