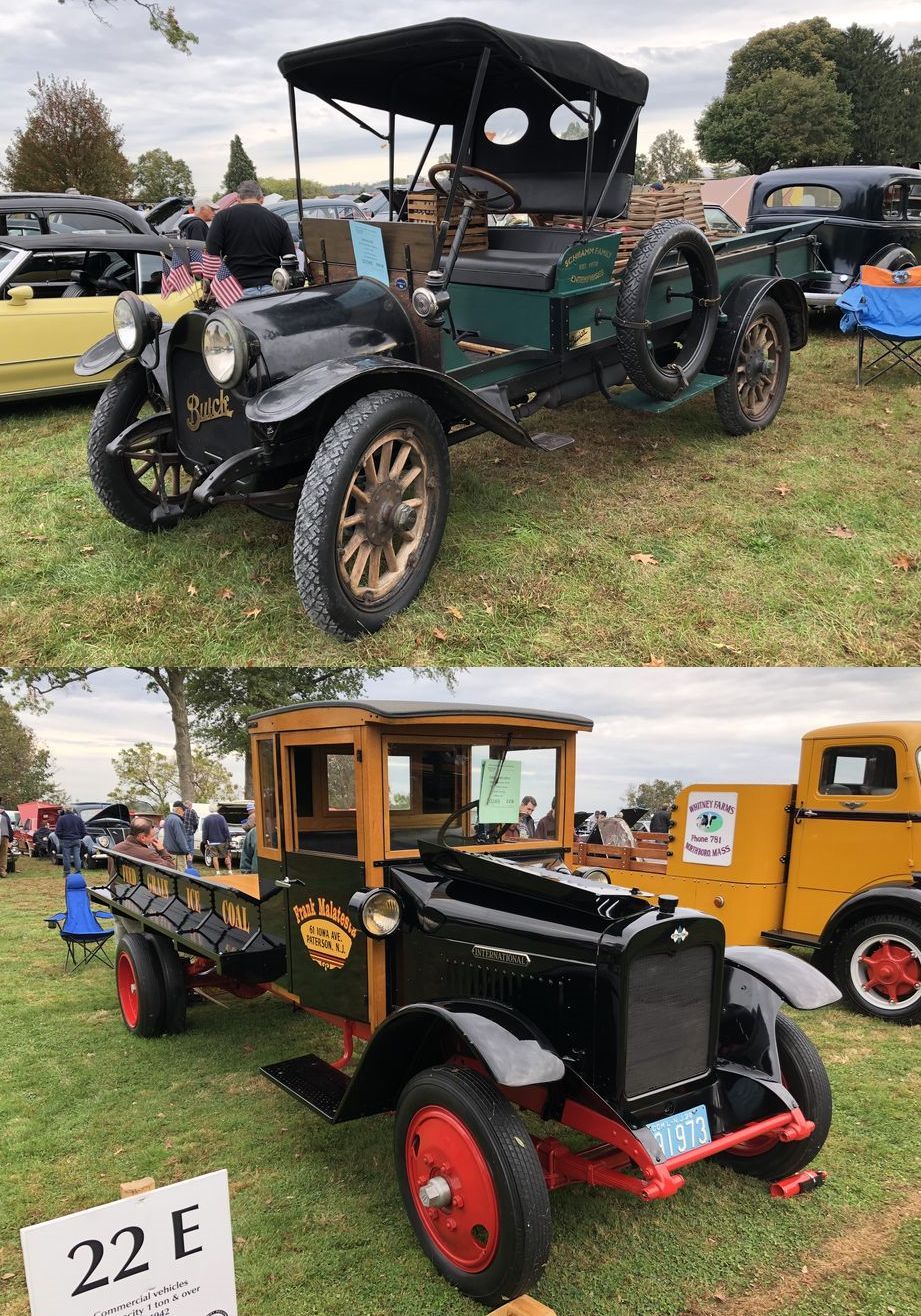 This or That: 1915 Buick C-4 Express or 1928 International SF-36?
As the holiday season nears at a rapid pace, let's launch Season Four of This or That with a couple of haulers – ideally suited for volume shoppers – from the early days of the self-propelled industry: a 1915 Buick C-4 Express and a 1928 International SF36, both of which we spotted on the show field during the 2019 edition of the annual AACA Hershey meet.
[Editor's comment: Please note that the This or That column is not a comparison report between two or more vehicles (in the original spirit of the Hemmings Special Interest Autos/Hemmings Classic Car/Hemmings Muscle Machines articles), but rather a feature that enables us, in an idyllic world, to add a collectible vehicle into our dream garage on a regular basis — with a catch: We can only pick one vehicle from this group, and it has to be for enjoyment purposes rather than as an investment. So let's climb into the ultimate automotive fantasy time machine and have a little fun.]
Wait – Buick made trucks?
Were it not for well-versed marque aficionados, company records, a handful of automotive historians, and surviving examples, it's likely the short-lived legacy of Buick's foray into the commercial market may have completely vanished. Their truck production wasn't exactly a hurried, Johnny-come-lately effort, either, which commenced in 1910 with the release of the Model 2. The line initially featured a 92-inch wheelbase chassis that held a 159-cu.in. two-cylinder engine – reportedly the same 22-hp (SAE) unit used in the Model F Touring passenger car – a two-speed planetary transmission, and a chain-drive to the rear wheels. Costing $950, they were delivered with a factory-built Express body or as a bare chassis, allowing buyers to hire third parties for specialty bodies, including "paddy wagons," Old English Motor Coach, inter-city open bus, or even covered bodies. An updated $1,065 Model 2, with a 110-inch wheelbase chassis capable of managing one-ton of goods, arrived later in the year. One of Buick's largest clients was the Saturday Evening Post, which helped propel total truck production to 1,098 units in 1910. Hardly a footnote to the year, a Model 2 took the commercial class victory during a hillclimb race in Fort Lee, New Jersey.
Buick would built 902 Model 2 trucks in 1911, and another 761 a year later, before the introduction of both the Model 3 and Model 4 in 1913. Combined output culminated with 660 units that year, with an increase to 839 for 1914, which brings us to our featured model C-4 from 1915.
Although it made use of the previous Model 4 chassis, with its 122-inch wheelbase, the new C-4 contained a 221-cu.in. four-cylinder taken from Buick's C-36 Roadster and C-37 Touring passenger cars. Tipping the scales in completed form with open Express bodywork, the C-4 retailed for $1,225. Buick built 645 trucks for the domestic market, but they were also available in bare chassis guise, which bode well for the division's export trade (those chassis were given the C-4X designation), due in large part to the outbreak of war in Europe and subsequent demand for ambulances. London's branch of the Red Cross conducted extensive tests of several trucks and, after reviewing the results, selected Buick's C-4 as the best-performing platform. Of the 748 export chassis built, it's been suggested that most served in the ambulance service.
Buick's C-4 truck production continued in 1916, after which the program was put on hiatus until the E-4 light duty truck was released in 1918. The Flint automaker's last regular-production trucks during the prewar era came in 1922-'23 with the light-duty 4-SD series. According to records, the collective truck total numbered 12,599, of which a scant three are recorded among Buick Club of America's members (per the 2017 roster): one 1923 4-SD, one 1922 E-4, and this 1915 C-4 (a handful of others likely exist not recorded by the BCA).
Meanwhile, as Buick ebbed from the commercial (truck) market, International – a storied manufactured in its own right – continued their rapid-paced march to market proliferation with stout offerings; there were no less than nine different models designations in circulation for the 1925 model year. Gaps persisted within their chassis lineup, however, thus for 1926 the S-Series welcomed the SF-34 and SF-36. Both were rated for 1 – 1/2 tons each on a 140-inch, or 160-inch by some accounts, wheelbase frame that cradled either a four-cylinder (SF-34) or six-cylinder (SF-36) engine. As our focus here is on the SF-36, the powerplant was a 223-cu.in. unit supplied by Lycoming (Model 4SL, to be specific). They featured 30 x 5 tires on disc wheels, could turn inside a 25-foot radius and touted a top speed in excess of 35 mph. A multitude of bodies could be bolted to the thick frame, exemplified by the pictured Feed & Grain example.
The new SF line continued into 1928 with little change to its primary build statistics, a year that was brimming with 20 individual International models. Although changes were on the horizon for the '29 model year and beyond, the collective International effort culminated with 33,570 units in '28, according to some reports, while other sources peg that total closer to 40,216. As far as an individual breakout is concerned, a minimum of 1,407 variations of the SF-36 were produced for '28.
Which of the two would you add to your dream garage and why?