That Exner design is great and all, but when it comes to building never-built vehicles…
First off, props to Wray Schelin for taking on a circa-1945 Virgil Exner design as the inspiration for one of his student metalshaping projects. We've seen other such projects in the past – for instance, Rob Ida's work on the Tucker Carioca, the Slovak Design Center's work on the Tatra T603X, and Mel Francis's work on Syd Mead's Sentinel 280 – and certainly hope to see more talented metalshapers and prototype builders take on unbuilt vehicle renderings from the past.
In the event that anybody else decides to follow the same path as Schelin, et al. above, we suggest taking a look at the work of Theodore Pietsch II.
Pietsch, according to the biography his son put together in "Theodore W. Pietsch II (1912-1993) and the Development of Automobile Design in the Golden Age," started sketching automobiles as early as 11 years old and leveraged his fascination with automobile design into an auto design career with Chrysler (three different stints, including one under Exner), Hudson, Briggs, Ford, American Motors/Jeep, and toward the end of his career with Studebaker via Raymond Loewy.
While he could easily rip off a standard contemporary car design, Pietsch started his career designing experimental cars (a line of alternative body styles for Chrysler's pre-war radial-engine Star Car) and never really stopped, designing some of his most forward-thinking vehicles while under Loewy.
Take, for instance, the design at the top for a "Studebaker high-speed express truck," dated September 24, 1956, and shown at the top. Pietsch drew a couple cab-forward express trucks, but this one looks relatively straightforward, not unlike HarborIndiana's Avantipede.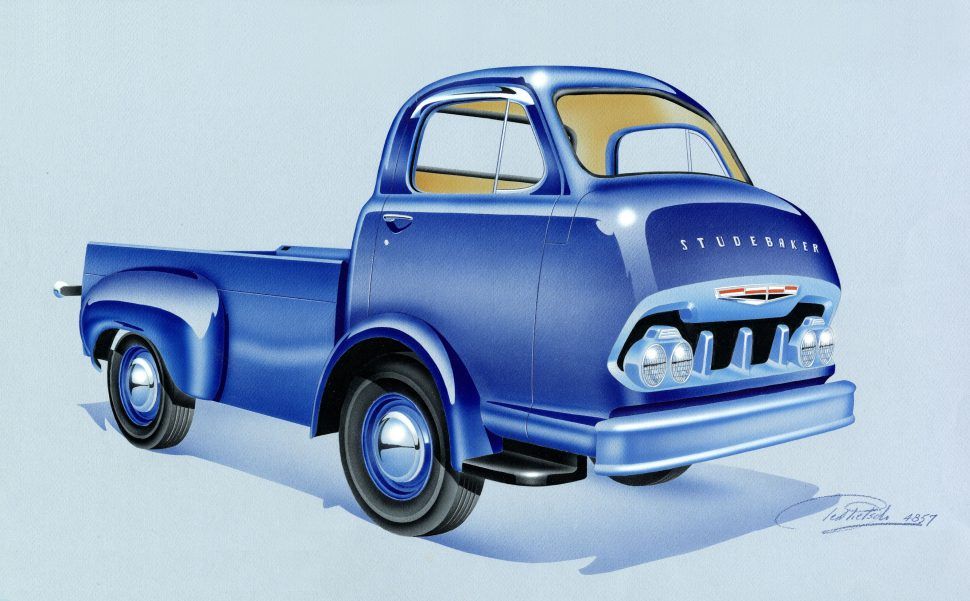 Then there's Pietsch's cab-over Studebaker truck, dated April 8, 1957. If we're not mistaken, it uses contemporary Studebaker pickup components – cab, bed, and rear fenders – in a package much like the Willys FC-150/170 and would need just some sheetmetal or even a fiberglass panel forward of the firewall.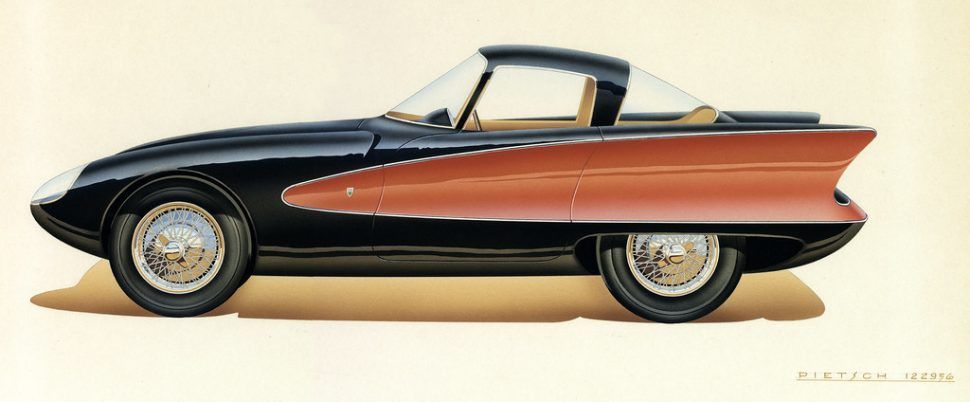 Rather more involved would be his two-door coupe design, dated December 29, 1956, and showing a lot of European influence. Involved, but not impossible. A first- or second-generation Corvette might serve as a good basis for this one.
Ultimately, the closest any of Pietsch's designs came to production was his bathtub Nash design – done in conjunction with Holden Koto – which, according to Pietsch's son, a Nash official saw, rejected, and then had his own designers more or less copy. Yet Pietsch's designs, thanks to his attention to form, proportion, and scale, always appeared fleshed out and ready for full-scale production. So, if anybody's designs deserve to be elevated from paper to real life, it's Pietsch's, in our opinion.
That said, which never-built designs do you think some master metalshaper should take on?