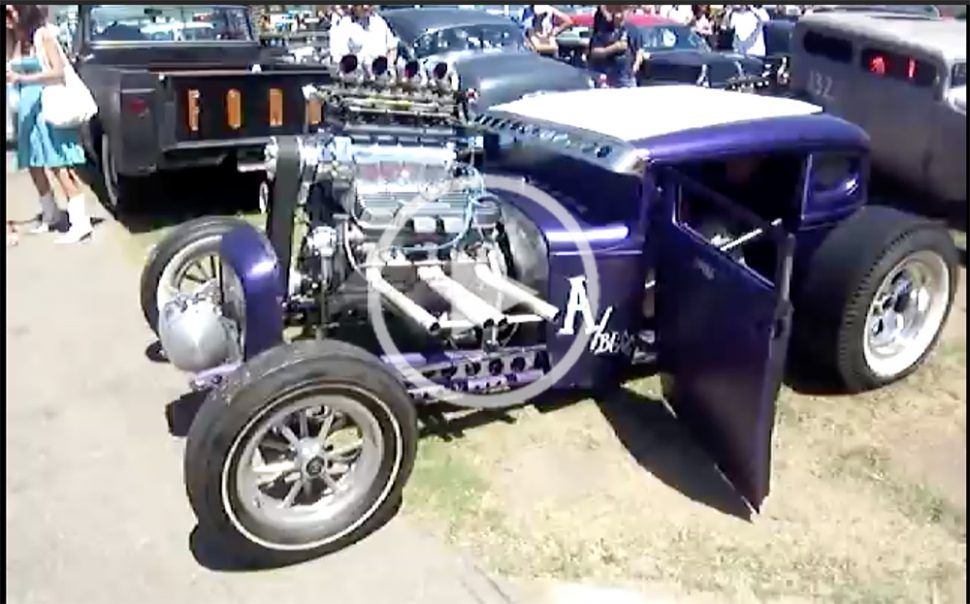 VIDEO: Muscle of a purple stripe
We were talking about the hot rod revival that took place in this country some 25+ years ago (we're not gonna call it "rat rod," mmm'kay?) and it got us to thinking: there's a lot more of a connection between the muscle car guys and the hotrodders than we thought. Easy to see the differences, but at the end of the day, we're not so much apples-and-oranges as we once thought. At least when we talk about just the motors.
Take one of the most well-known, beloved, derided and controversial revival hot rods ever built, f'rinstance: Marky Idzardi's "Purple People Eater." This thing caused such a ruckus when he debuted it at the Paso Robles show back in 2000-something that its motor, alone, made the cover of Rod & Custom soon after.
So, we thought we'd bring it back this week and show a video of Marky starting the 'Eater at the Ventura Nationals in Ventura, CA back then. The car's critics said it would never run. It did. They said it couldn't be driven. It was. Said it could never be raced. And then Marky raced it.
The car still exists and the only thing Marky seems to have changed is the Hilborn 2-port that replaced the nest of Strombergs. A shame, really, but he says that injection setup was just a little more reliable than all those carbs. OK, then.
Love it or hate it, the car's proven its longevity. So, what's your history with the car? Do you remember when Marky debuted it? Do you remember the car in the magazines? Let's hear it!