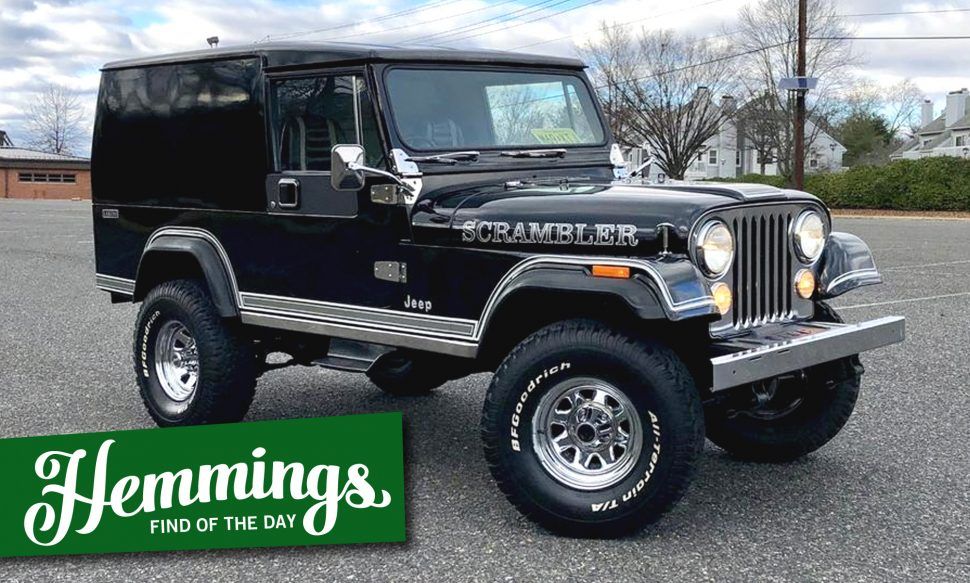 Hemmings Find of the Day: 1984 Jeep CJ-8
Alaskan postal service 1984 Jeep CJ-8 for sale on Hemmings.com. From the seller's description:
1 of only 230 custom made by Jeep for the Alaskan Postal Service in 1984. This has the original 258 inline 6 cylinder motor and the legendary 3 speed Torqueflite 999 automatic transmission, both in top operational condition. The original Worldcab top including its hard doors and barn door along with the right hand drive are what sets this jeep apart and are in excellent conditon (NO RUST) The jeep was restored 80% of the way about 10 years ago to a Loredo package and then I completed the interior after I bought it with a complete and hard to find OEM Loredo interior. The original radiator was rebuilt to maintain originality throughout. Every single thing on this has been replacd with OEM equipment but impoved to modern technology where possible. Ex: Headlights upgraded to LED. All new complete BDS 2.5″ full suspension lift installed in June. All new front end steering components and allignment performed so this jeep drives straight with just two fingers on the wheel. 33″ BFG all terrain tires on original period correct chrome wagon wheels. Also included in sale with be the brand new full Besttop soft top, bikini top and full 2 part soft doors purchased this spring and used only 3 times. This jeep is 100% complete and functioning with no mechanical defects of any kind. Everything works!! Yes even the guages in the spedo cluster work, I just added the autometer guages below the dash for more accuracy than the originals could provide. Very minor paint blemishes (minor scratches etc) here and there as to be expected for a 35 year old jeep. Original floors. Entire interior lined with rhino liner. The last owner held this jeep for over 20 years down south in AL and GA and I believe that the engine was rebuilt at some point there. The engine runs flawlessly and transmission shifts smoothly. Power steering and brakes. Over $33,000 invested to make a truly beautiful and dependable classic Jeep that you can take anywhere. This is a very rare and historic jeep that you will never see anywhere else let alone any one else with one.
Price
$30,000
Location
Haddon Township, New Jersey
Availability
See more Jeeps for sale on Hemmings.com.