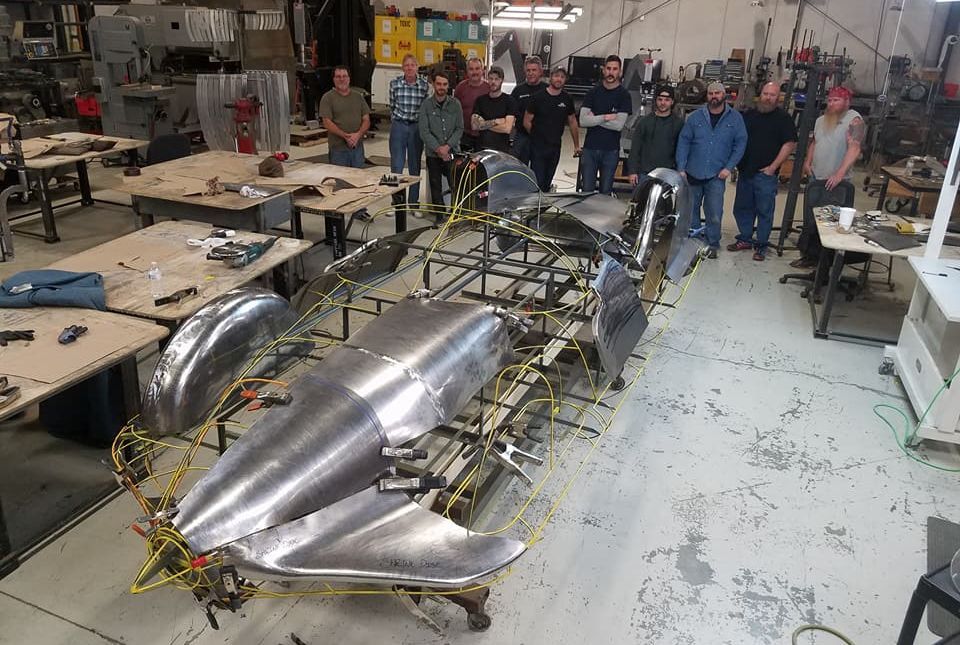 Never-built Virgil Exner concept car rendering takes form 75 years later
Metalshaper Wray Schelin says he can teach an absolute beginner in metalshaping how to form a car fender in just a week, and he's decided to back that claim up by assigning his metalshaping students to create a super-slick Virgil Exner-penned car body design that the world has never seen in sheetmetal.
"I just thought it was the coolest future car I'd ever seen," Schelin said of the circa 1945 rendering that Exner drew during his time with Studebaker. "As soon as I saw it, I said, 'Well, I'm making that.'"
Schelin, who offers coachworking classes out of his shop in Charlton, Massachusetts, grew up around his grandfather's restoration business and old car library, but said he never came across the drawing until an acquaintance of his posted it to Facebook a year and a half ago.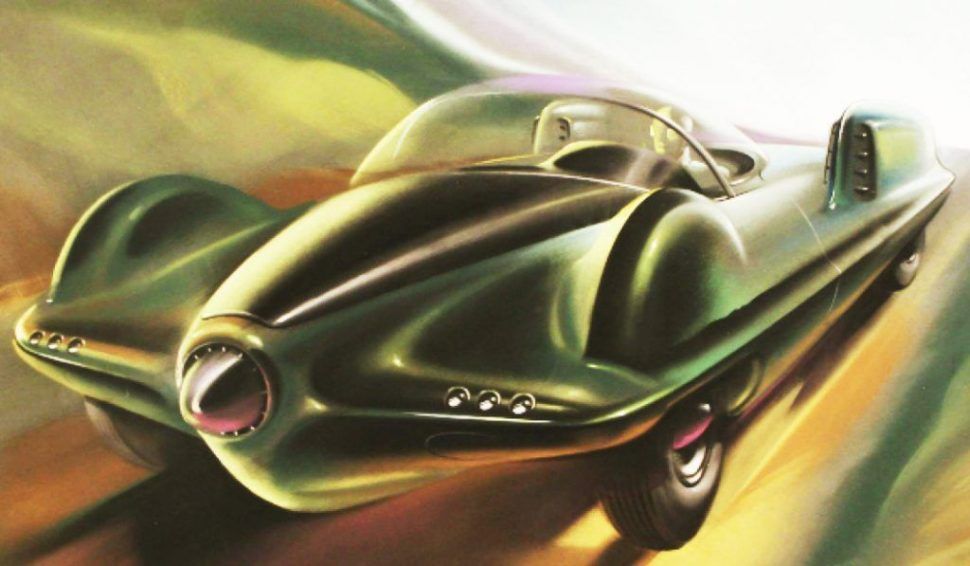 Clearly a pie-in-the-sky design not meant for production, Exner drew it toward the end of World War II or right after the conclusion of the war, roughly the same time he worked on Studebaker's post-war designs culminating in the 1947 Champion Starlight coupe. As Peter Grist wrote of Exner's design philosophy at the time in "Virgil Exner: Visioneer," Exner
foresaw aircraft design having a powerful influence upon future car design, as automobiles became faster, and streamlining and noise would become ever more important factors. Losing structural irregularities and unwanted projections helped to streamline the automobile. He did not want automobiles to look like aeroplanes, however, but the aerodynamics behind their design was Exner's goal. A combination of beauty with function, producing a clean appearance, but a car still had to look like a car, first and foremost.
The bubbletop canopy of his design and the bullet nose certainly attest to aeronautical inspiration, but the squared-off outline of the design and those prominent wheelarches – the rear ones almost certainly yoinked from Mercedes-Benz's six-wheeled Ferdinand Porsche-designed T80 land-speed record car of just six years prior – make it unmistakably a car, even if it hailed from some far-flung jet-age future.
Exner likely could have drawn the concept as part of his early design studies for what eventually became Gordon Buehrig's Tasco. A 1944 clay model that Exner created for the project shows similar prominent wheel arches front and rear combined with a bubbletop canopy and low, windswept design. However, Exner did incorporate parts of the concept into later designs. Grist included a drawing of a May 1947 design Exner did for "an advanced mid-engined midget racing car" that uses the earlier design's nosecone and tapering hood, design elements that later appeared on the bullet-nosed Studebakers, while the kicked-up rear fenders evolved into the 1953 Chrysler D'Elegance's haunches and that squared-off outline and the boat-like rounded sides cropped up in the 1957 Chrysler Dart.
Ironically, as Grist noted, not long after working up the design, Exner started to denounce the "Buck Rogers" styling of "covered-cockpit rocket-style cars that were totally impractical to build or use, on a cost as well as engineering basis." He even spoke at the 1947 Society of Automotive Engineers and 1948 American Society of Body Engineers conventions on the topic.
He must not have considered the design Buck Rogers-y enough, however: According to Shelin, Exner hung the drawing in his own home after showing it at those conventions and left it there until his son donated it to The Henry Ford.
"(The drawing) was probably just a lark on his part," Schelin said. "But he also threw everything he had at it. What he did with that design encapsulated the hopes and dreams of that generation, which felt that the sky was the limit after World War II."
Because it wasn't meant for production, Exner only drew one view of the design, one that had rather exaggerated proportions, Schelin said, making it difficult to accurately scale it to a real-life model. Schelin said he had to go through a couple iterations of laying out the design on a full-scale drawing board to get it right.
"If it were too big, it'd look stupid," he said. "Too small, and it won't work."
He finally settled on a wheelbase of somewhere around 120 inches and created a wireform a year or so ago with the intention of using it as the basis for one of his student projects. Each class he teaches eventually contributes to one of half a dozen student projects Schelin has around the shop – among them a replica of the Macauley Packard boattail roadster, a Porsche 550 Spyder, and a Maserati 300S – shaping metal around the wireform in pieces and stitching them together into a whole.
"I'm basically doing this with free labor from the students," he said, noting that the nature of the project means that it'll take much longer to complete than if he had some wealthy patron paying for the car.
Schelin estimated it'll be another three or four years before the body of the Exner-designed car will be finished. After that, he does intend to turn it into a running, driving automobile atop a scratchbuilt tube chassis. He'll likely use a Tesla drivetrain and battery pack to make it an electric vehicle rather than fit a rear-engine drivetrain, as he figures Exner intended.
After that, he said he's certainly interested in doing something similar with other unrealized renderings from the past. "Any production car I'm not interested in," he said. "But it's gotta be something that's interesting. It's gotta be beautiful."
(h/t to John Corey)