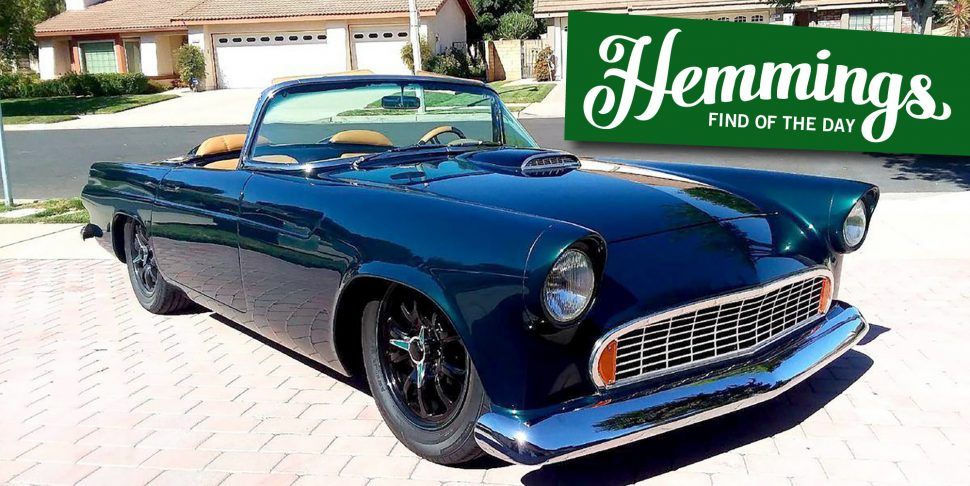 Hemmings Find of the Day: 1956 Ford Thunderbird
Airbagged 1956 Ford Thunderbird for sale on Hemmings.com. From the seller's description:
Offered here is a remarkably striking and customized 1956 Ford Thunderbird mild rod. This fine car sits and sounds right and is truly a beautiful automobile. The show quality deep metallic green paint with black stripes with subtle pinstripe are exremely sharp and handsome. A lowering system is installed to raise or lower the car to a desired height. The car looks amazingly cool lowered to the ground. The hand fabricated tubular air ride suspension with four corner disc brakes has the automobile riding like on a cloud and stops like a race car. All the chrome and stainless is sparkling including the one-piece Smoothy front and rear bumpers. New custom powder-coated black Raceline wheels with Falcon tires have recently been installed for a new look. (the first seven photos). A full set of Wheel Smith chrome spoked wheels have a meticulously handpainted Cobra icon on each spinner will also come with this sale.
The genuine leather interior upholstery has very clean lines with much attention paid to fit, finish and detail. The owner is 6′-2″ tall and states he has plenty of room in the driver's compartment for extremely comfortable driving, shifting and cruising. The seats have a wonderful lumbar feature built into the seat backs. A classic and matching porthole removeable hardtop will come with this sale. (Please see photo).
I was driven in this car and it performs and handles as a new vehicle. Very solid, responsive and extremely powerful. Large Magnaflows produce a deep throaty sound when you step on it and settle down to a very comfortable purr when cruising. The car does not lean and tracks corners like a slot car. Power comes by a 4.6 Liter Cobra V/8 that is beautufully polished, balanced and blueprinted. (Noteworthy…this T-Bird cruises at 1100 RPMs at 70 mph and gets 20 mpg). The engine is matched to a Tremec T-5, 5-speed manual transmission. All-in-all this vehicle performs incredibly.
Price
$93,500
Location
Oxnard, California
Availability
See more Ford Thunderbirds for sale on Hemmings.com.