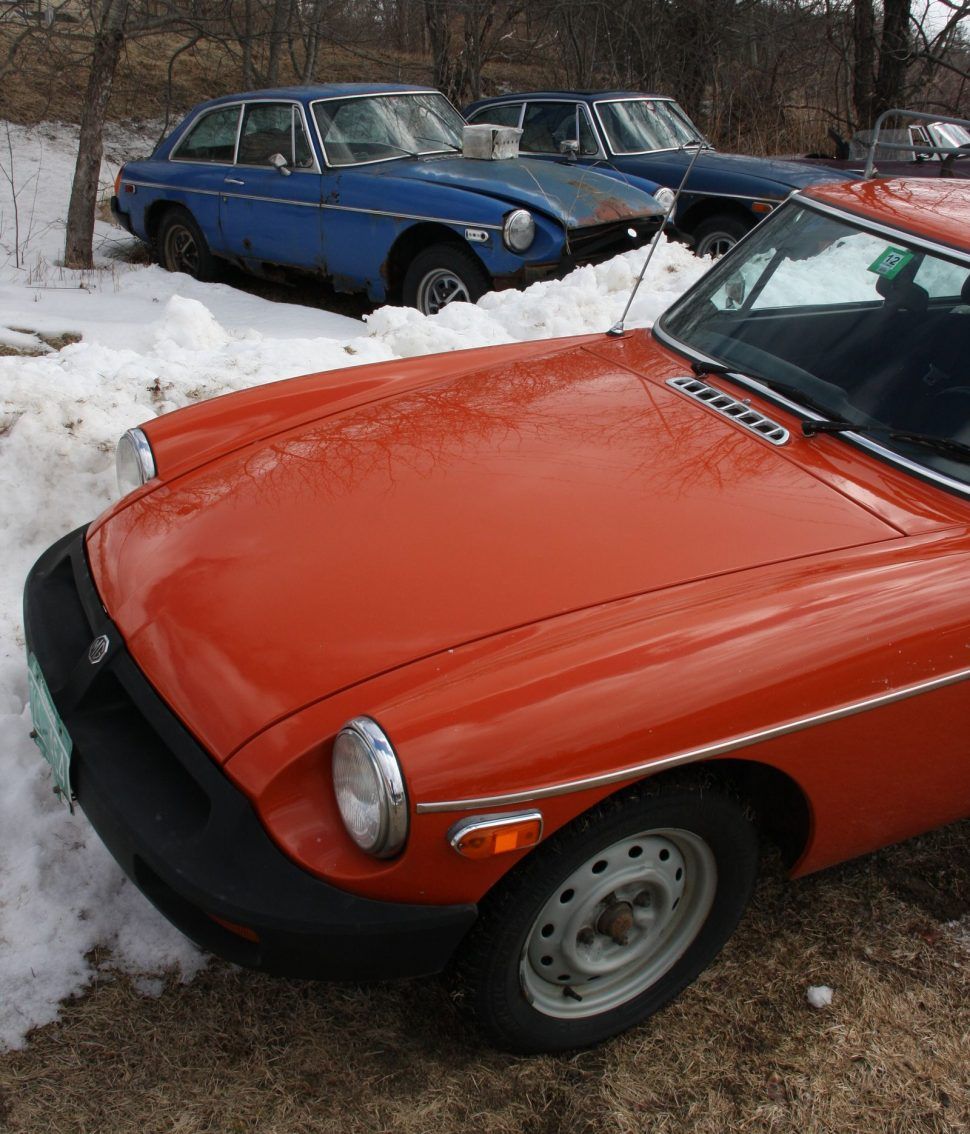 A B for all seasons- Encountering the third 1974-1/2 MGBeater MGB/GT winter car
Photography by the author and Judi Dell'Anno.
The June issue of Hemmings Classic Car, soon reaching mailboxes near you, will feature a face familiar to longtime readers of Hemmings Sports & Exotic Car. Hemmings Graphic Designer Judi Dell'Anno and I recently traveled across southern Vermont to Westminster West, to visit with our friend David Clark, and to experience his latest cold-weather daily driver, a Blaze Orange 1974-1/2 MGB/GT. That eye-catching car is this month's featured "Driveable Dream;" we'd like to give you a bit more information than we had space for in print, so let's go behind the scenes.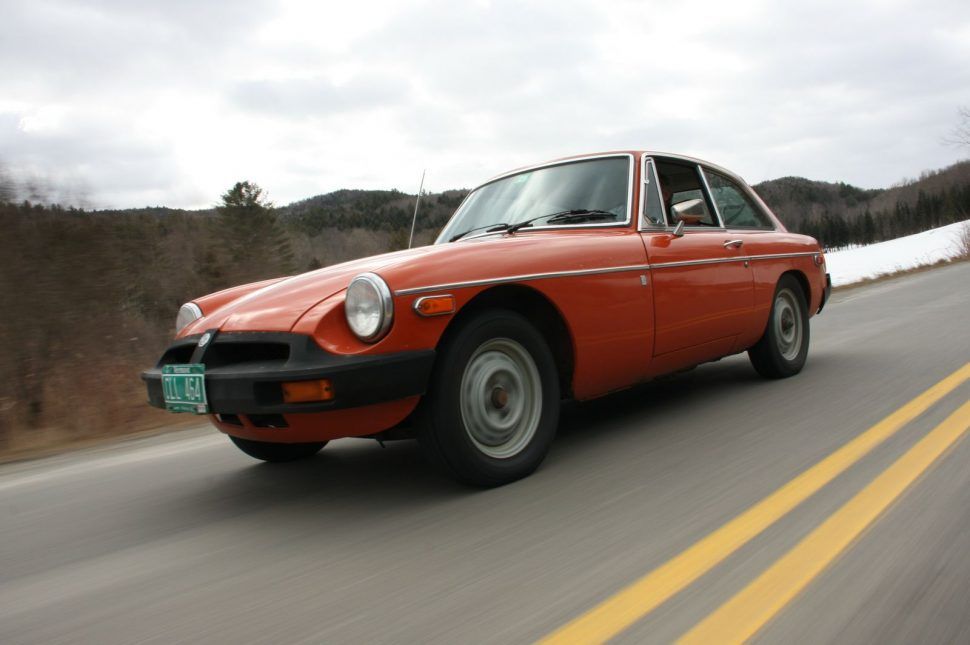 Winter Beater #3, on the road.
If you're not familiar with that unofficial model year reference, it signifies the third iteration of MGB to be sold in the 1974 model year. Initial 1974 MGB Tourers (roadsters) and GTs, built in autumn 1973, were largely identical to 1973 models that sported the traditional chrome bumpers and slender, rubber-tipped overriders seen on these cars since the 1970 model year. The U.S. market examples built between January 1974 and September of that year featured an interim rubber block-style overrider, the infamous "Sabrina" blocks (think 'Dagmars,' and you're on the right track). And the final batch of 1974-model-year MGBs were built with the Federally mandated 5 MPH, impact-absorbing polyurethane "rubber" bumpers. Those end-run cars retained their twin-SU HIF 4-carbureted, 1973-spec engines, and the circa-1,250 rubber bumper GTs so equipped would be the last that American buyers would see of this solid-roof variant.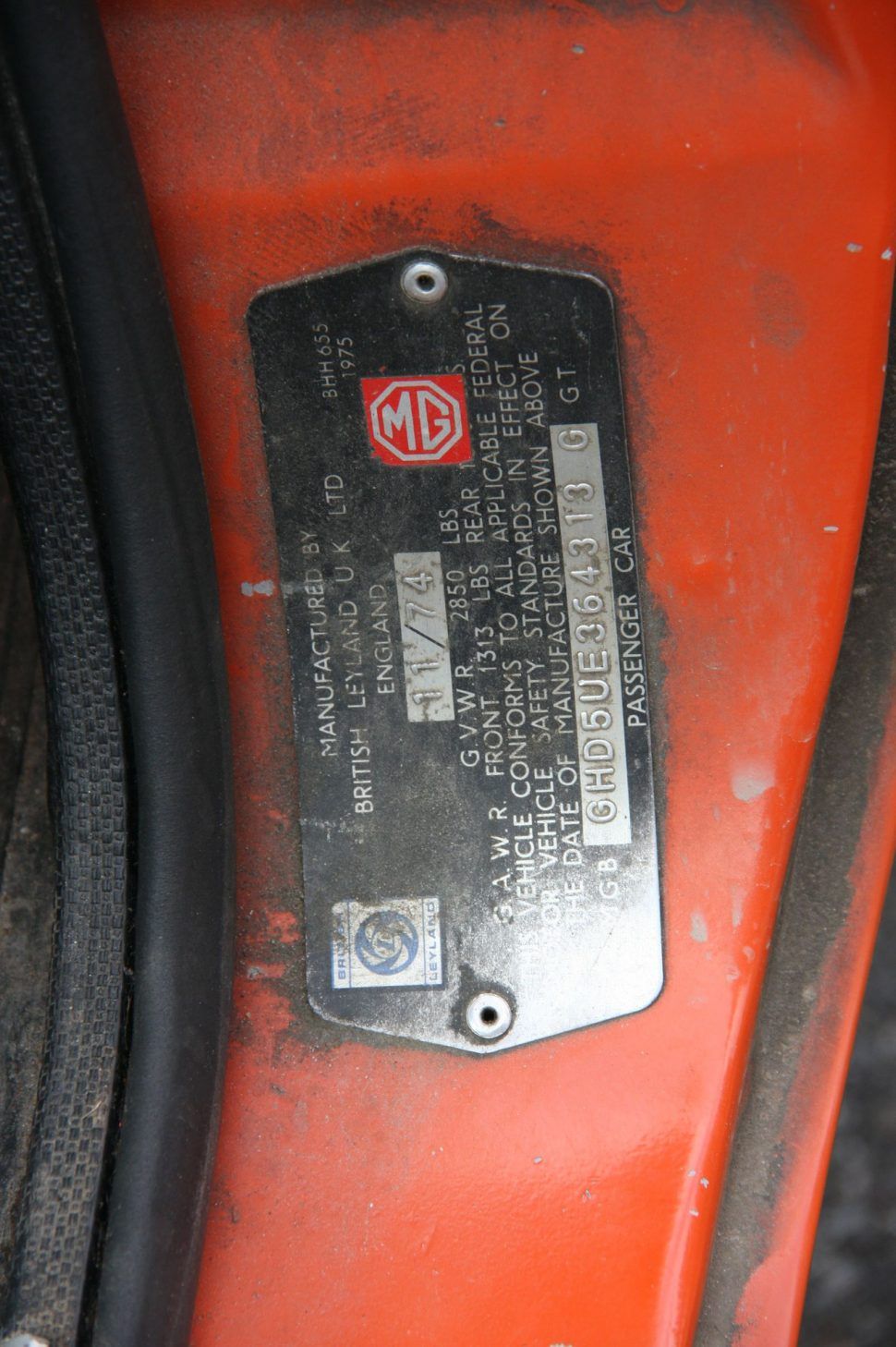 U.S.-spec MGBs built between September and December of 1974 combine model year 1973 and 1975 features.
David picked up his first of three 1974-1/2 GTs in 2000, a $50 initial investment that would last him seven years. He told HS&EC editor and story author David LaChance of the emotions that car – which he retroactively dubbed Winter Beater #1 – inspired:
"You have people who are absolutely appalled, because it's somewhat, shall we say, déclassé," David said. "The second reaction is, 'Way cool!' And the third reaction is, 'Oh man, I used to have one of those myself–and I wish I'd never sold it.'"
It turned out that the season we featured Winter Beater #1 in print was indeed its last. But he already had its replacement on hand in the form of a nearly identical, Teal Blue 1974-1/2 GT , this one with a rare Webasto sliding sunroof and overdrive.Despite his attempts to better rust-proof it, Winter Beater #2 wouldn't live indefinitely; it served David well from 2007 through January 2016.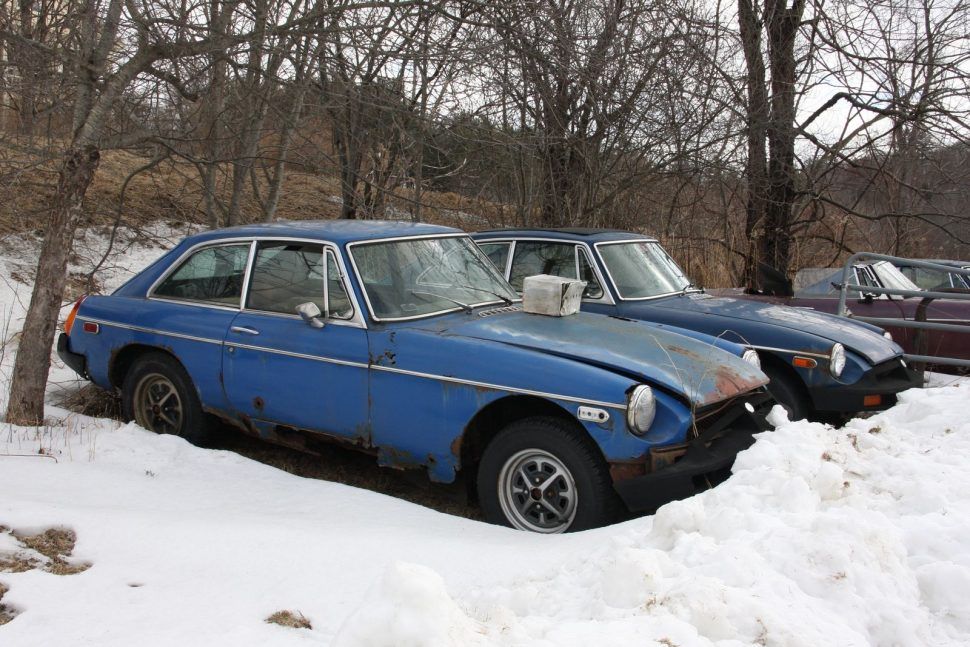 Winter Beater #1 left, Winter Beater #2 (note Webasto roof) right; terminal rust ultimately rendered them unsafe for the road.
The British sports car specialist told Judi and me stories of the first two daily-driver GTs as we worked to capture the third. It was then that we learned that the engine currently powering the orange car had cycled through both of its predecessors.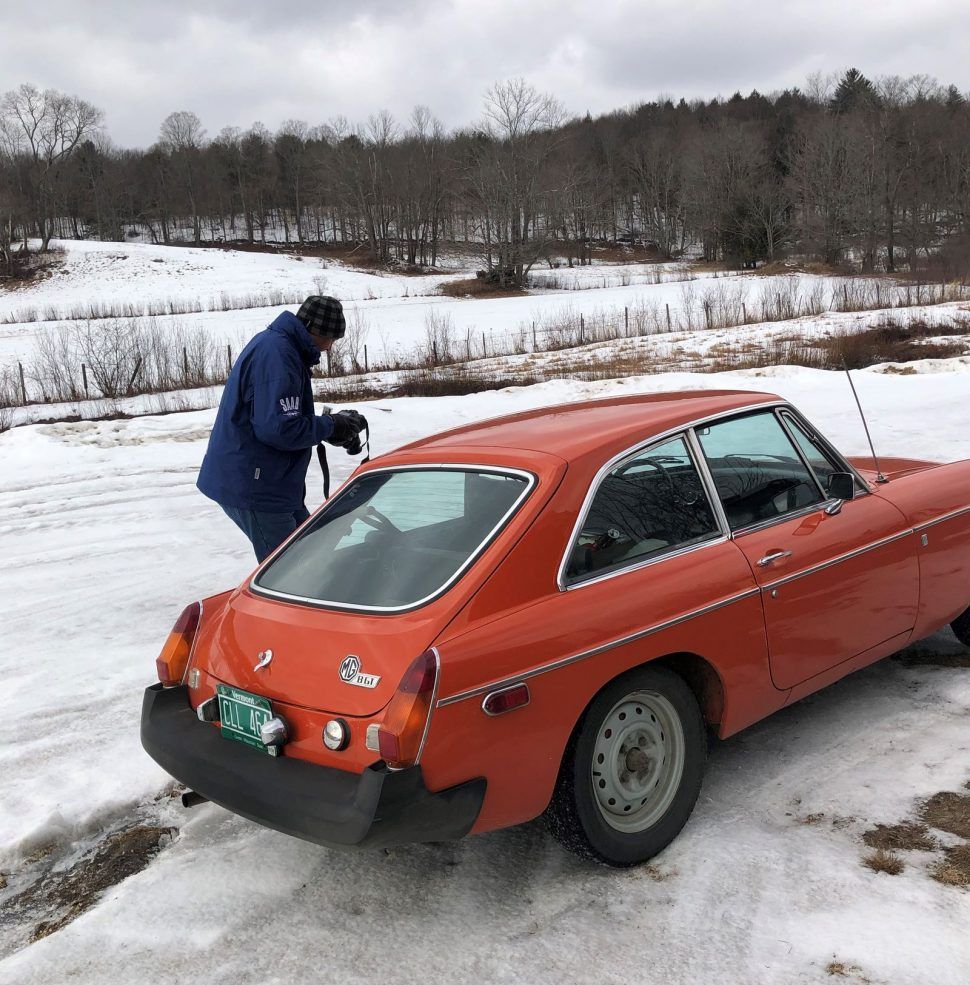 Your author reviewing some icy-fun action pan blurs with our feature car owner.
Winter Beater #3 had just over 62,000 miles on the odometer when David bought it, and the original engine made it to 95,000 miles when camshaft failure took it out of service. Luckily, he'd pulled the engine had used to power #2, which had initially seen duty in #1.
As David explained, this pushrod inline-four came to him in a 1969 MGB that he'd purchased for $150. It received a replacement camshaft, a turned crankshaft, .020-over pistons, and a valve job. It was used in #1 through the decommissioning of that car, then installed in #2 before that GT hit the road. (He'd already sold the #2 car's engine to a customer.) In short order, it was transferred into our current feature car when that GT's original camshaft failed. He estimates that this engine has covered between 50,000 and 75,000 miles in these three cars. Interestingly, the factory 14-inch steel wheels currently on this car also came from that 1969 parts car, as did the overdrive transmission currently serving in David's summer-driver MGB Tourer.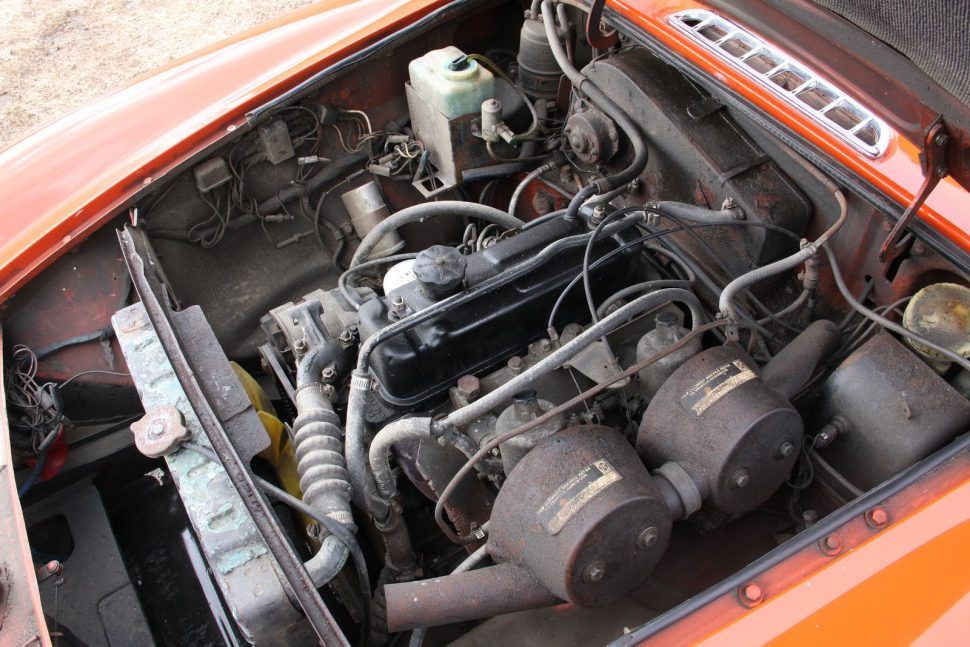 This 1.8-liter B-series four has been under the hoods of all three of David Clark's 1974-1/2 MGB/GTs.
He continues to drive and enjoy Winter Beater #3 daily. It's adept on all surfaces, thanks to the traction provided by its studded winter tires and Quaife limited-slip differential.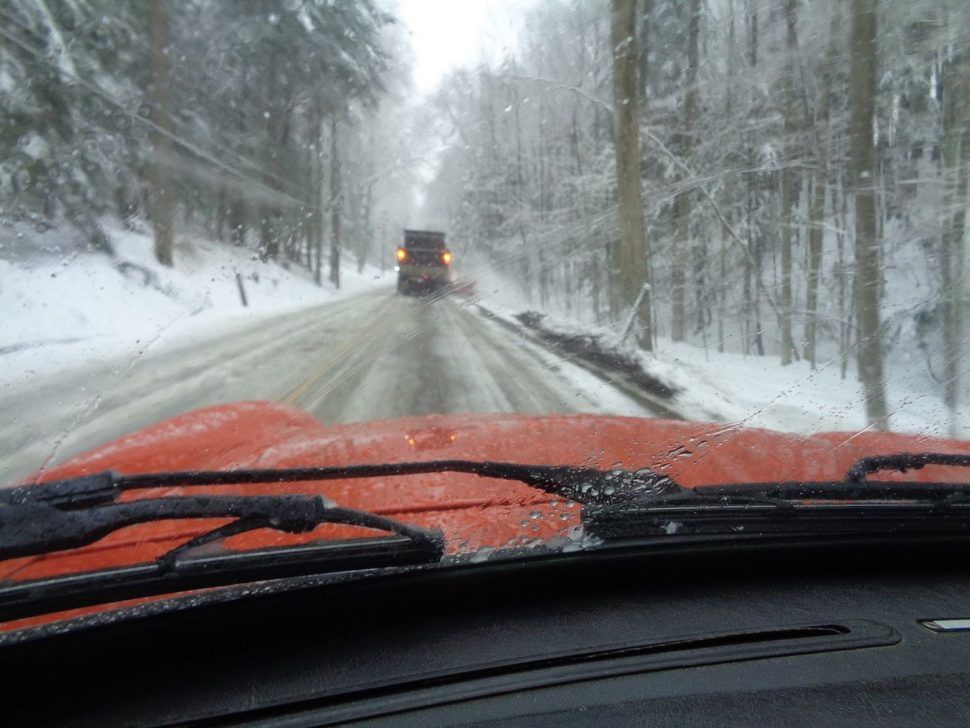 Don't follow the salting plow truck too closely! Photo courtesy of David Clark.
Below is a gallery of outtake photos that will hopefully entice you to pick up the June 2020 issue of Hemmings Classic Car, to get the full story. Special thanks again to David Clark for sharing his cars and stories with the Hemmings Nation.