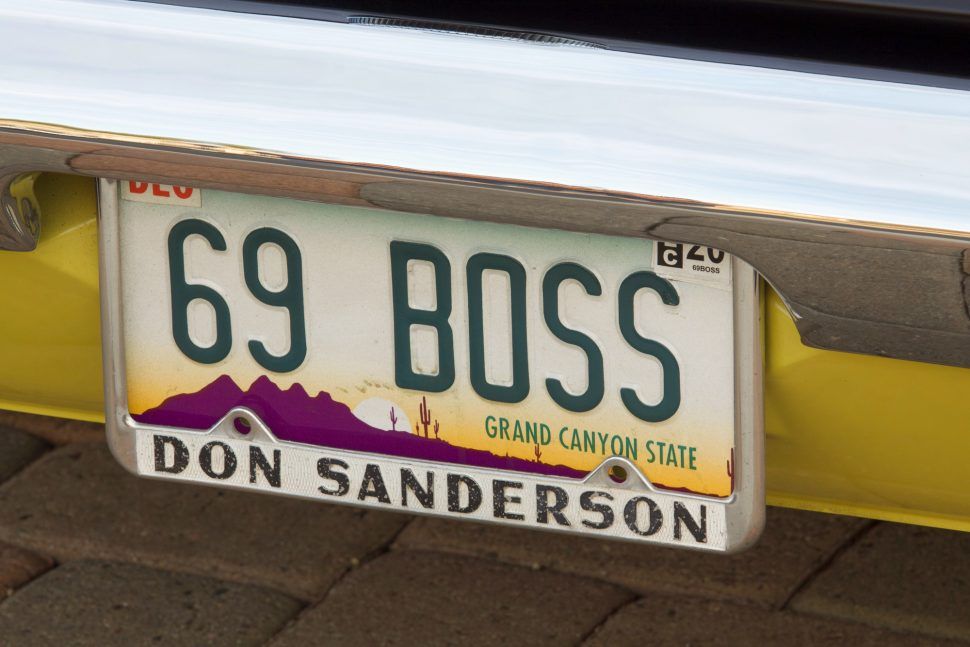 How one Muscle Machines feature car owner got his potentially suggestive license plate through the system 
We recently profiled the heartwarming tale of a man who sold his high-school car—a 1969 Ford Mustang Boss 302—and was able to reclaim it more than a decade after he'd sold it. He's never letting go now. And he's made it his own the way many of us do: with a customized license plate. Not some made up thing for car-show duty, but his official Arizona registration tag, hanging there beneath the back bumper for all the world to see.
It nearly didn't happen. Because if you don't know about Mustangs, calling yourself 69 BOSS on your license plate sounds like juvenile boudoir braggadocio.
Jim Boyd takes the story from here. "When I got the car back in the late 1990s, I got normal seven-digit plates, and there was a slip of paper in there to apply for a set of custom plates. I thought that was kind of cool, and it was only $25 to do. And so I wrote up the form, brought a check, and drove to the Motor Vehicle Division [MVD] office in Mesa—in person in those days since there wasn't really a way to do that yet on the internet.
"And at the window I get somebody's grandmother—white hair, somewhere between 65 and 100 years old. She looks at it, and she says, 'Oh, I can't put your registration through.'" Why not? "She said to me, 'It's suggestive.'
"And I stood there for 15 or 20 seconds looking at it, wondering, what? Why? And then it finally dawns on me." He adds, "I wasn't prepared to be talking about anything suggestive with someone's grandma at MVD. I told her that it was a 1969 Ford Mustang Boss 302, but it didn't matter." Jim went home, sans plates.
On the ride home, though, he got more and more annoyed. "I thought, what's this world coming to? No one will look at this plate on this car and think it's suggestive." So he tried the oldest trick in the book: he went to a different MVD—this time in Ahwatukee.
And he tried a different approach—one that involved a couple of pictures of his cool car. "I asked to see the manager, and a lady came out, maybe in her early 40s. And I told her about my Mustang and showed her a couple of pics of my car, including a side shot where you could see the striping that says Boss 302. And she dug it; she said it was really cool. Then I showed her the application for my 69 BOSS plate, and told her I'd like to get this plate on it.
"Turns out, in Arizona the managers of a few MVDs meet once a month to go over license plate applications that counter workers have singled out as potentially problematic. She told me she'd present it to the board, with my pics, they'd vote on it, and I'd have an answer in a couple of weeks.
"And in two weeks time, I got a call from her—she got the plate approved!"
Since then, he's managed to get some other similar plates passed through the system. "70 BOSS was no big deal, that one went through without a hitch," Jim told us. "And if you put a D or a T between the numbers, so it reads 6D9 or 6T9, they don't seem to have an issue either."
The plate has been on the back of Jim's Boss for more than two decades now, so has anyone ever made a double-entendre out of it? "Absolutely no one has ever pointed that out, and at Mustang shows, people know what the car is. However, at more general car shows, I've watched people walk all around it, examine it from every angle, and then ask me, 'What year is it?'"