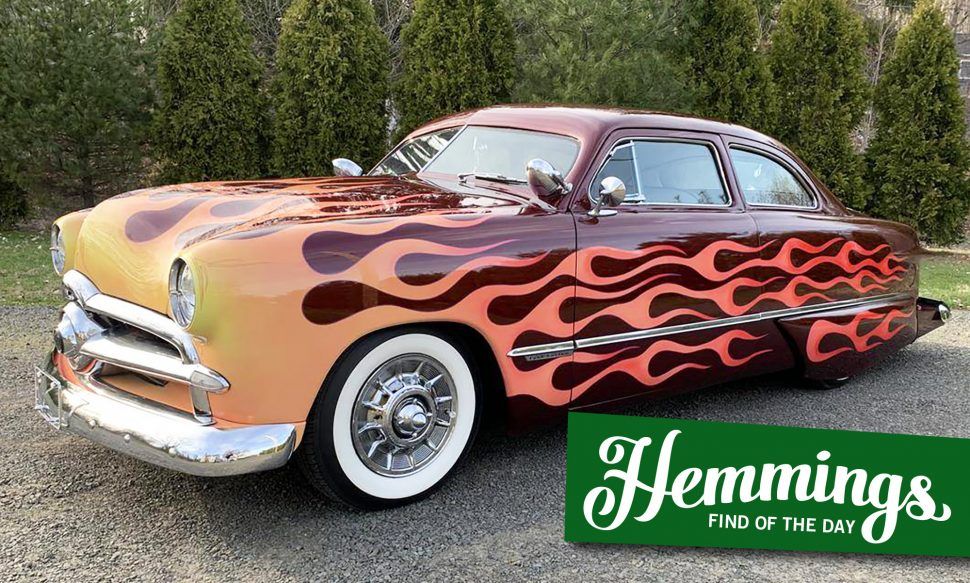 Hemmings Find of the Day: 1949 Ford Custom
Customized 1949 Ford for sale on Hemmings.com. From the seller's description:
This is one of a kind, over the top, custom show car with a criminal history! This beauty has been hidden away in a private collection for quite a few years and is now being offered for sale. The dirty history is…. in 1949 this car was busted and confiscated by Canadian Customs at the Peace Bridge, Fort Erie, Canada. It was searched and found smuggling diamonds from the USA. Moving forward, this car was found in 1994, still in Fort Erie, by Ken Servos who is a custom car builder in Canada. He proceeded to design and build the "Diamond Smuggler" to carry the story forward. I have a 5 page build sheet drafted by Ken Servos himself which really says it all. I am including pics of this document to describe the car. It has 14K miles on it since the build but still looks perfect. It looks, runs and drives excellent. A few things that have been changed or removed since the build. The Lake pipes were taken off (bottomed out to often and got scuffed up), do not have the remote for the door poppers, have all paperwork to get one (need to reach in vent window), one of the air bags blew out while on a long road trip and couldn't get them immediately so I had lowering shocks installed, sits like seen in pics, and had a new radiator installed. Other than those few things the car is as built. I have a book with every original receipt from the build, I even have the bill of sale when Ken bought the car. I also tracked down a copy of " Old Auto's " a Canadian car magazine from Jan. 5th 2004 where The Diamond Smuggler was featured in a full page article. This car has a great story, many best in class, peoples choice and best in show awards including top 10 Canadian Street Rod Nationals Winner. This car is a real head turner, great story and show ready.
Price
$34,900
Location
Northford, Connecticut
Availability
See more Fords for sale on Hemmings.com.