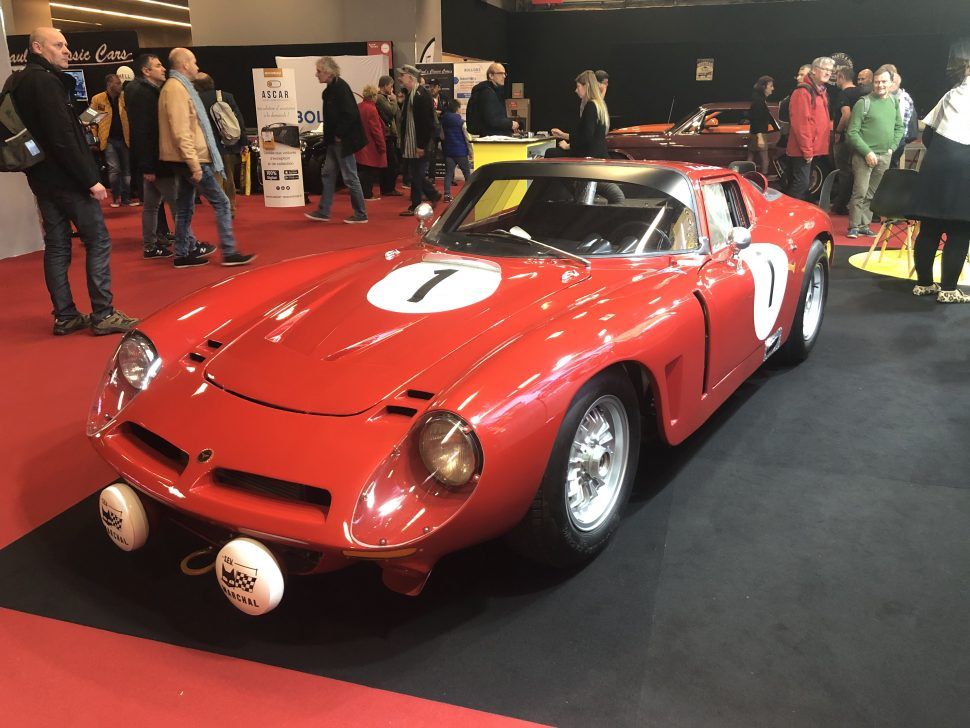 Retromobile 2020 already seems like another time and another world
Just two months ago, I was walking the vast halls of Retromobile in Paris, unaware that the world as we know it, was about to change dramatically.
No one worried about social distancing. People crowded the booths, inspecting everything closely. The mood was friendly, festive, and you heard a multitude of languages.
Flip the calendar back eight weeks and come look at it with me…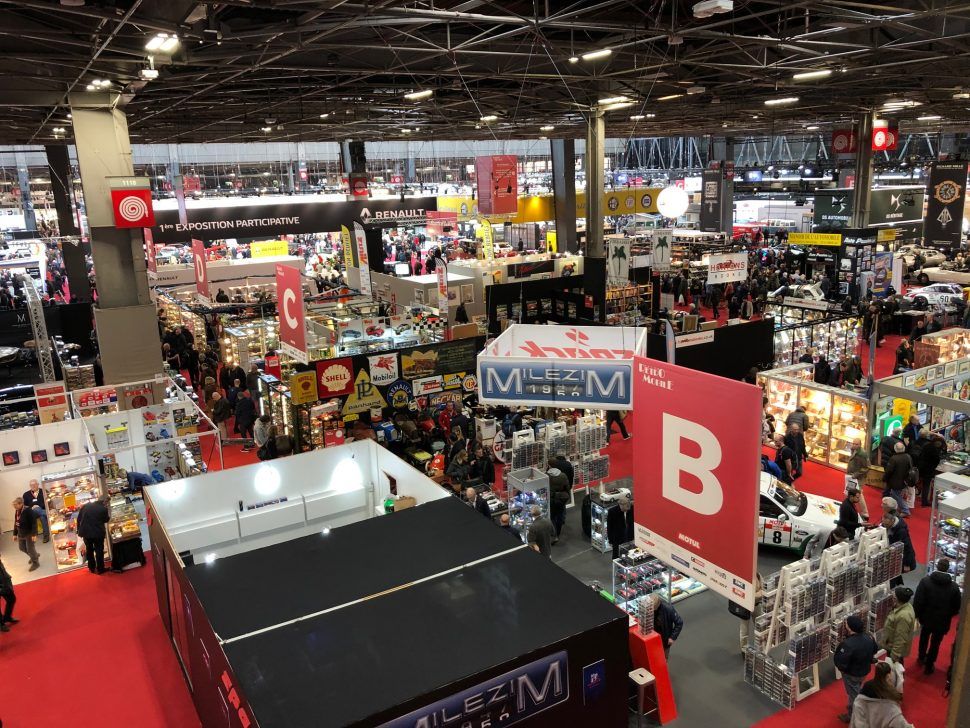 As they have for decades, enthusiasts from all over the world gathered at the sprawling Paris Expo Center at Porte Versailles for an enormous indoor swap meet inside three action-packed exhibit halls that hosted more than 600 vendors, 1,000 cars, countless old car dealers and restorers, 120 car club displays, and the Artcurial auction. In addition, RM Sotheby's held an auction sale at Place Vauban, near the Eiffel Tower, and Bonhams filled the elegant, glass-topped Grand Palais with still more vehicles for its auction. There was a huge area at Retro with hundreds of cars for sale, and there was a dynamic military vehicle display from the Saumur Tank Museum. You could opt for introductory rides in century-old vehicles, daily classic car workshops, and there was a large stand by Axel Schuete celebrating 100 years of Alfa Romeo. Another historic display had a lineup of rare Carrozzeria Bertone concept cars.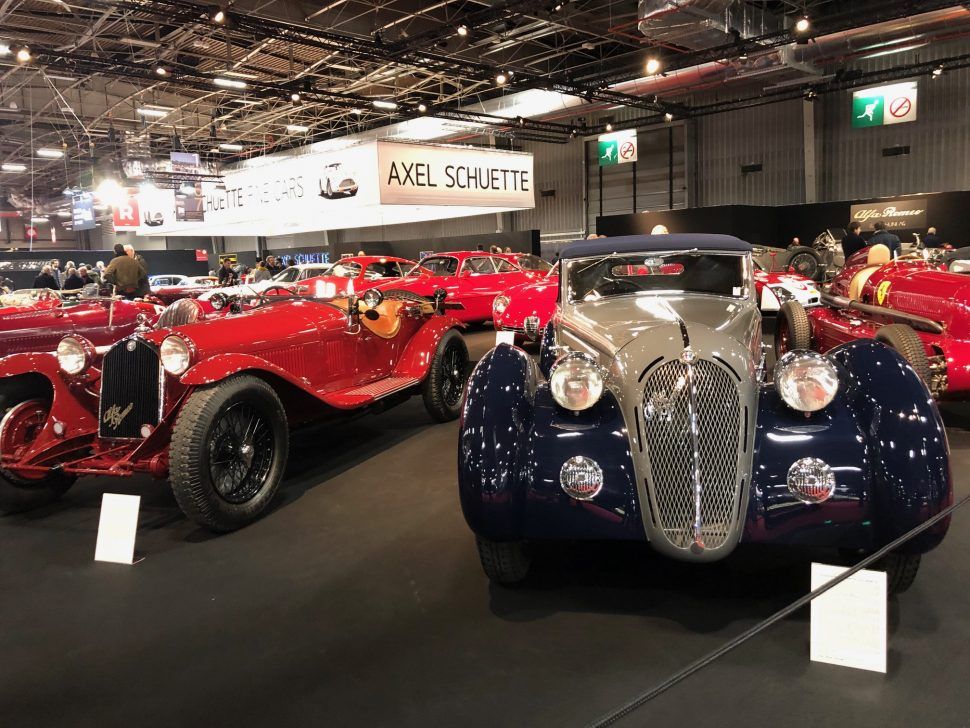 At Retromobile there are cars and trucks you'd never find at Hershey, Carlisle, Pate, or Turlock. For example, Ecorra, the acclaimed Tatra restorer from the Czech Republic, partnering with the Tatra Museum and the Zlin Museum, had several rare Tatras on view. Commemorating a Tatra crossing of the Sahara in 1947, part of a 160,000 km, 44-country tour, that very Tatra was displayed, mired in desert sand – along with historic photos of the actual event. And if you weren't over-Tatra-ed, photographer Vladimir Cetti was on hand with a splendid photographic exhibit of rusted Tatras.
Interested in vintage tractors? There was a huge display, including a few Lamborghini tractors. Ferruccio Lamborghini sold tractors before he dazzled the world with the Miura – and if you wanted one of those sleek orange mid-engine bolides, I counted six Miuras for sale in the various halls and auctions and even more French Facel Vegas. Lamborghini's in-house restoration department, Polo Storico, was on hand to tout its work, joining Ferrari, Aston Martin, Bentley, and others showcasing their factory-certified restoration efforts.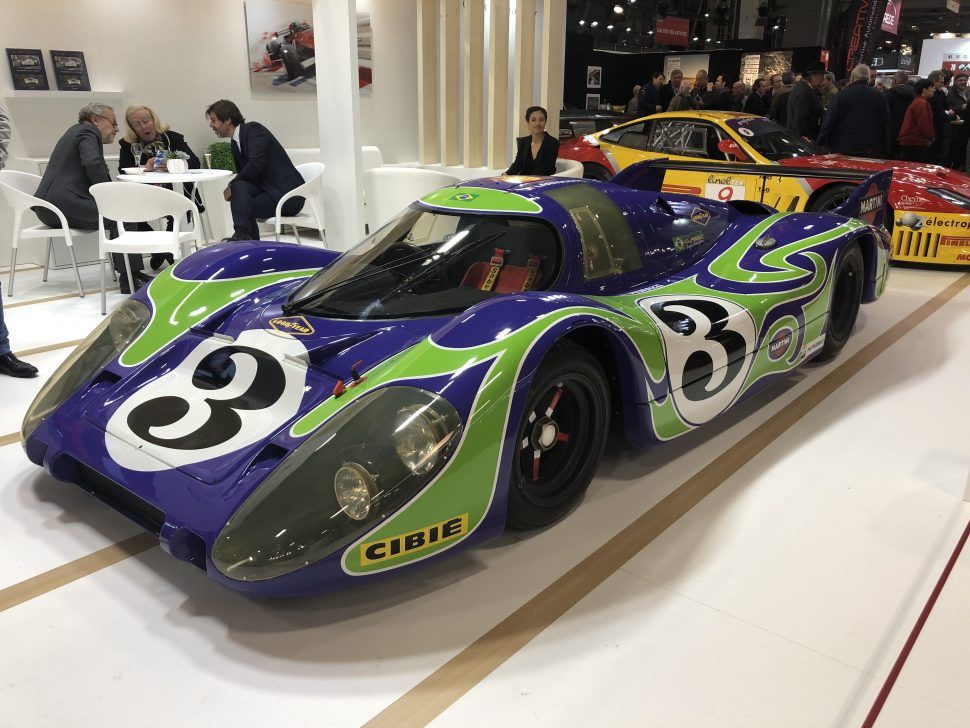 If you read the British old car magazines, you'll recognize names like Gregor Fiskens, Simon Kidston, Axel Schuete, Christophe Groh, and Max Girardo, to name a few. These dealers all try to outdo one another in Paris with breathtaking cars. Fisken's stand presented the 1967 Geneva Motor Show Ford GT40, P/1069, recently rebuilt and ready for vintage racing. As well, there was a 1931 Bentley 4-1/2-liter sporting a fabric body by Maythorpe and Bigglesworth. This car had been in the hands of one owner for more than 60 years, and there was an accompanying Clare Hay report to prove it. The star of the stand, to my eyes, was a gleaming yellow Ecurie Francorchamps 275GTB/4 Competitzione, S/N 9027, the 1966 Le Mans racer that finished second in GT Class and 10th overall, restored in Maranello by Ferrari Classiche. Another Fisken stand dazzler was the Squire lightweight works demonstrator, a bright red 1,500-cc "Unicorn" with a blown Anzani twin-cam I-4.
Automakers with long histories like to tout their brands' innovation through the years at Retromobile, something the newbie Asian marques are unable to match. Bugatti displayed three models–one from each of its incarnations–including a 1926 Type 35 Grand Prix car from the fabled Ettore era, an EB110 (just in time for a new book launch on the marque), and a dazzling new Veyron. Renault showed several of its rarest models, including a perky Vivasport cabriolet. You'd expect to see rare old-timers from Citroen and Peugeot at a Parisian exposition, but it wasn't just French marques. Volvo had a massive display, so did Skoda, and Porsche got into the act with its Semper Vivus recreation and cars from its early electric era.
For book, literature, and poster collectors, Horton's Books and many other prominent and not-so-prominent booksellers had large stands. There were hundreds of smaller vendors with all manner of pertroliana, automobilia, model cars, car parts galore, posters, and radiator mascots, making walking progress slow, if you tried to look at every item. The magazine folk were roaming the halls – I spoke with Mick Walsh and Julian Balme from Classic & Sportscar. "We wouldn't miss this, mate," Mick said enthusiastically. "We're here every year."
Ex-Octane Editor, David Lilywhite handed out copies of Magneto, the hot new British mag. and Chester Allen (Sports Car Market) hoisted a reception with Ed Fallon, representing Artcurial. Wine notwithstanding, the vibe was electric, with people smiling, enjoying the ambiance, and eagerly buying everything in sight.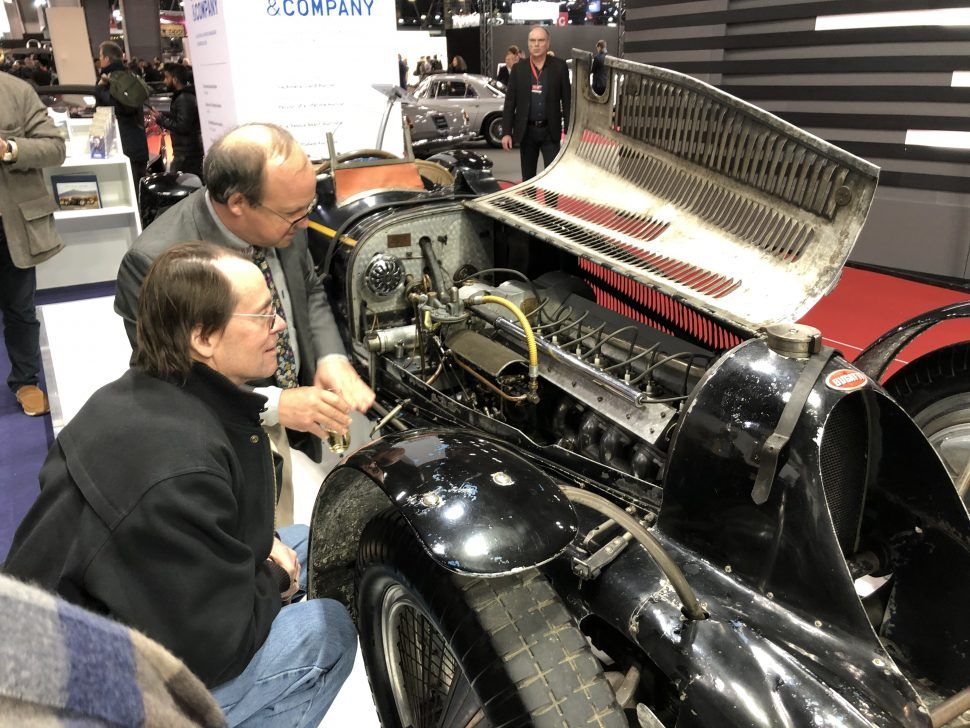 Even the refreshment stands here are a kick. For lunch one day, I ate a crisp baguette filled with freshly cut jamon serrano (Iberian ham) and drank a glass of Rioja wine. I inadvertently sat at a table with two French and one Spanish enthusiast. Within minutes we had our phones out, and we were showing one another our cars. My Spanish is rusty and my French is a stale old high school leftover, but we were enthusiastically communicating. The wine helped.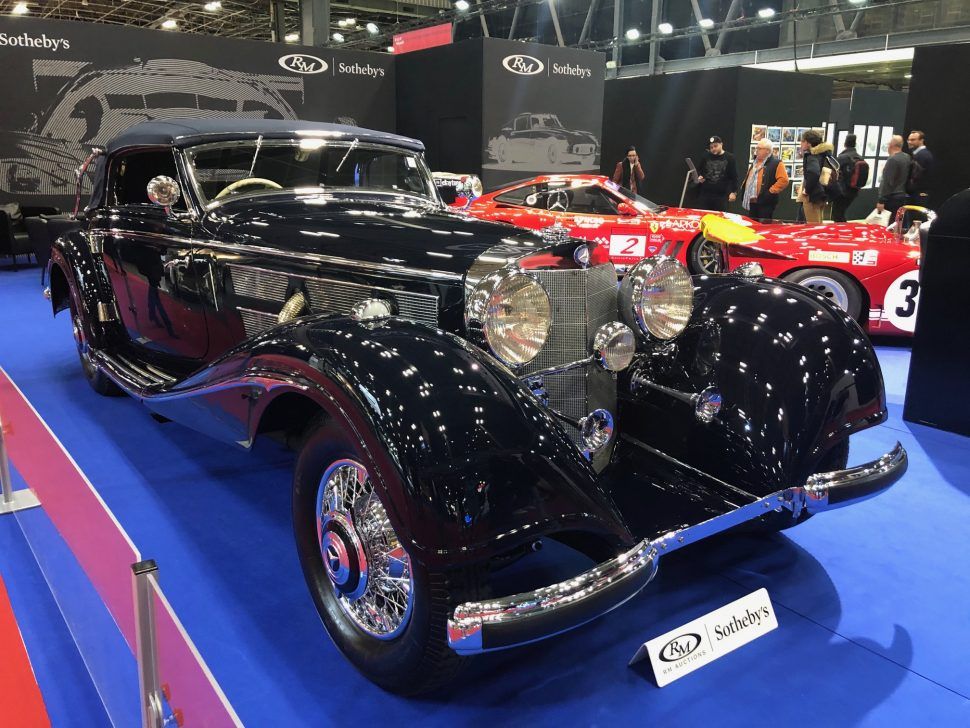 I went to all the auction previews, which involved several Metro rides, as the locations were scattered around the city. Bonhams' totaled $22 million, and the venerable British auction firm scored a hefty $5 million tally for a pristine 1932 Type 55 Bugatti roadster, with custom body by Figoni, which was the top overall sale of the week. But Bonhams failed to sell a rare Type 39 Bugatti Grand Prix car, which no-sale'd at just under $1 million. Also at Bonhams, but not on sale, was a sleek silver fastback Voisin C28 Aerosport re-creation by Phillipp Moch.
The auctions all did comparatively well. RM Sotheby's final tally was $18 million. Its top lot was a white 1958 Series II BMW 507 which brought $2.25 million. Interestingly, RM Sotheby's 1939 Delahaye Roadster re-creation, "in the style of Figoni at Falaschi" brought $439,997 – a lot of money, but probably less than 1/10th of a real car. French auction firm Artcurial Motorcars had a very successful sale as well with cars like its Rosso Chiaro Ferrari 275GTB/C, which sold for $2.7 million. Although it failed to sell a 1938 Alfa Romeo 6C 2300B Pescara Cabriolet by Worblaufen – bid to $602,002, and a 1929 Mercedes-Benz SS Sport Tourer for $5.4 million, Artcurial shifted a Porsche 906 Carrera racer for $1.6 million and a Jaguar XJ220C for over $1.2 million.
(Now the auctions, if they're held at all, will all be on line. We couldn't have imagined).
David Gooding (Gooding & Company Auctions), did not have a sale at Retromobile, but Gooding's stand boasted a magnificent, well-patinated, ex-Jean-Pierre Wimille/King Leopold of Belgium Bugatti Type 59 Grand Prix car which it had planned to sell at Somerset House in London on April 1 – that would have been Gooding's first overseas sale. It's postponed now due to the coronavirus pandemic. Gooding marque expert, Scott Sargent, arguably America's premier Bugatti restorer, and Gooding's jovial auctioneer, Charlie Ross, talked about Charlie's unique ability to coax and charm bidders to heights they hadn't planned. Sadly, his talent will be lost in an online auction's "…room with empty chairs."
OK, on a cheerier note, let's hope the pandemic has ended by next near. If you are thinking of attending, the dates are February 3-to-7, 2021. There's more on www.retromobile.com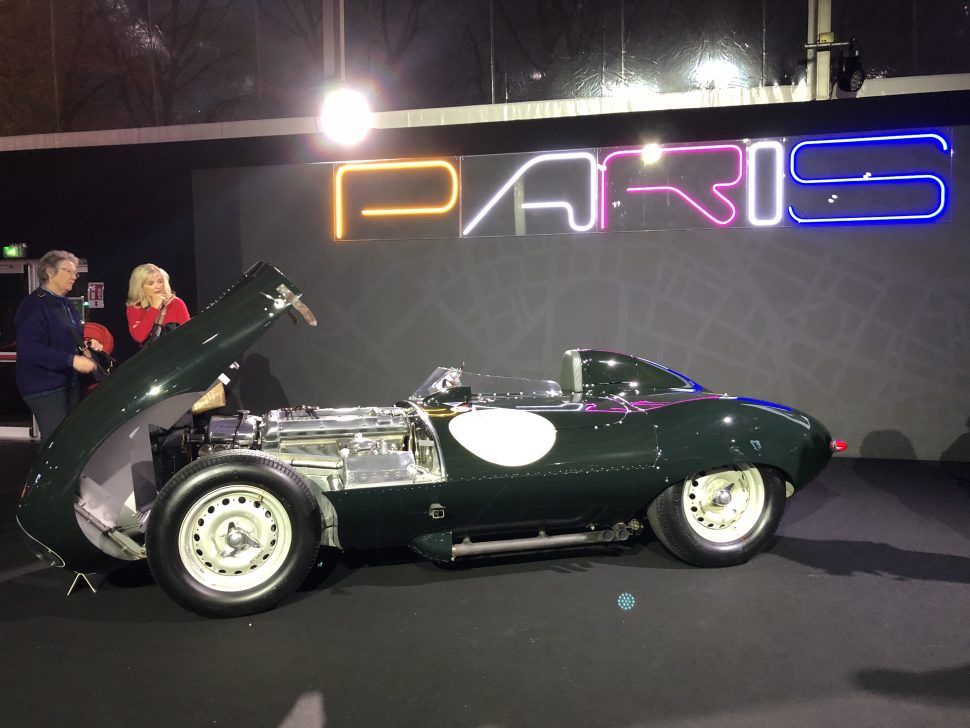 Don't worry. Paris is easy to navigate. Thanks to its Byzantine honeycomb of a Metro system and countless modern buses, charging just 2 Euros per trip, (and even less if you buy a book of ten, or a Metropass), you don't need expensive taxis. The Paris Metro route is clearly laid out, and if you use Google Maps, your phone screen becomes your GPS. It tells you which line to use, advises stations one by one, informs you when the next train will arrive and points out special attractions along the way. Don't believe the old adage about the French people being rude to visitors. Everyone we encountered was helpful and pleasant, even when I stammered a question in my fractured high school French.
There were occasional reminders, with a noticeable police presence, of the strikes that have plagued Paris of late, but we never felt unsafe, despite traveling all over the central part of the city. We walked past Notre Dame. Its burned out hulk and fallen towers are terribly sad, but the authorities are already rebuilding, and signage in many languages explains the steps they're taking to restore the cathedral to its past glory. Paris has so many other attractions, like the Louvre, and the Foundation Louis Vuitton museum in a stunning Frank Gehry building, that you won't know what to do next, if you or your significant other suffer a bit of old car burnout. And then there's the food and wine in Paris…c'est formidable!
Let's hope for better days. Put Retromobile on your calendar for next year. I know I will.