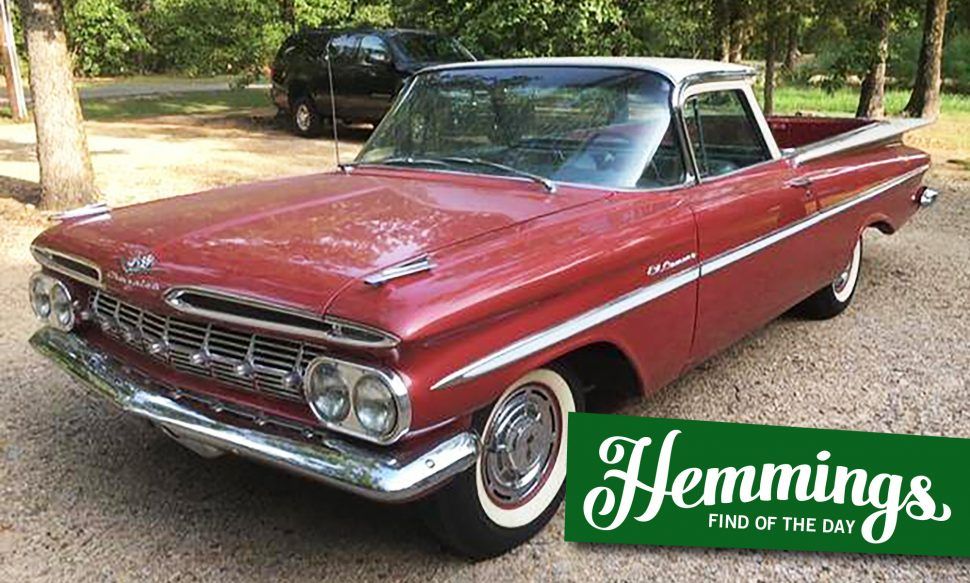 Hemmings Find of the Day: 1959 Chevrolet El Camino
Restored 1959 Chevrolet El Camino for sale on Hemmings.com. From the seller's description:
Cameo Coral and Satin Beige (original colors), 348 cu. in. 250 hp V8, automatic transmission, power brakes & steering, EZI tinted glass, Deluxe heater, Radio, White wall tires and Full Wheel Covers.
Exact duplicate of factory gray interior using NOS seat insert vinyl. Interior manufactured by 1959-60 Chevrolet interior expert Bill Reid.
NOS GM parts used in rebuild include GM quarter panels, stainless steel trim, fender ornaments, tail gate ornament, license place bracket,hood grills, lamp bezels, lamp buckets, grill, valence panels, power brake booster, windshield washer kit, radio, antenna, CHEVROLET hood script, ash tray, cigar lighter, armrests, clock, speedometer, quages, steering wheel and horn ring, tail lamp lenses, 5 wheels and deluxe wheel covers.
Reproduction and new parts used include radiator, T3 head lamps, complete wiring harness, 348 V8 hood ornament, door & window handles, fuel tank, fuel guage sender, fuel lines, windshield, door and vent glass. (Back window EZI original), glass rubber gaskets,and door channels, El Camino fender scripts, B F Goodrich ww tires, stainless steel dual exhaust system, weatherstrips and battery tray.
Correct date coded 250 hp passenger car 348 V8 completely rebuilt using Show Cars Automotive components.
Generator and power steering pump components rebuilt by Authenic Automotive. New hoses, ps valve and cylinder, and voltage regulator.
All brake system componets replaced with new parts.
All front end bearings, ball joints etc. replaced with new parts.
Rear end rebuilt with new bearings.
All chassis rubber bushings and body mounts replaced with new parts.
A rebuilt TH350 automatic transmission is installed. Have the original Powerglide transmission that was on the 348 V8 engine.
The El Camino was built with 235 cu in engine and three speed manual. I have them also.
The 348 cu in V8 came from a running and driving 1959 Impala 4 door sedan.
Body removed from frame and both stripped to bare metal.
Price
$54,500
Location
Paris, Texas
Availability
See more Chevrolets for sale on Hemmings.com.