From climbing Ascutney to sliding on Lake Mascoma, the adventures of the University of New Hampshire's sports car club
It was enough for some of us to scrape together gas money for the beaters we kept on campus, but back in the Sixties and Seventies, the University of New Hampshire boasted a thriving sports car club. One of the club's members, Michael Firczuk, is not only a Hemmings reader (and Hemmings Cruise-In winner with his 1974 Porsche 914 2.0), but also one of the guys trying to pull together a history of the club from fellow members and former UNH students. And, lucky for us, he sent along plenty of great photos from the club's heyday.
The UNH Sports Car Club was a student organization that was founded in the 1950s and was in existence until around 1973. The club was most active in the late 1960s and early 1970s, and frequently held gymkhanas, auto slaloms, autocrosses, rallies, ice races, and twice annually the Mt. Ascutney hillclimb. Student members participated, whether they had cars or not. Non-students and the general public could also enter events and become involved. Club affairs were managed by students elected to the usual offices: (President, VP, Secretary, Treasurer).
The club was fortunate to have great adult mentors.A UNH chemistry professor, William (Bill) Lecington, owned one of the earliest Lotus Elans in the US. Although he was blinded in one eye as a child, he could outdrive most of us. He loved sports cars and competition, and gave us good advice. And when he allowed me to drive his Elan at an autocross and I spun it and immediately aborted the run, all he said was "Why are you coming back in?"
Stan Hallinan, the well-known collector, was another adult advisor with a constant presence at meetings and events. In addition to accumulating an incredibly diverse, significant, and valuable car collection (Lister, Cobra, Ferrari, Lotus Cortina, Frontenac twincam Model A cylinder head, and on and on), Stan was technically savvy and a very fast driver. He correctly diagnosed a rough running Hillman in a minute, and gave expert driving advice at Mt. Ascutney where at one time he held the record. His story about "testing" a race-ready Ford GT40 on nearby Rt 93 when working at an auto dealer in Concord NH was common knowledge among club members.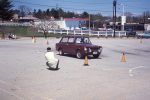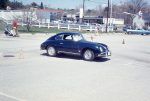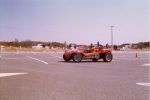 From left, Richard Hujsak in a Sunbeam Imp (1969), unknown in a Porsche 356 (1969), Neil Flaherty in a Volkswagen Beetle (1973), and Alex Dearborn in a Deserter GS (1977).
While the club always complied with University regulations and received permission for all on-campus events, I look back now and marvel at how informal and laid-back things were. There is simply no way that similar events would be permitted today. Slalom events were held in several not-too-large campus parking lots. And if some vehicle was illegally parked there on the event's Sunday morning, we simply put a jack under and rolled the offender out of the way. The club sometimes used a vacant store parking lot in a neighboring town for off-campus slaloms.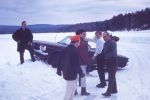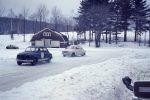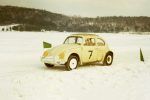 From left, ice racing course at Lake Mascoma (1970), Corvair off course at Turtle Town Pond (1969), Anne Packard and Parker Wood's blue Saab at Locke Lake Colony (1968), Peter Wright in Michael Firczuk's Beetle at Lake Mascoma.
The club held time trials on ice most winters, along with other groups. While we held events on several different lakes, none could compare with the events on Lake Mascoma in Enfield NH. We were able to race up there because an entrant driving a Porsche Speedster at our Mt Ascutney hillclimb came to us and said that he owned a motel on that lake and offered to plow an ice racing course if we agreed to stay at his motel. This was the no-brainer of the century: the track that he plowed was one full mile per lap, with the longest straight a quarter of a mile. Fifty years later I still dream of that course and those events. What great fun and what an education regarding vehicle handling and setup.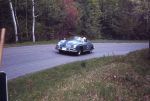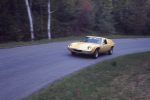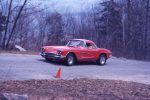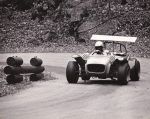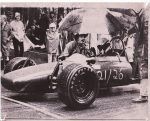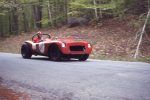 From left, Hugh Montgomery in a Porsche 356 at Mount Ascutney (spring 1969), Lotus Europa at Mount Ascutney (spring 1969), Chevrolet Corvette at Mount Ascutney (spring 1975), unknown at Mount Ascutney (spring 1972), Formula Ford at Mount Ascutney, unknown at Mount Ascutney (spring 1969).
But the club's signature event was the Mt Ascutney hillclimb, held spring and fall annually up the mountain auto road near Windsor VT. Entrants came from all over the Northeast, and since entry numbers were capped, there was always a waiting list. Some very quick and accomplished drivers showed up with well-prepared vehicles; names like Anderson, Alden, Hablow, Duclos, Saleen. The record up the three-mile auto road was approx. three minutes flat, for a sixty-mile-per-hour average up this steep and winding road. And more often than not the road was wet.

An accurate electronic timing system was designed and built by club mentor Bill Lecington. Since wireless communication was not feasible fifty years ago, at every event we strung three miles of wire up the hill from start to finish and rolled it up again at the end.
Anybody who would like to contribute information or photos should contact Michael at mjf901@comcast.net / 603-781-2183 or Bennett Morong at cmorong@maine.rr.com / 207-363-3405.