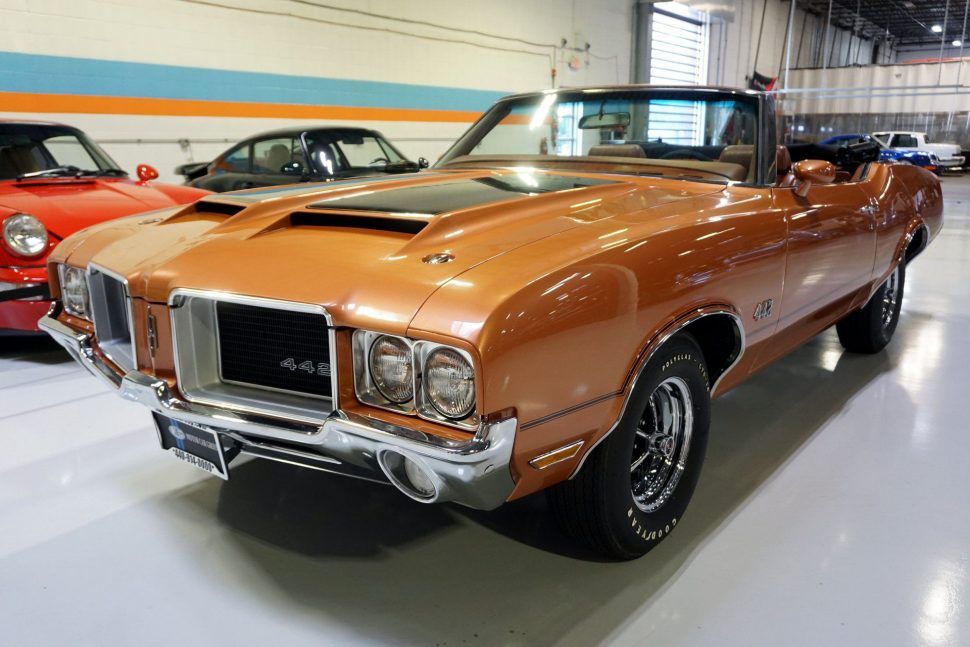 Auction Highlight: 1971 Olds 4-4-2 Convertible
A year after its sister division Pontiac established the muscle car genre with the GTO, Oldsmobile hustled its own high-performance intermediate to the market with the Cutlass-based 1965 4-4-2. Like the "Goat," it was an initial success and its performance capability continued to grow for the rest of the decade.
When GM's A-body platform was substantially revamped for 1970, the 4-4-2 was part of the program, with revised styling and a standard 455-cubic-inch engine replacing the previous 400 engine. Olds technically wasn't supposed to use a 455 in the 4-4-2, but the specialty Hurst/Olds got away with it, so by 1970 it was standard fare in Olds' mainstream muscle car.
The 4-4-2's performance peaked in 1971, with the 455 featuring 10.5:1 compression rated at 365 horsepower and 500 lb-ft of torque. That was good enough to push stock 4-4-2s into the 13s on the drag strip.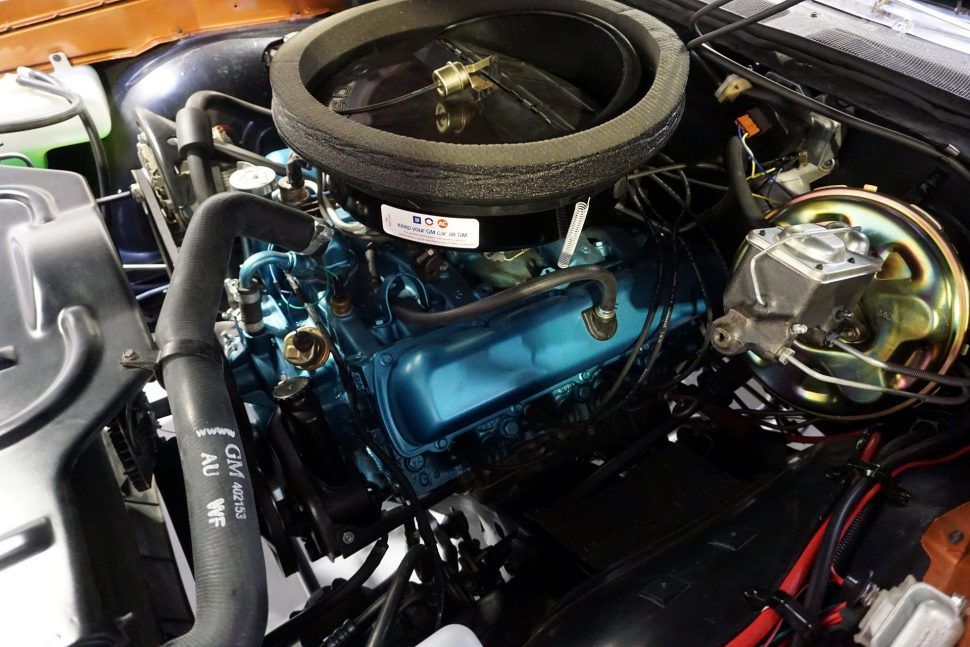 Industry-wide cuts in compression—among the first steps in getting with the federally mandated emissions control programs and in anticipation of unleaded fuel—took the wind out of power ratings, as did a standards change from the SAE, which resulted in more realistic net horsepower ratings rather than the rosier gross ratings from previous years. The public was already eyeing more-efficient cars, too, and the muscle car movement began its precipitous decline. Holdout customers who still insisted on a factory super car, however, found plenty of pound-feet still in the Oldsmobile showroom and the '71 4-4-2.
Despite its roughly 20-percent cut in compression for 1971, the 4-4-2's 455 engine maintained its long, 4.25-inch stroke, which couldn't help but make gobs of satisfying, tire-turning low-end torque. Standard horsepower was listed at just 270, but if you read the fine print, that was an SAE net rating. Gross horsepower, though down, was still listed at 340 and torque featured similar numbers, with the net rating advertised at 370 lb-ft, a rather respectable number when considering that its gross rating was still a robust 460 lb-ft. In a withering market for muscle cars, the 4-4-2 remained one of the most potent platforms available, complete with its signature red inner fenders.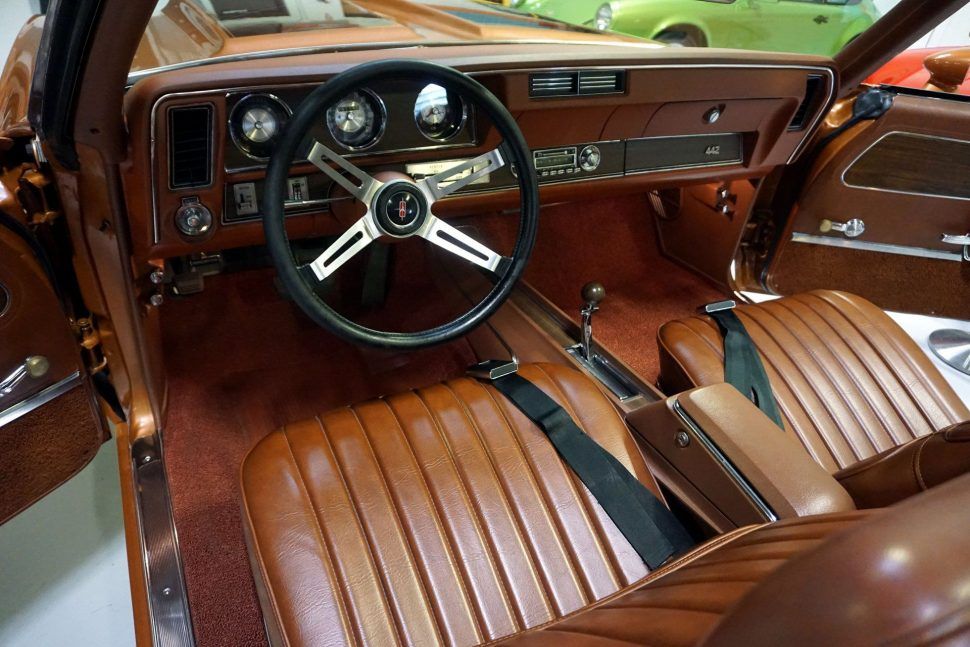 While the 1971 4-4-2's performance remained strong, its sales declined dramatically — from around 20,000 in 1970 to only about 7,500. That included only 1,304 convertibles, making the few remaining examples exceptionally rare.
What we're looking at here is a numbers-matching Bittersweet drop-top currently offered on Hemmings Auctions. It was a single-owner car from 1971 to 2016, when it was literally pulled out of a barn and decades worth of dust were hosed off. It was still wearing old Wisconsin plates that had expired in 1977. It has since been treated to a full rotisserie restoration that helped earn a first-place award at the 2019 Oldsmobile Club of America national meet.
Part of that restoration included juicing the 455's performance a bit with the installation of new pistons, a hotter camshaft, and an aftermarket timing chain and oil pump. A bump in compression–a full point, up to 9.5:1–also enhances performance but still allows for the use of everyday pump gas.
Go to Hemmings Auctions to see more about this 1971 Oldsmobile 4-4-2 Convertible, including top-to-bottom photos of the stunning restoration, and let us know what you think. The compression and horsepower ratings might have been down for the year, but Oldsmobile performance was still an industry leader — and this might just be one of the very best examples left.