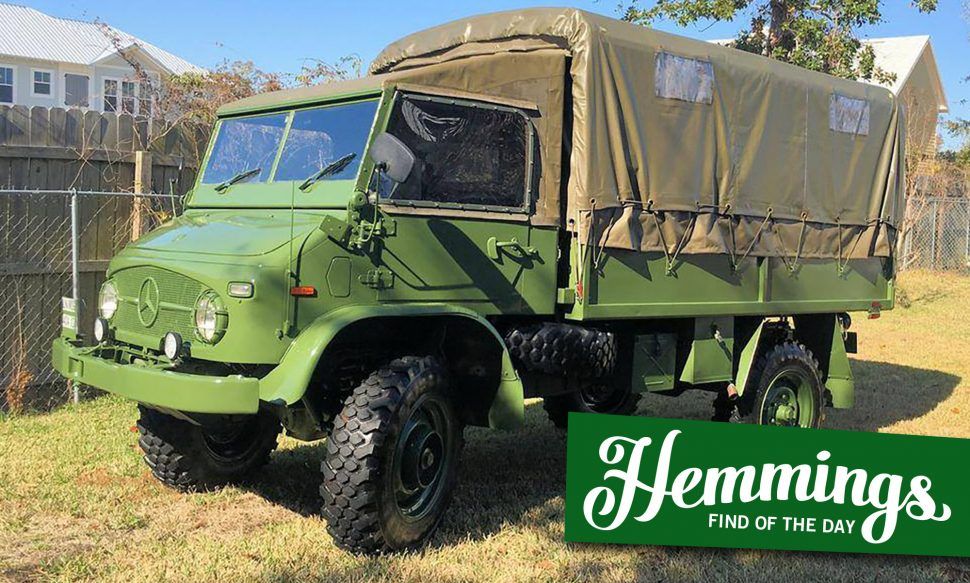 Hemmings Find of the Day: 1968 Mercedes-Benz Unimog
Refurbished 1968 Mercedes-Benz Unimog for sale on Hemmings.com. From the seller's description:
Great for parades, off road fun in very stable truck, transport of blinds/tree stands into difficult terrain and extraction of deer (3,500 lb cargo capacity): Manual syncromesh 6 speed F/2 reverse, 4WD/Lockers on the fly, portal axles, M180 engine with Pertronix electronic ignition, Continental M80 10.5×20 tires >90% tread remain, clear title, street legal in most USA states, DOT approved lights, no anti smog equipment required or added, fog/backup LED lights, Hazard Flashing lights, backup alarm, two new 1000amp batteries, 12V 28 amp DC power supply, new 8 amp circuit breakers, new canvas, OEM pioneer implement set/jack set/Jerry can&spout/brush, snow chains, land anchor & snatch block included. There is no visible rust on the vehicle. Mercedes Parts manual in German, English version shop manual, metal lubrication point diagram, and United Parts Service UNIMOG 404 Instruction Manual January 1979 Edition all included. This truck was originally maintained in Swiss underground antiaircraft bunkers exercised monthly until 1999, then imported to current owner. It was sandblasted, repainted, and cargo wooden floor 1/3 replaced. New: Canvas, all light bulbs, clutch/fuel tanks/lines/selector valve, brake system, wiper motors, windshield washer, diamond traction plates, calibrated rebuilt OEM Zenith carburetor, and Pertronix/coil/distributor/plug wires&Bosh plugs installed. Full history and restoration details available upon request.
Price
$18,000
Location
Ocean Springs, Mississippi
Availability
See more Mercedes-Benzes for sale on Hemmings.com.