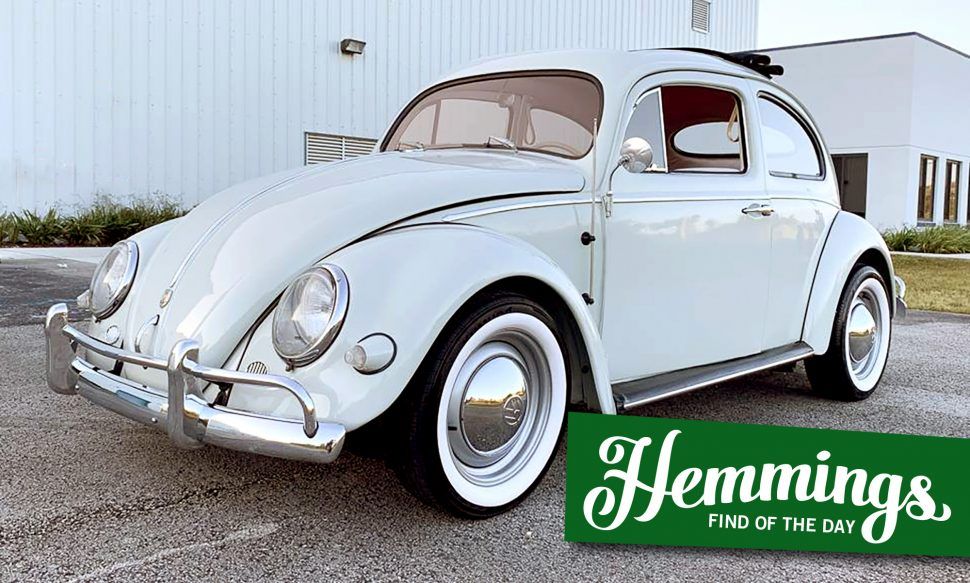 Hemmings Find of the Day: 1956 Volkswagen Beetle
Restored 1956 Volkswagen Beetle for sale on Hemmings.com. From the seller's description:
Note: for those who don't like the engine tin color I have a set of them in black my mechanic can install for you for the buy it now price.
Hey guys I'm selling my beautiful rare 1956 Volkswagen Beetle oval window with ragtop! A lot has been invested in this car, and is a blast to drive to the cars and coffee meets or daily drive it. This beetle is also great to keep has an investment because it's an Oval window and Ragtop car, not too many made with both options together.
The car did receive a restoration about 5 years ago. The Body is very sane and has the original spot welds from factory. During the restoration process it received all new mounts, new door seals, all refurbished chrome pieces, windows, weather stripping, all new lights, new chrome bumpers, chrome side trims, and etc. The car has a really nice paint job clear finish all around, and sits on its steel wheels with bridgestone & white wall tires.
The engine is a 1600cc bored over with a 4-speed transmission. The engine was rebuilt and upgraded to a 12volt alternator system. Car runs really nice and smooth. Check out my video and walk around of the car running! New gas tank and new dual exhaust system was also done during the resto. It also received an IRS pan all the floors were properly redone and is all new. Look at the pictures of underneath the car.
The interior had also been redone all around. Look at the pictures to see the sides of the doors. All upholstery is brand new, chrome miscellaneous pieces through out the interior are in good condition. Has original gauge. This car is in really good condition and very comfortable & pleasant to be in. Windows roll down and up with no issues.
Price
$23,700
Location
Miami, Florida
Availability
See more Volkswagen Beetles for sale on Hemmings.com.