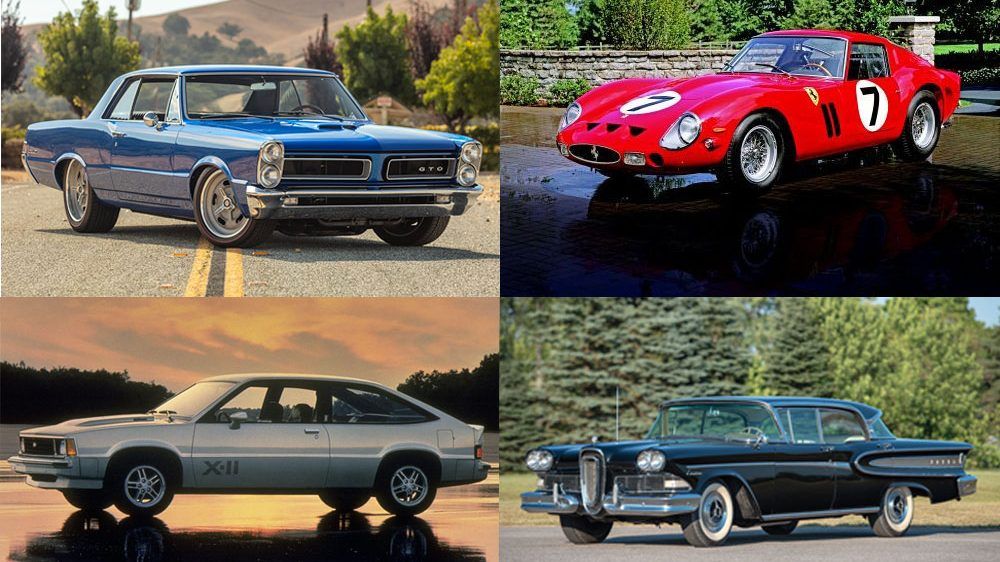 Who wore it better? 16 sets of cars with identical names, rated
Ever actually meet someone with your own name? I haven't yet, but I know they're out there. My freshman year of college, I found three other students named Jeff Koch in the school directory. Four freshmen sharing a name! Even on a 20,000-student campus, it caused all manner of confusion, like when this liberal-arts weenie was called on the phone at 2 a.m. by an angry Agriculture TA to come and milk the cows.
It happens with cars too. The world is a big place, and there are only so many names to go around. But what happens if two cars share a name? Either something's got to give, or the different models can live out their lives on different continents and never be the wiser.
Import a vehicle with an existing name into the States, however, and the American car makers will defend their trademarks vigorously. Chevy is why we have a Lancia Beta Scorpion instead of a Montecarlo; GMC is why we got the Merkur XR4Ti instead of a Ford Sierra.
These kind of name games are one reason why many new cars don't even have names anymore, instead using alphanumeric soup, letters and numbers meant to designate chassis, trim level, engine size, whether it's two- or four-wheel drive. Ugh.
Occasionally, through the separation of years or geographic distance, shared car names still pop up, making for a fun comparison. We put this selection of 16 common names (including a couple of alphanumeric jumbles thrown in for good measure) in the octagon of opinion and declare winners.
Bora: Maserati versus Volkswagen
Maserati: Poor-selling, Citroën-fettled mid-engine V-8 supercar that shared its front half with the cheaper V6 Merak.
Volkswagen: The overseas name for the fourth-generation VW Jetta, considered in Europe to be the Golf's whiskey-tango cousin.
Winner: VW's name game didn't stick. Maserati for the win.
Citation: Edsel versus Chevrolet
Edsel: Edsel's flagship, sharing Mercury's chassis, but looked like every other Edsel. Sales started bad and got worse.
Chevrolet: Revolutionary (for GM) front-wheel-drive X-body; sold millions, and had just as many recalls.
Winner: Sixty years later, Edsels are at least getting their due with collectors. Will Chevy's Citation ever get there?
Century: Toyota versus Buick
Toyota: Japan's Rolls-Royce: hand-built, super-luxury, and launched on the 100th anniversary of the birth of Toyota's founder.
Buick: Originally a proto-musclecar, named for hitting the hundred mile per hour mark, it became a plush A-body with (very occasional) sporting feelings.
Winner: Buick sold more Centurys, but Toyota stayed on message longer.
Continental: Lincoln versus Bentley
Lincoln: Top-of-the-line Ford with multiple style highlights over its decades.
Bentley: GT-flavored coupe built to get you to Paris by dusk.
Winner: Whoever gets to drive one.
Dart: Dodge versus Daimler
Dodge: With a Slant Six under the hood, an icon of dependability, if not style.
Daimler: Home-market name for the wild, winged, V-8-powered SP250 sports car.
Winner: Hard to argue with the ubiquity of the Dodge, plus it gets bonus points for actually selling a "Swinger" model.
Diplomat: Opel versus Dodge
Opel: Top of Opel's food chain in the '60s and most of the '70s, with Chevy 327 power. Was almost the basis for the '75 Seville.
Dodge: Gussied-up Aspen; looks tough as a cop car sled.
Winner: May lightning strike us, we give the nod to the Opel's effortless cool.
Durango: Ford versus Dodge
Ford: In 1980, an aftermarket company made Ranchero-style pickups out of Fairmont Futura coupes and called them Durango.
Dodge: Standard-bearer SUV for 20-plus years. Now available with a 475 hp 392 Hemi.
Winner: Hemi power erases many sins.
GLC: Mazda versus Mercedes-Benz
Mazda: Are you "Familia" with the Hiroshima marque's little piston-engined hatchback from the late '70s?
Mercedes-Benz: Modern alphabet-soup wagony SUV for aspiring suburban moms.
Winner: It's a Great Little Car!
GTO: Pontiac versus Ferrari versus Mitsubishi
Pontiac: Kick-started the muscle car movement in the States, stole its name from Ferrari.
Ferrari: Legendary hand-built race car, with V-12 power and a body to die for. In 288 GTO form in the '80s, a twin-turbo Group B mauler.
Mitsubishi: The home-market name for the 3000GT.
Winner: Let Pontiac and Ferrari fans duke it out, they're both great teams.
Lancer: Dodge versus Mitsubishi
Dodge: Originally a Valiant clone in the early '60s, it returned as a pseudo-Euro sports hatch in the late '80s.
Mitsubishi: Solid compact economy car, sold here initially as Dodge Colt. Turbo AWD Evolution variants are rally legends.
Winner: Mitsubishi did more with the name over a longer period of time.
Metro(politan): Nash versus Geo
Nash: Teeny, economy-minded four-wheeler; convertible version available.
Geo: Teeny, economy-minded four-wheeler; convertible version available.
Winner: Good grief, they're the same car.
Honorable mention: Honda's retro-styled scooter, a teeny, economy-minded two-wheeler.
Monte Carlo: Chevrolet versus Lancia
Chevrolet: Long-hooded coupe that embodied America's move toward personal luxury.
Lancia: Sold in the US as the Beta Scorpion, with all of the fizz and unpredictability that a '70s Italian car could provide.
Winner: Lancia if you like turning left and right, Chevy if you prefer to both raise hell and praise Dale.
Pacer: Edsel versus AMC
Edsel: Entry-level Edsel, sharing a platform with Ford. Bad time for a new marque to launch.
AMC: Wide-body compact compromised by a thousand external factors; big investment here nearly sank AMC. Again.
Winner: A tie. No lasting good has been attached to the Pacer name.
Sierra: Ford versus GMC
Ford: Replaced the Cortina worldwide; controversial styling aged well. Sold here as the Merkur XR4Ti.
GMC: A big honkin' pickup truck, and the reason Ford couldn't sell the Merkur as the Sierra here in the States.
Winner: For longevity and hauling things, GMC. But Ford gets points for the retrofuturistic cutting-edge experience.
Honorable mention: Oldsmobile Cutlass Ciera, pronounced the same, spelled differently. A Chevy Celebrity with more options.
Suburban: Chevrolet/GMC versus Plymouth
Chevrolet/GMC: A big truck-based wagon that once shared the same name (as well as everything else except the grille) until the GMC became a Yukon XL.
Plymouth: For four decades, Plymouth wagons wore the Suburban name; Dodge briefly had it too.
Winner: Neither will fit on my suburban driveway, but a station wagon fits the name better than a giant truck.
TC: MG versus Chrysler/Maserati versus Scion
MG: Cycle-fendered sports car legend, from the era when sports cars relied on skill to drive fast, not 700 hp.
Chryler/Maserati: Continentally-crossed, leather-lined LeBaron-looking ragtop for twice the money.
Scion: The joke was that the TC stood for Toyota Celica – a sporty 2+2 Toyota-built coupe
Winner: Hand it to the OG of this trio, the MG.