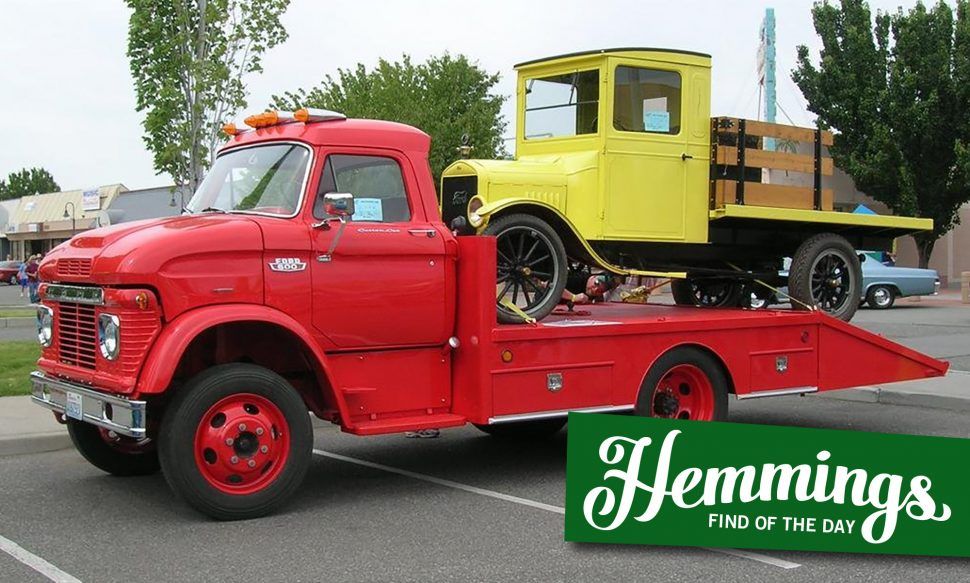 Hemmings Find of the Day: 1966 Ford F600 car hauler
A former fire truck converted to a car hauler, it's a 1966 Ford F600 for sale on Hemmings.com. From the seller's description:
This truck has been stored for the last 10 years and will need some brake work alone with starting an engine that has sat for the past 10 years. That is why it is being sold at this price. You will note that some of the pictures were taken at a car show before it was stored. Being that it use to be a LA Fire truck there is not a spot of rust anywhere. If interested please call me.
1966 Ford Model N600 Factory Custom Cab GVWR – NOTE: the model T does not go with it, 17,000 (be verified) C 330, 180 HP, Ford V-8 Miles: 57,200 original miles Transmission: 5 speed/5th overdrive Rear axle: single speed Tires: Michelin 22.5 tubeless (6) OEM power steering OEM power brakes
Originally built as a LA Fire Dept rescue truck Always stored inside since purchase in ~1993 No rust ever No dents ever Completed restoration in ~ 2002 Cab inside refurbished to original with all original headliner, added Insulation Gages, doors, controls look and operate as new OEM fresh air heater All glass is near perfect and windows operate as new Repainted to original fire engine red color outside and inside Re-chromed front bumper
Flatbed: Custom built All steel, 10 ft long x 8 ft wide Diamond plate decking with perimeter ledge 4 watertight locking tool boxes All sealed beam lights D-Rings Trailer receiver with light plug Removable 5th wheel ball Headboard Bed ramp extension, 5′ 6 ": Removable with 4 pins Sealed beam lights with plug Diamond plate decking with perimeter ledge Ramps (2) lightweight diamond plate, stow in bed extension during transport
Price
$25,000
Location
Pasco, Washington
Availability
Find more Fords for sale on Hemmings.com.