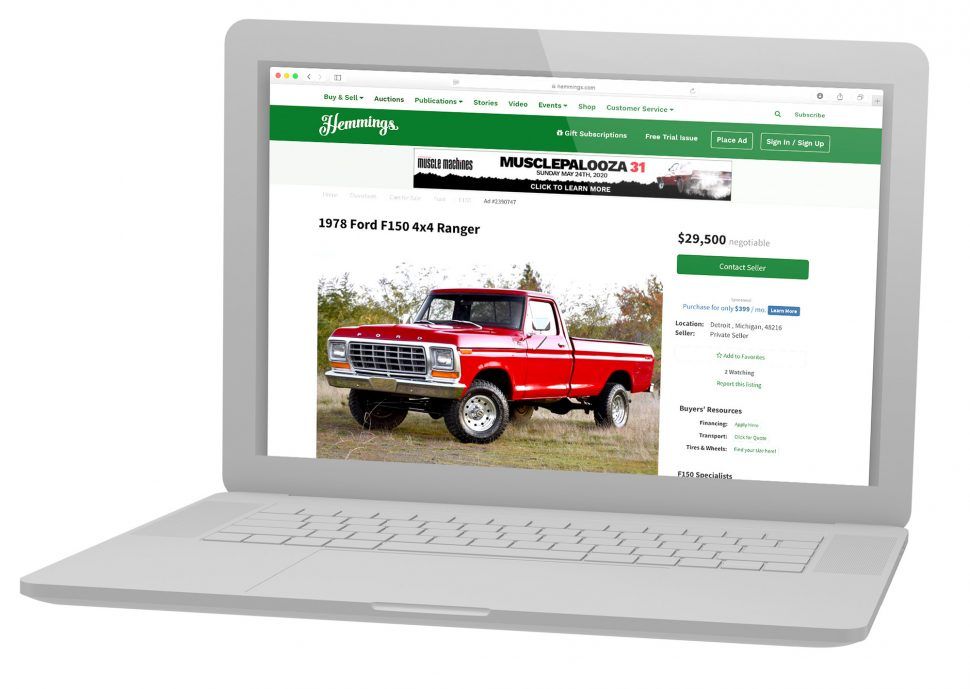 How to shop for a car online
It might seem that, in the new era of social distancing, the way we shop for cars will change. The fact is, car shopping has already changed. The internet, with all of its various automotive portals, allows us to find nearly any car, in any condition, anywhere in the world.
I myself am compulsive about looking at cars online. Every night, beginning around 8:30 p.m., I sit on the couch, laptop at the ready, and proceed to hit the auctions and classifieds. Mind you, I don't need another vehicle (seven seems enough at the moment), but that want, it just never goes away. Cars, trucks, and motorcycles are all on my permanent watch list and I'd be lying if I said I wasn't always on the lookout for my next purchase. My philosophy on buying and selling online is simple – buy the best vehicle you can, for a price you can afford, and avoid the pitfalls. Online ads can be tricky, though, which is why it's important to understand how to separate the bad ads from the good ones, and the good ones from the great.
A great ad should inform you on just about everything you need to know, with the understanding that, as a consumer, you've already done your homework. That means educating yourself on the prospective purchase item so you can not only ask the right questions, but also know when pertinent information has been left out. The next thing you need to know is where to actually look for a vehicle because, let's face it, all classifieds and auctions are not created equal. Here at Hemmings, we're fortunate to not only feature a great online auction but also a classified section that's second to none.
Whether you're a rookie at the online game or just open to new advice, I've compiled a list of the items you should track down every time you read an online for sale ad or venture to an auction site. This is also good advice to anyone selling a car, on how they can provide as much information up front to potential buyers and avoid the dreaded tire-kicker.
Things to look for:
– Is the ad well written and has the seller taken the time to convince you it's worth responding to?
– As a buyer you need to be more knowledgeable than the seller. Is the information pertaining to the vehicle correct, i.e. Year/Make/Model/Options?
– Does the ad address the vehicle's present overall condition as depicted in the photos?
– Are there maintenance records, and if so, how far do they go back?
– Are there any fluid leaks, and if so, what and how many (oil, transmission, fuel, rear end, interior)?
– How is the weather stripping? Are all the door and trunk seals still good and pliable?
– Are the windows aligned properly or does air get in at speed?
– Is the paint original, or has the vehicle seen paintwork?
– Modifications: What are they? Why were they done? Who did them? Have quality parts been used? Research is key.
– How does the vehicle run? Any blue smoke on start up, or stumbles under acceleration?
– How are the brakes?
– Do all the gauges, lights, wipers, windows, and switches work properly?
– Is there any paint fade or discoloration?
– Is there any disclosure of accidents or incidents during the time of ownership?
– Are the photos showcased recent?
– Is the mileage correctly depicted on the odometer? And are those original miles or has the odometer rolled over?
A well-written ad should include the answers to all of these questions and more, so that you as the buyer feel comfortable when it comes time to part with your money. And if for some reason these questions were not answered or if the seller is vague, it's up to you, the buyer, to determine whether you'd like to pursue the conversation further or turn and walk away.
Great photos are the next item to look for, as these are the only visual proof you have to determine a vehicle's overall condition. No longer are buyers content with simply reading a classified ad, calling a seller, and then trusting that they're being honest. Instead, online buyers have become especially savvy as just about everything they need to know about a vehicle is right at their fingertips, thanks to the web. Forums, websites, and online bulletins provide both the buyer and seller information on recalls, inherent problems or issues with certain makes and models, and real-world experience in regard to parts bought and sold through the aftermarket. Thus, it's getting harder for sellers to hide facts or mislead buyers with online ads. It can still happen, of course, which is why photos go a long way toward building trust in the verbal or written description. For both the buyer and seller, quality photos are everything when it comes to listing a vehicle, and they should be plentiful. Don't be afraid to ask for more pictures if you feel vital ones are not present. This is especially true when it comes to collector and older-model vehicles.
Photos:
Exterior:
– 360 degrees: Front, three-quarter front, full side, three-quarter rear, rear, roof
– Underhood: Left, right, and center angles
– Undercarriage from all angles (this will help to spot any leaks, exhaust problems, or hidden rust)
– Door jams, rocker panels, and door bottoms
– Close-ups of the shock towers and suspension points
– Wheels and tires (with date codes)
– Grille, all light fixtures and lenses, and trim closeups
Interior:
– Front and rear seating surfaces (any rips, tears, or discoloration)
– Headliner (any sagging)
– Dashboard (any cracks)
– Door cards and kick panels
– Carpet (any discoloration or worn spots)
– Rear package tray (cracks or discoloration)
– Trunk interior, as well as the spare tire compartment
– Glass (look for scratches)
Once you've obtained the photos, you can now examine them carefully, one by one. And while smartphones make it easy to look at for-sale listings anywhere, when things gets serious you want the larger screen of a full computer. I recommend opening each photo in a separate browser tab so you can zoom in and view any imperfections you might have missed earlier. Then compile a list, contact the seller, and start asking questions in regard to rust, dents, leaks, paint discoloration or body repair, missing trim, under hood modifications, etc. This can be tedious, but in the end, it's also the best way to determine if the vehicle is not only right for you, but worth the time to take the final step, which is to look at it in person. To that, I always recommend that a vehicle, regardless of the price, be viewed and test-driven in person.
Why am I so adamant about that? Glad you asked. When it comes down to it, nothing will replace seeing a vehicle in person with your own eyes, touching it with your own hands, and smelling its glorious smells with that big old honker on the end of your face. Remember, and don't take offense to this, but everybody lies (even if just a little). It's a fact, and photos can be doctored. And yes, I understand that it's sometimes an expense to personally check out a vehicle that you might not end up buying. If for some reason you can't do it, then how about getting a local friend to do it for you? Or, barring that, one can also call a local shop, as many will offer PPI services (Pre-Purchase Inspections) for a fee. Of course, it's your prerogative to forgo this advice and purchase something sight unseen, but as someone who's bought their last eight vehicles online, I highly recommended considering the above.
[Editor's note: As of this writing, the response to the coronavirus pandemic makes in-person vehicle inspections a challenge to the say the least. Don't compromise your safety or the safety of others just to look at a car, as no vehicle is worth the cost of a human life. We look forward to when we can take this note down.]
So, there you have it, a quick and dirty list of what to look for, what to ask, and how to determine if the online ad you're looking at tickles your fancy or pushes you in the other direction.
Good luck and happy hunting!