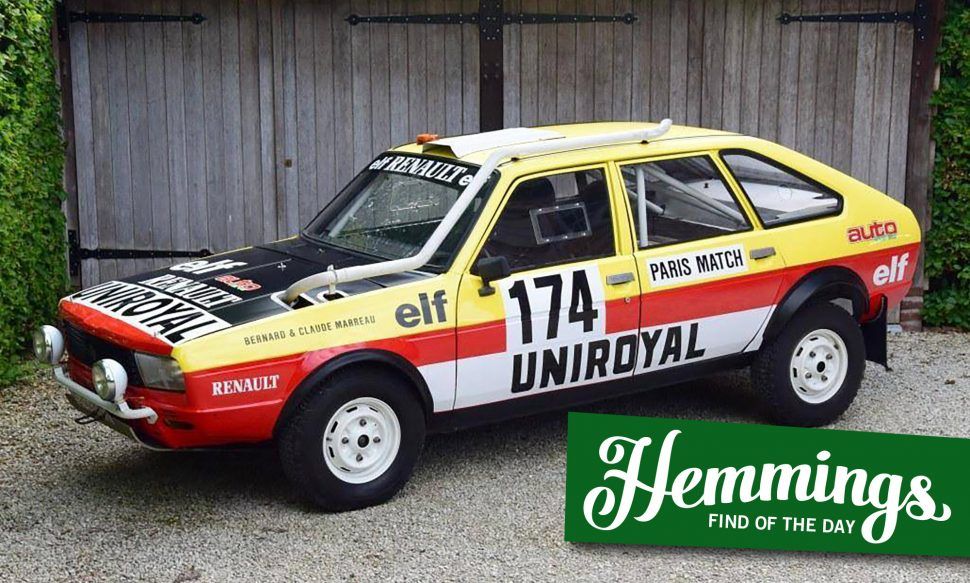 Hemmings Find of the Day: 1981 Renault R20
Marreau brothers 1981 Renault R20 for sale on Hemmings.com. From the seller's description:
With great pride, we offer one of the pioneering cars of the famous rally raid Paris-Dakar : the legendary Renault 20 Turbo 4×4. Built and driven by Claude & Bernard Marreau, and hidden in a private collection for many years. This example was their first attempt for a win in the gruelling desert rally, after some impressive participations in previous editions with a Renault 4 Sinpar. This was from an era when privately entered and home built cars were still a candidate for the win, which made it all even more heroic.
The Marreau brothers were passionate about African rally raids, and also very experienced. After the succesful participations with the Renault 4 Sinpar, they were asked by the Renault factory to create a winning car based on the Renault 20. The Regie supplied an unpainted body, which they reinforced and welded. The rear suspension of a Renault Trafic (with live axle) was fitted, as well as four-wheel drive and a different gearbox. The engine was taken from a Renault 18 Turbo, producing 130 bhp. This car got starting nr 174 and participated in the 1981 edition, in which it had two stage victories : Quatre Chemins – Tit (565 km) and Tit – Gao (540km). Unfortunately they suffered some technical problems in later stages, had a roll-over on a sand dune and finally did not finish in Dakar. Because of the potential of this Renault 20 Turbo 4×4, the Marreau brothers built a new and similar car for the 1982 edition of Paris-Dakar, and won the famous rally raid before Briavoine, Jaussaud, Lartique, Ickx and Zanirolli.
Today, the Renault 20 4×4 Turbo is still one of the most iconic cars from "le Dakar". As there are only two other examples still in existence (the winning 1982 car is now part of the Musée Renault collection) this is quite an opportunity to get your hands on such a piece of motorsport history.
Price
$85,000
Location
Temse,
Availability
See more Renaults for sale on Hemmings.com.