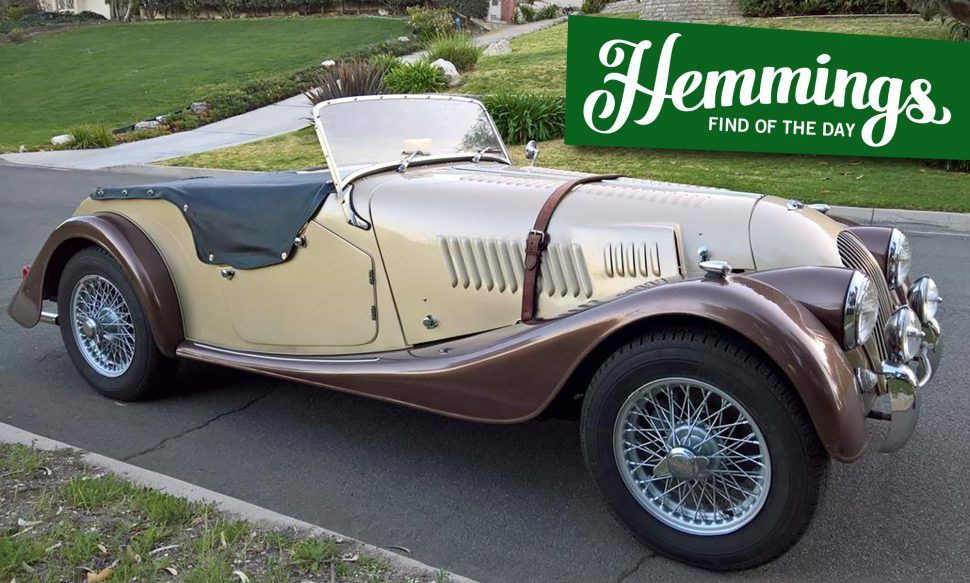 Hemmings Find of the Day: 1966 Morgan Plus 4
It's a 1966 Morgan Plus 4 for sale on Hemmings, fresh from a restoration. From the seller's description:
1st in class WINNER at the annual gathering of Morgan's at MogWest in Cambria, CA in July, 2019. She also drove over 600 miles with no troubles!
Owned by an original member and past President of the Morgan + 4 club of southern California who has raced, restored and shown countless Morgans.
This is a CA car with a restoration completed last year. The restoration was started by another CA Morgan club member a few years ago and then the car was finished by Derek Willburn, with his mother Barbara doing the interior. Check out this short feature on Derek, "Man of Morgan" https://www.youtube.com/watch?v=DdsvbrrWM1A
As is evident from the photos, this Morgan sparkles inside and out. The metal and wood are in excellent condition, as is the interior and running gear.
The TR engine runs super strong. Derek opened up the engine and checked the rod bearings, etc. and all was in good order. Derek also rebuilt the dual Stromberg carburetors. The engine fires up easily, settles into a smooth idle, and runs very healthy with a lot of power. Headers are also fitted allowing the engine to breathe better.
Steering and suspension are spot on, with nimble and precise handling. Wire wheels that are freshly restored, along with Michelin tires, were installed In February. This Morgan tracks straight and brakes with confidence. Grab the new Moto Lita wooden steering wheel and toss her through the corners of your favorite road. You won't be able to wipe the grin from your face.
The 4 speed Moss gearbox is among the best we've driven, allowing tight and smooth shifts through all gears.
All lighting and instrumentation works as it should. The gauges appear as new, with fresh and crisp faces and trim. New leather upholstery covers the seats and appropriate panels. New rubber mats line the floors and footwells, with new carpeting behind the seats.
Side curtains in fair condition are also included, refurbished top bows are installed, and a tonneau cover is also included. Also, there are holes already drilled if the next owner would like to fit Brooklands aero type windscreens. The engine bay and undercarriage sparkle just as much as the exterior. The color combination of champagne and copper shimmers in the daylight. The photos don't convey the true color tone and beauty of the paint/colors.
She is turn key and ready to go. You will be hard pressed to find a +4 from this era this drives or looks better. The new owner can have total confidence in the quality of this Morgan, and it's only grudgingly being passed along to a new caretaker to make room for more Morgan projects.
This is a LOT of car for the money, a legitimate classic, offering usability and it's in sound investment grade condition. This is a BARGAIN. Vintage Morgan prices will always continue to appreciate. Your chance to own a 1st-in-class winning Morgan…for a steal!
Price
$40,000
Location
Palos Verdes, California
Availability
Find more Morgans for sale on Hemmings.com.