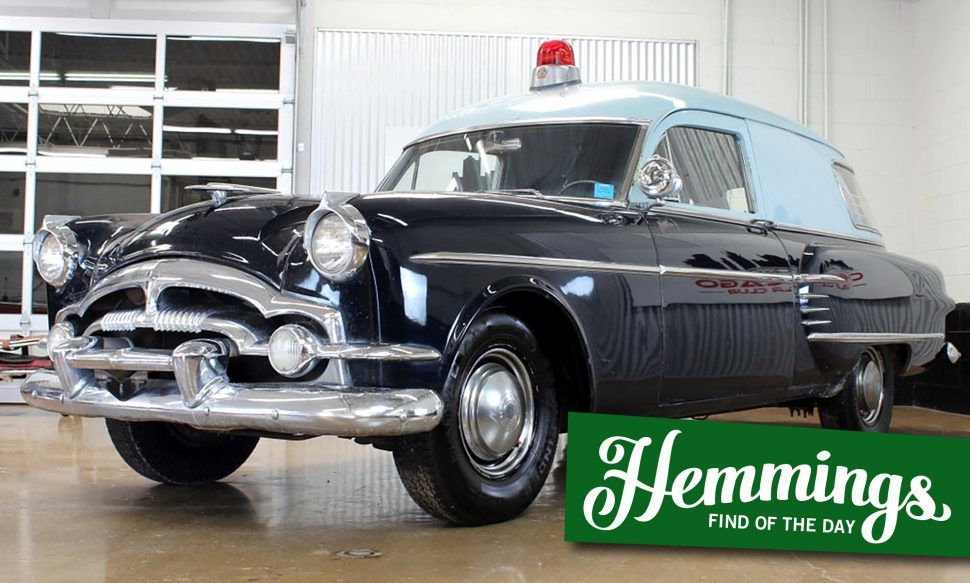 Hemmings Find of the Day: 1954 Packard Henny Junior Ambulance
It's a 1954 Packard Henny Junior Ambulance for sale on Hemmings.com. What's that? The seller's description offers a good explanation (and click through to the ad for all 100 photos):
So first off, what is it? In 1953 and 1954, Packard, in collaboration with Henney, offered what they called the "Junior", a smaller, more budget-friendly counterpart to their line of long-wheelbase "Professional" cars [ambulances & hearses]. The standard Professionals had a 156" wheelbase; the Junior was quite a bit smaller, with a 127" wheelbase. So while still useful in professional services, it was slightly easier to navigate and, more importantly, easier to fit in a standard sized garage. Interestingly enough, Henney didn't realize the Junior's tremendous production costs until it was too late. It's been reported that on average, including both government deals and retail sales, Henney lost just over $300 on each Junior they sold. In today's money, that's about a $3,000 loss on every car! In order to combat the loss, Henney/Packard hiked Junior prices way up midway through production, from $3,333 to $4,333, which effectively killed the model. Junior production over the two-year run totaled just 500 units, roughly half of which were on government contract, the other half sold to the general public. This particular car, vehicle number 5433-2123, is one of just 120 units produced for 1954, and remains in staggeringly original condition.
While this car has sat for some years, a city sticker on the windshield and accompanying registration documents show that it was most recently road legal here in Illinois in 2002, and had been in Colorado in the early 90s prior to that. Since 2002, the car sat stationary in the owner's garage alongside his other Henney Junior. The owner told us that the car ran five years ago, but we are lead to believe it was more like 8-10 years ago. Upon purchasing the car, we pulled the cylinder head and soaked the cylinders/pistons in Marvel Mystery Oil, put on wrench on there, and found cylinder #3 to be stuck. Upon finding this, we've decided to just sell it as-is, rather than making a project out of it. We've detailed the hell outta the car, and the interior looks really good, but the mechanical tending-to can be for the next guy to tackle.
The Exterior:
– Original paint throughout. Peeling in a number of areas, and with some serious patina on the hood and tops of the fenders. A beautiful, earned patina.
– Chrome shows light oxidation. No big spots of rust, just little specs of oxidation throughout. Chrome is free of any through corrosion or significant damage. Polished trim pieces are much of the same, with some pitting but nothing more.
– Light lenses are all clear and crack-free. Windshield has a partial crack at the bottom (see photo), and the passenger window has a vertical hairline crack.
– Doors/trunk/hood all open and close as nice and smooth as only a Packard could.
– Equipped with a beacon ray, no tunnel lights.
The Interior:
– Again, please defer to the photos and video. Interior, much like the exterior, is totally original and unrestored. Seats are in nice shape, but there is a burst seam on the driver's seat, along the front. Single rear jump seat is in great shape. The car will come with the cot, stretcher, and four oxygen tank kits.
– While the car isn't currently running, we've tested the powered systems. Gauges are functional (haven't been able to test speedo, obviously), dash lights are functional, blower/fan is good, headlights, taillights, fogs, and rotating light on roof are all functional. Siren is functional as well. Starter is too.
– Odometer reads 62,828 and is presumed accurate based on level of originality and overall wear.
– Steering wheel is in good shape, with no cracks. Also has a suicide knob, which is a nice touch.
– Door panels are in decent shape. You will note some blotches in the blue color….we were unable to get these out. We've detailed the hell out of this car, but those scars remain. Headliner is impressive….tight, and with nice color.
– Blue floor is in nice shape. Not much for scratches or scrapes.
Underneath
– Surface rust throughout the underbody, but very little through rust. Exhaust is rusted out, but the car is very much structurally sound.
– Brakes, while not very effective, are not locked up. The car rolls freely.
Price
$37,500
Location
Roseville, California
Availability
Find more Packards for sale on Hemmings.com.