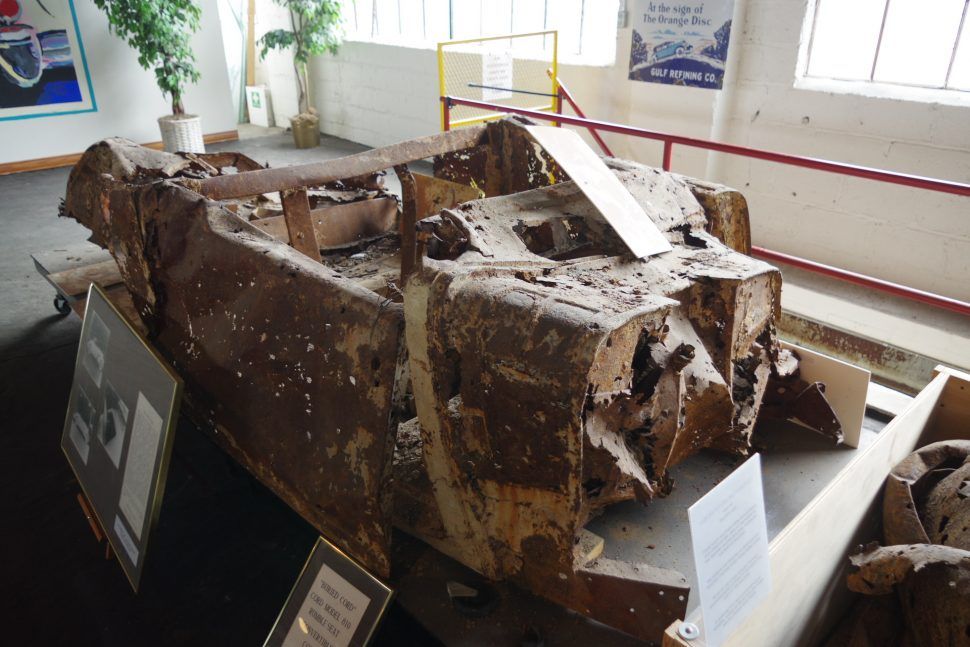 The once-buried Cord 810 that continues to live on
To the casual observer this pile of rusted metal is just that – a pile of rusted, crumpled, useless metal. But it's more than that. Believe it or not, it's the body of a 1935 Cord 810 Rumble Seat Convertible Coupe. And an early pre-production model at that. Now that's a rare car, or at least it once was. Today, this fascinating pile of American automotive history sits in the lower level in the National Automotive & Truck Museum in Auburn, Indiana. The display is titled: The Buried Cord. And by the looks of it, it appears to have been buried for a very long time.
For an upcoming feature that will soon be published in Hemmings Classic Car magazine, noted historian, Mike Scott, wrote: "To qualify as a production car for the 1935 New York Auto Show, Cord hurriedly hand-assembled 29 810s, displaying the sleek cars without transmissions, which had last-minute snags. Of these, the convertibles wound up buried along an Indiana river as flood control, though one, later unearthed, is on exhibit at the Auburn-Cord-Duesenberg Museum in Auburn, Indiana. The sedans were later given production line engines and sold to Cord employees."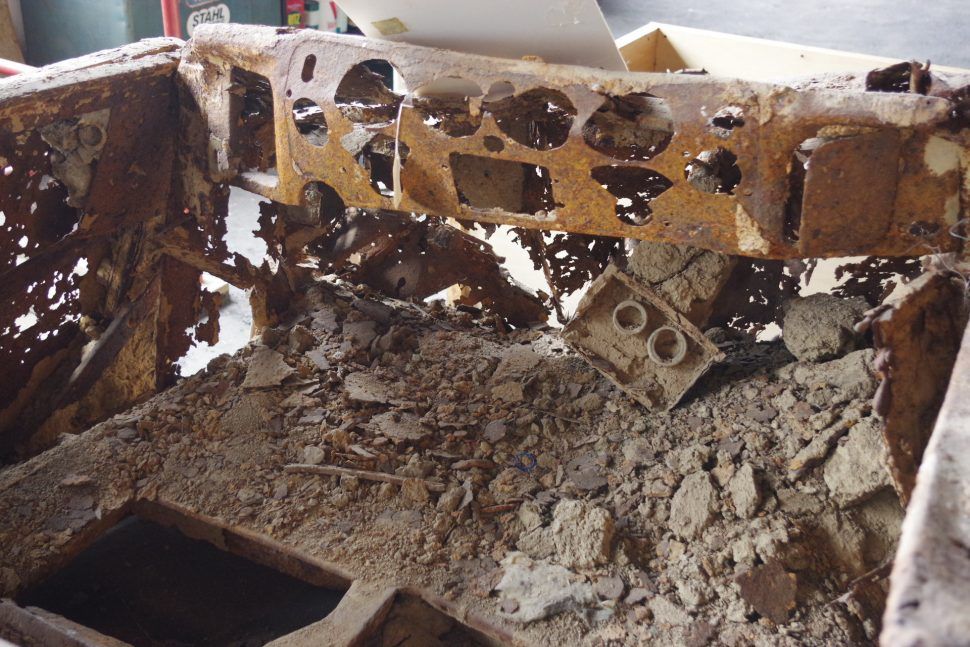 Exactly why they were buried isn't clear, but probably because most were prototypes they couldn't be completed and sold to the public, so it was probably cheaper to sell the bodies for scrap than do anything else.
The placard displayed alongside The Buried Cord states that this Cord was one of those early cars
…built from the original show cars, after their use in various auto shows. These handbuilt Cords were returned to Connersville (Cord's factory in Indiana) and disposed of. Some were finished (none had been fitted with transmissions) and later sold at bargain prices. Others were stripped of usable part, torched to remove almost 200 pounds of solder, and the remaining shells are now part of a WPA Flood Control project behind Robert's Part in Connersville. The cars remained there until October 1981, when Auburn-Cord-Duesenberg club members unearthed this Rumble Seat Convertible Coupe body that had been identified as an early show car. Although this body is unrestorable, it verifies the existence and the fate of the early show cars.
Of the approximate 1,764 Cords manufactured in 1936, its first year of production, this is one existing 810 that will never be restored. Lacking its rear fenders and the entire front end, severe corrosion and metal fatigue prevents that, however it does make for an interesting display with it being an authentic example of how the Works Progress Administration incorporated old automobiles into their flood control projects.