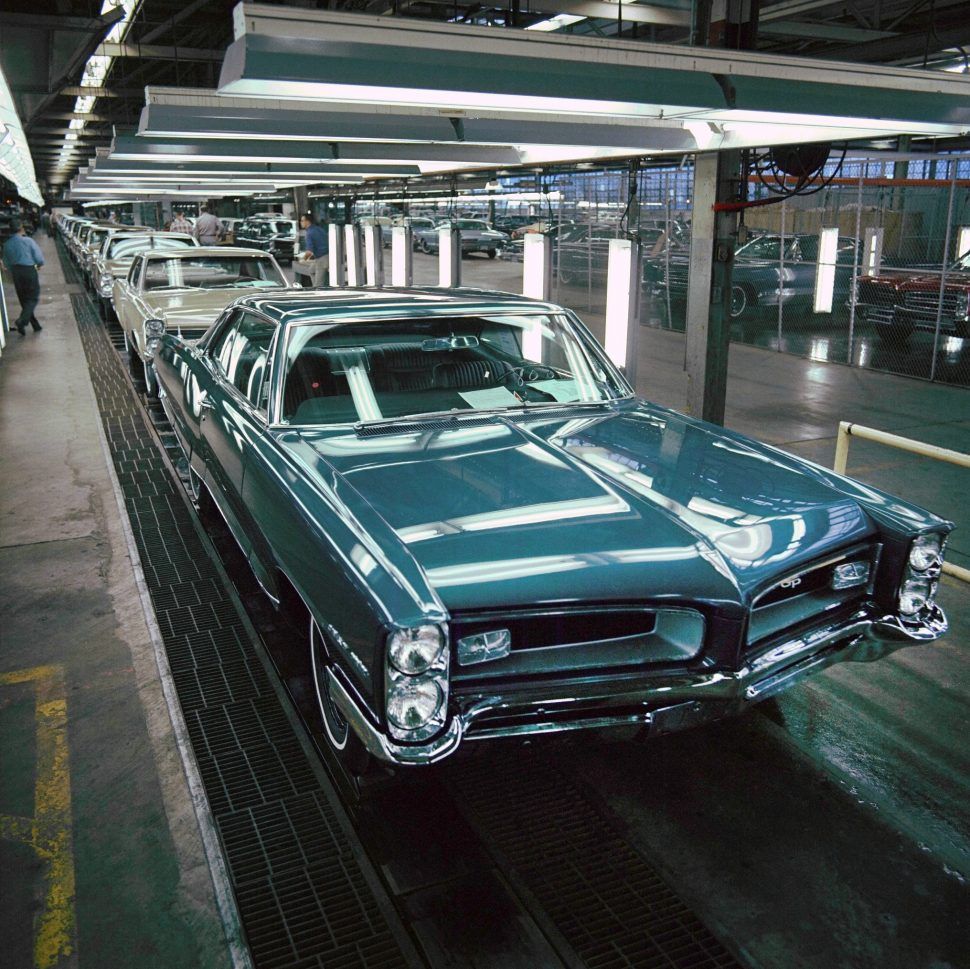 Six reasons to revere the 1966 Pontiac Grand Prix
The Grand Prix entered the personal/luxury/performance car market for 1962 and the 1966 model continued to deliver contemporary styling, powerful and smooth-running V-8 engines, an upscale driving experience, and a broad range of options for individualization. Here are my top six rationales for admiring the 1966 GP.
1. Styling for Status
The new-for-1965 "Venturi" body shape and curved side glass were carried over with updates front and rear. Designers retained the stacked headlights (first seen in 1963) for the reworked split-grille front-end that the full-size models employed for 1966, but the GP-only grilles with recessed black centers, silver surrounds, and parking lamps mounted in them were sportier than those used on other Pontiacs. Additional trim and Deluxe wheel covers were standard.
Though much of the exterior design was shared with other full-size Pontiacs, some elements weren't. One is the more formal roofline with a concave rear window, which began with the 1963 Grand Prix and Oldsmobile Starfire (and 1964 Olds Jetstar I). It was refined for those models for 1965, and continued for 1966 (except for the retired Jetstar I). Another was the GP's full-width louvered tail panel with partially concealed taillights at each end.
2. Enticing Interior
Grand Prix cabins offered an eclectic mix of luxury and sporty amenities. Redesigned-and-more-supportive-for-1966 Strato-bucket seats were standard, as was a console unless the (no-extra-cost) Strato-bench seat with fold-down center armrest was chosen. The expanded Morrokide upholstery, described as "glove-soft," proved to be durable as well. Palais pattern cloth-and-expanded Morrokide seating surfaces were also available.
Though the walnut-accented instrument panel's layout that was anchored by a horizontal 120-MPH speedometer remained, design details were updated. As in previous years, however, the heater and ventilation controls looked like the radio, continuing another distinctive Pontiac touch. A clock, dash pad, flexible assist bar, and myriad accessory lamps were also standard.
The Turbo Hydra-Matic's walnut-trimmed console extended up to the instrument panel but the manual trans version didn't.
3. A Treasure Trove of Engines
Pontiacs were known for providing a lengthy list of engine choices for each model. The GP came with the 333-hp 389 four-barrel (Carter AFB) and a three-speed manual transmission, but when the Turbo Hydra-Matic was ordered, the engine became a 325-hp 389 four-barrel. Dual exhaust was standard on Grand Prixs.
A 256-hp regular-fuel 389 two-barrel was offered with the automatic. Extra-cost premium-fuel 421 engines came in three power levels—338-hp four-barrel, 356-hp Tri-Power, and the 376-hp H.O. Tri-Power, which received a hotter camshaft and high-flowing long-branch exhaust manifolds.
Tri-Power induction had aided in advancing Pontiac's performance image since it first arrived in 1957. It featured three Rochester two-barrel carburetors on a specific intake manifold. The center carb was used for most driving with the outer ones opening via vacuum or mechanical linkage (depending upon the model year and/or transmission in some instances) when more power was required.
4. Four-Speed Anyone?
Unlike some competitors, Pontiac's luxo/performer could be optioned with durable Muncie four-speed manual transmissions. However, according to the Standard Catalog of Pontiac 1926 to 2002, 35,840 of the 36,757 Grand Prix buyers chose the extra-cost, reliable, and "silky-smooth" Turbo Hydra-Matic three-speed automatic. Thus, only 917 GP buyers decided to shift for themselves, and how many ponied up for four-speeds versus the standard three-speed isn't clear.
5. Almost Endless Options
Appealing to its sporty inclinations, additional performance options included transistorized ignition, tachometer, Custom gauge cluster, ride and handling package, Safe-T-Track differential, and various rear gear ratios.
"Aluminum wheel hubs and drums" were desirable then and now. A finned aluminum integral brake drum/hub assembly with a bonded cast-iron braking surface was secured to a 14-inch steel rim via eight studs and lug nuts. Dressed with a bright center cap and trim ring, these wheels were stylish and the improved cooling reduced brake fade.
Luxury and comfort could be elevated via optional power assists for steering, brakes, windows, vent windows, door locks, antenna, trunk lid release, and seats; an air conditioner with or without automatic temperature control; tilt steering wheel; AM or AM/FM radio; Separa-Phonic rear speaker; Verba-Phonic rear speaker; reclining passenger seat, headrests, and Soft-Ray glass.
Convenience options included a Safeguard speedometer and low-fuel warning lamp, Electro-Cruise, and a rear window defogger. A Custom Sports steering wheel, Custom or wire wheel covers, and whitewall tires added style. And there were still more extra-cost items.
6. Last Year for a Few High-Profile Items
GM eliminated multi-carb induction systems on V-8s except the Corvette for 1967, so 1966 marked the final year for the legendary Tri-Power, which had a larger center carb and revised intake manifold for increased performance. For 1967 the 400 and 428 engines debuted, and though their larger displacement and better-flowing cylinder heads and four-barrel intake were steps forward, they also ushered out the 389/421 era. Vent windows were also retired after 1966 for the GP hardtop (but the new-for-1967 Grand Prix convertible still had them).
Conclusion
With a 121-inch wheelbase, 79.7-inch width, and 214.8-inch length, the Wide-Track (63–inches front / 64-inches rear) GP rode and handled well with its perimeter frame, short/long arm front suspension with anti-roll bar, four-link rear layout, and coil springs, shocks, and 11-inch drum brakes all around.
If you're considering a 1966 Grand Prix, NADA and Hagerty values currently show #3 driver condition examples to be roughly in the $13,000-to-$16,000 range. The 421 or option-laden variants cost more, as do the #1 and #2 condition GPs. Enlisting someone knowledgeable about Pontiacs to examine your prospect prior to purchase should ensure a higher level of satisfaction.