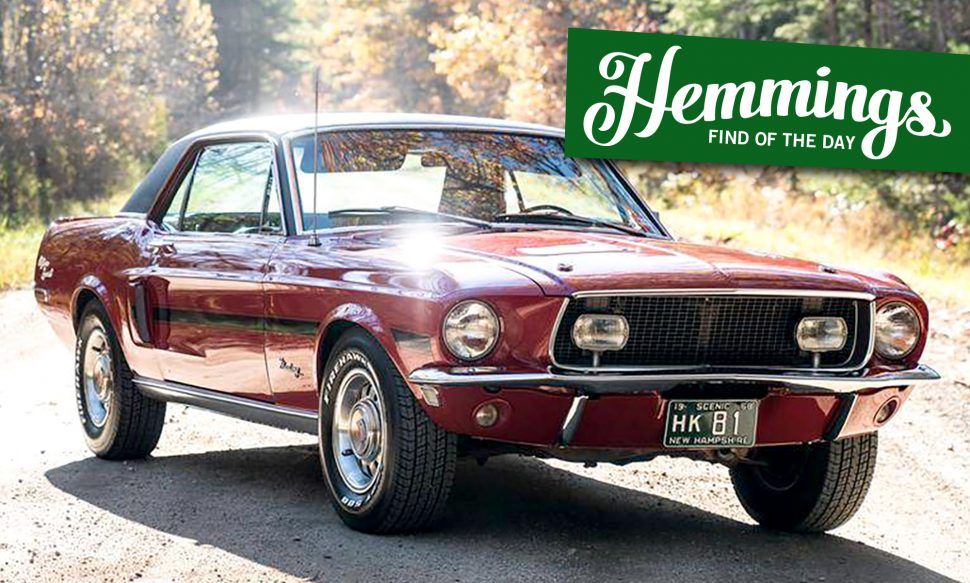 Hemmings Find of the Day: 1968 Ford Mustang California Special
Award-winning 1968 Ford Mustang California Special for sale on Hemmings.com. From the seller's description:
Unrestored 2018 MCA Grand National Gold winning GT/CS is available. This car looks restored, showing how well it was cared for since new. 45K miles. The original documentation is extensive, including: dealer invoice, owner's handbook and warranty card, loan paperwork, dealer A/C install and invoice, orig keys, orig dealer license frame, yearly registrations from 1968 to early 2000s, dealer installed equipment invoice, and deluxe Marti Report.

The following are original and unrestored: single stage acrylic enamel paint in Candy Apple Red showing orange peel and correct thickness, black vinyl top, all Chrome, tinted glass with correct date coded etching (even windshield), original drivetrain: J-code 302 engine (available 1 year only): 8A19 O C8OE-6015A (engine bay is repainted); C-4 transmission: PEE S C8ZPBB8C, shaft and 3.00 axle, and the entire interior including carpet and headliner. The car runs very strong. The dealer installed A/C works and has no leaks I am told by the mechanic but is not charged. All gauges except the clock work; even the original AM radio.

The car was to be produced on Feb 14, 1968 but was part of the rear fiberglass fit issue that held up production for the first 200 units. It was finished on Feb 26, 1968. According to the VIN and the GT/CS production records, this car is #63 of approx. 3,800 cars produced. The dealer invoice shows the car was ordered with a deluxe wood steering wheel but was not added when the car was built, so the dealer and purchaser negotiated two items: adding an under-dash A/C and a dual exhaust system. GT Arjent steel wheels were added at this point as well.

My history: I replaced the carburetor. It was the problematic Autolite 4300 4V. I replaced this with a rebuilt vintage Ford service carburetor, correct for the car (Holley, DOPF-9510-U LIST-4548-S 2A1) and it works great. The floor shifter needed a new bearing, so I rebuilt it. I changed all 4 shocks to new KYB shocks. The radiator and heater core had small leaks, so the radiator was repaired, and the heater core and master brake cylinder were replaced (I have the old ones). I steam cleaned the underside for the 2018 MCA Grand Nationals and discovered all the original factory markings are still on the drivetrain; faint, but visible. There is evidence of two small repairs, the rear bumper pushed in on the left side and must have cracked the left fiberglass extension and the fiberglass going around the taillights; the other is the right-side scoop, both were replaced. These pieces have thicker paint and a very slight hue difference. I replaced the battery in 2019 and bought a vintage cover, Rad hoses, clamps and decals so the engine bay looks correct. 2020 tune-up, and replaced all vacuum hoses and caps.

This car has been a car show favorite over the time I've had it, winning many awards and best of show in two. It also earned gold (OD division) at the 2018 MCA Grand Nationals. It has been in two classic car calendars and was published in the Jan 2020 issue of Mustang Times.
Price
$39,900
Location
Hooksett, New Hampshire
Availability
See more Fords for sale on Hemmings.com.