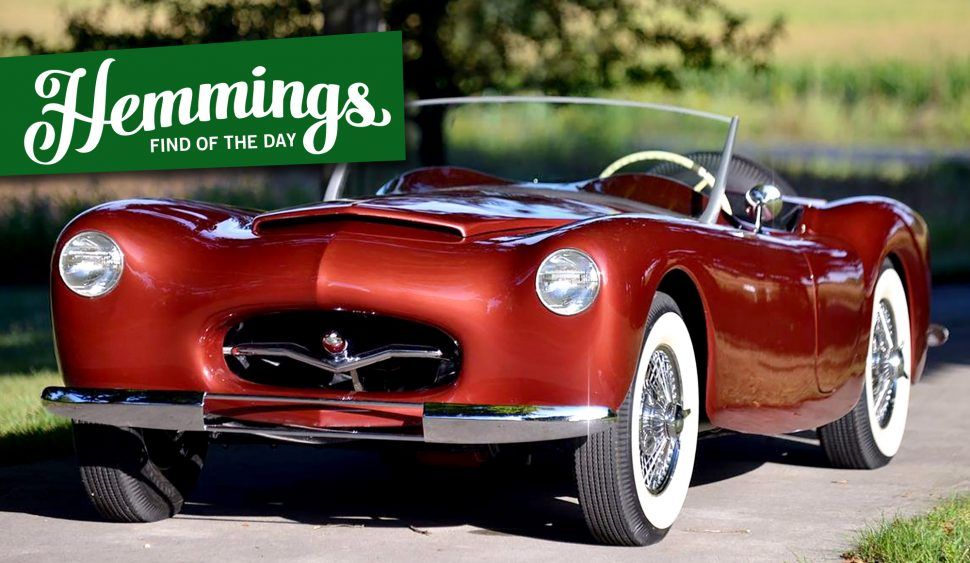 Hemmings Find of the Day: 1954 Woodill Wildfire
What's a Woodill Wildfire? In short it's a Willys-based sports car, and only a few were made for production with more built from kits. For more history, read this story from Hemmings Motor News. Or read on to learn more about this specific 1954 Woodill Wildfire for sale on Hemmings.com. From the seller's description:
Original Owner-Builder 1954 WOODILL WILDFIRE 283 FUEL INJECTION
Out of 300 fiberglass bodied Wildfire's built from 1953 through 1956 approximately 25 survive today. This is a frame-off restored original owner-builder example of a 50's hot rod sports car, winning its class in the 1956 Detroit Autorama and the Amelia Island Concours in 2015.
This car runs, drives and looks excellent.
What really makes this car special is the engine. The original Ford flathead was swapped out in 1957 for a new Chevrolet fuel injected 283 per authorization from Maury Rose, head of Chevy Racing Division at the time. This engine made this car seriously fast. In a car weighing 2,200 lbs., the 283 hp with the rear end in high range would go to 90 in first gear, 120 in second. This car was drag raced from 1957-59 in "class A gas open" mostly against Corvettes, big block rod, T-birds and never lost.
The body, frame, windshield posts, shortened driveshaft and torque tube came from the Woodill factory in Downey, California. A 3 speed manual transmission from a Lincoln Zephyr with a 26 tooth second gear to give a higher ratio was teamed with the Columbia 2 speed rear axle.
The car won its class in several car shows from 55 through 59, mostly in Detroit area which along with Southern California were the street rod capitals at the time. From about 1965 the car sat in storage until 2011 when a complete frame-off restoration was commenced with the mileage showing 4,900.
Original 1954-55 build details
From a 1939 Mercury came: Columbia 2 speed rear end, front axle, front and rear springs, shock absorbers (Houdelli adjustable), bumpers, brakes, headlights, steering gear box and column, seat tracks and gas tank (cut down).
Massive radiator from a 49 Lincoln with a 4″ core, cut down 6″ to fit.
Grill chrome is from a 1955 Canadian Ford Meteor. Center of the grill is from the "bullet" of a 1956 Lincoln rear bumper.
Windshield from a 1954 Willy's Aero cut down.
Tail lights are from 1952 Willy's.
Stewart-Warner guages.
Knock-off wire wheels were custom made by Dayton Wire Wheel Co. which were re-chromed for the restoration.
Modifications made when car was built include: Brake drums ground to be concentric, brake shoes were ground to match so car stops very quickly. Shift lever was moved back about 14″ because transmission was so far forward.
Restoration included the 283 engine rebuild by Smith Motors, Charlotte, MI details:
10.5 to 1 compression
Original Duntov camshaft 30-30, new lifters with .012 hole.
New competition cam roller rockers, Egge Machine Co. pistons .020 over, stainless valves, valve springs, hardened exhaust seats for heads, pushrods 10 under, oil pump, crankshaft polished with new bearings.
Rochester fuel injectioin unit rebuilt by Ed Troell of Phoenix, AZ.
Body was stripped, prepped, and painted by Greg Metzger whose day job is doing body and paint for GM show cars in Milford, MI.
Frame was re-worked and beefed up in areas to make Fiberglass body better supported.
The original wide whitewall Firestone 500 tires which were the highest speed rated tires in 1955 were replaced with Firestone Deluxe Champions.
The upholstery is original from 1955.
The only "modern" addition is an electric fan for the radiator.
The only flaws are hairline body cracks that appear on either side of the engine which are shown in the last two pictures.
The upholstery on one seat is starting to fray.
The pictures of the car from rear-side view jpeg files were too big for Hemmings to accept. Nothing is being hidden. We will send more pictures to serious interested parties. We will have video of the car running and driving as soon as the weather permits.
As there has been growing interests in these very low production number American sports cars from the 50's it has become much easier to find out more on the internet. Search Woodill Wildfire, you will find articles, (one of which, Hemmings, July, 2015 mentions and pictures this particular car), loads of pictures, many of this car at various shows. Also search 1957 Chevy 283 engines with Rochester fuel injection. We also have photos and film of this car at 50's car shows and drag racing.
Price
$79,000
Location
Potterville, Michigan
Availability
Find more Woodills for sale on Hemmings.com (although, at the time of this writing there is only one other car listed).