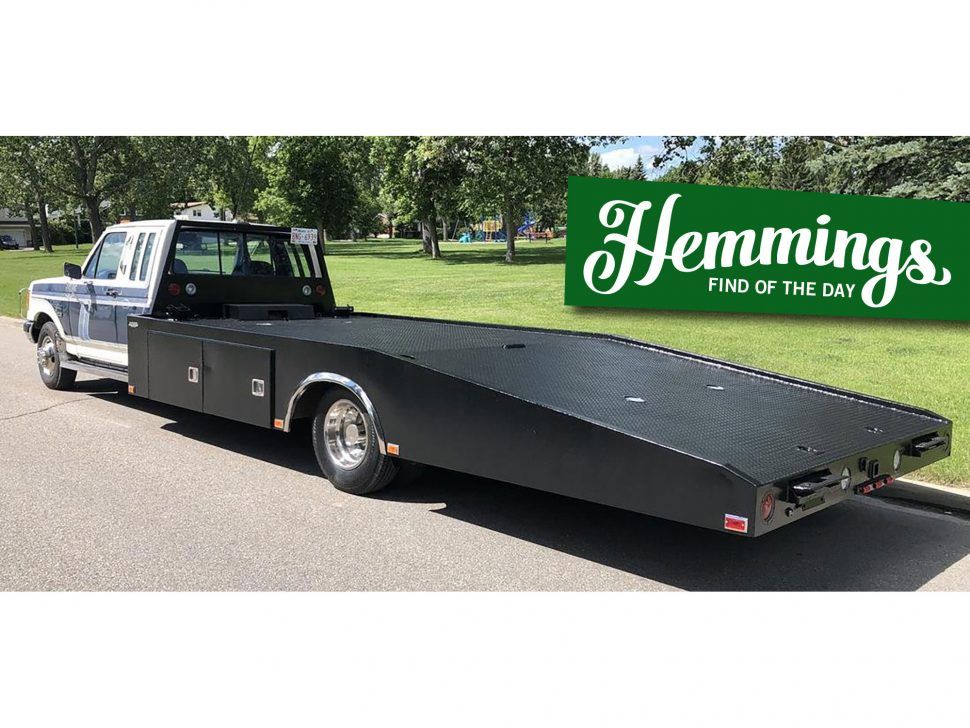 Hemmings Find of the Day: 1990 Ford F-350 Car Hauler
Ready to move your collector car with ease? It's a 1990 Ford F-350 Car Hauler for sale on Hemmings.com. From the seller's description:
1990 Ford F350 XLT Explorer Supercab 7.3 litre Diesel with 19 foot Hodges ramp deck. No body rust and very good bucket seat cloth interior with no rips. 38,000 miles on dealer installed 7.3 litre (International – a good engine) diesel crate engine in 2004; Banks Turbocharger. Second owner; every servce invoice since 1990 included. Truck spent it's whole life in Tucson, AZ until I brought it to Calgary in 2012. First owner and I used it only to haul our collector cars to out of town shows; thus rarely winter driven.
New since 2012: 6 BF Goodrich truck tires (2 in 2017; 4 in 2019); a/c compressor (2012); transmssion service (2013); injection pump (2014); glow plug regulator (2014); 4 engine belts and radiator recored (2015); front brake hoses and 2 batteries (2017); alternator, glow plugs and glow plug relay (2020).
Power brakes, steering, windows and door locks, auto trans, cruise control. Built in radar detector and CB radio. Very comfortable highway vehicle and diesel engine gets reasonable fuel mileage with a car on the deck.
Hodges deck conversion in 2005 cost $8,750; included driveshaft and frame extension/reinforcement; additional leaf springs; dual rear wheels; larger front wheels. Diesel crate engine cost $8,535. Great truck; drive anywhere with confidence. Delivery within Canada and US lower 48 states negotiable.
Price
$17,500
Location
Calgary,
Availability
Find more Fords for sale on Hemmings.com