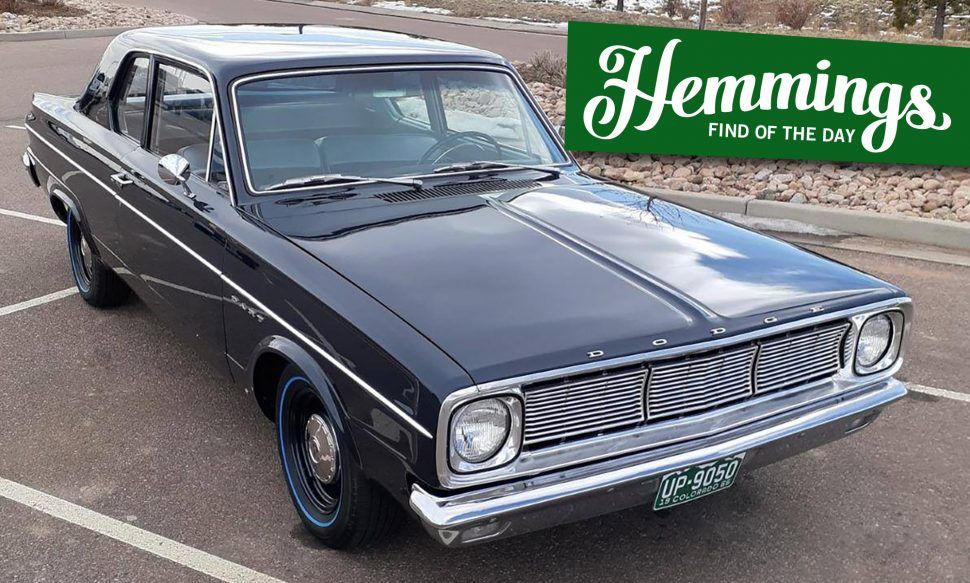 Hemmings Find of the Day: 1966 Dodge Dart
Refurbished 1966 Dodge Dart for sale on Hemmings.com. From the seller's description:
I found my new dream car so this one must go to a new home. No space for two classics in my garage.Exterior sheet metal rust was removed from the body panels, then metal patches welded back in. Base coat/clear coat re-paint in original factory color (bare metal pictures included).New weatherstripping and body plugs replaced. The interior is original, except for an upgrade to carpet from rubber mats, a new rear package tray, and a new tinted windshield. Everything else is original and in very good condition. The 225 cu. in. slant 6 engine is believed to be original, with an upgrade from a 904 TorqueFlite automatic to an A833 4-speed with parts/supplies from Brewer's Performance.
Odometer shows just over 23,000 miles, but the car is being sold as mileage exempt since there is no documentation to support the mileage: it's likely 123,000 but I'm sure it's not 223,000 based on the car's condition.This is a refurbished example of a very clean original 66 Dart; it is NOT a rotisserie restored trailer queen. It is meant to be driven and enjoyed and both the restorer and I did just that during our respective ownership. In addition to all the pictures and detail provided in this ad, there are about a dozen videos on YouTube posted by the man who performed the work on this blue jewel a few years back: search YouTube for "Ed Kiehl".
History:
A Pacific NW car originally, I bought it from a dealer in Denver, CO in 2004. The dealer had purchased it from the Pioneer Auto Museum in Murdo, SD, where it had been on display for several years. I enjoyed and drove the car until 2010, when a 1966 Barracuda Formula S caught my eye. So I sold the Dart to the new owner, Ed. He did all the refurbishing work on the car between 2010 and 2015. He offered to sell it back to me in early 2016, so he could pursue his next classic MoPar A-body. So I jumped at the chance to buy it back after all the outstanding work he had done on the car. As previously stated, the only reason I am selling it is I found my next MoPar A-body dream car, and I will let this one go.
Drivetrain:
Slant 6 engine burns no oil; water pump, all hoses and belts replaced 2018; radiator boiled out and repaired 2018; converted to electronic ignition during the restoration; Holley carburetor rebuilt 2017; exhaust and muffler in great shape, no rust or leaks. A833 MoPar 4-speed transmission added during the restoration process. New clutch disc, pressure plate and throw-out bearing installed February 2020. 7 ¼ inch ring gear rear differential, unknown ratio but probably 2.93. Brakes are original style drum brakes, which were re-done with new drums/bearings/shoes: also updated to double bowl master cylinder. PLEASE NOTE: A complete, new and never installed power front disc brake conversion kit (4 inch bolt circle) is included with the purchase of the car.
Wheels & Tires:
195/70R14 radial blue stripe tires (period correct) purchased from Diamond Back Classics in South Carolina, mounted on OEM MoPar 14 x 5 ½ steel wheels with original 5 on 4" bolt pattern. Tires have less than 1000 miles on them. Lug nuts have been converted to all RH thread on both sides of the car. Dodge logo dog dish hubcaps are also period/year correct. A new 14" 195/70R14 spare tire on 14×5.5 in. OEM steel wheel is in the trunk along with correct jack. Also included is one 13" wheel and tire that came with the car when I bought it in 2004.
Extra Parts & Pieces:
Over the years I have accumulated some early (63-66) MoPar A body parts and pieces that I'll make available for sale to the new owner of my Dart if interested: small block V8 MoPar aluminum bell housing for 4-speed transmission; original 273 V8 Hi-Po black crinkle valve covers with factory aluminum trim pieces; Hi-Po 273 V8 chrome air cleaner lid and base; restored OEM wood grain steering wheel; Edelbrock 4 barrel aluminum intake for MoPar slant 6; repo chrome exhaust resonator (new) from Dales Cuda Shop; 2 Dart GT front fender top chrome trim pieces.
Full Disclosure:
I mentioned previously this is NOT a rotisserie restored car, but a refreshed and refurbished driver quality example from a very clean and original 1966 Dodge Dart. The under carriage still has signs of original undercoating and appears to be mostly rust free. However, the rear seat floor pan (driver's side) is a bit crusty but was not replaced. Restorer did place a metal plate over the rust inside the car, under the carpet so it is strong enough to hold up to rear seat passengers. All other floor pans are intact and solid. The exterior aluminum trim was not repaired/buffed during the restoration, so it is in original condition with minor scrapes and dings…remember this is a driver..!!! In the first year after the car was painted, several small areas of paint started to blister, possibly due to incorrect surface preparation. Most are the size of a small fingernail, and are down low on the rear quarters behind the doors. But there is one on the passenger side A pillar about the size of my thumb. The good news is that no new spots have appeared in the following 6 years, and the few that are there have not changed in size since the car was painted in 2013. The integrity of the paint is intact. Without knowing where the spots are, most people don't notice them.
Price
$14,750
Location
Colorado Springs, Colorado
Availability
See more Dodges for sale on Hemmings.com.