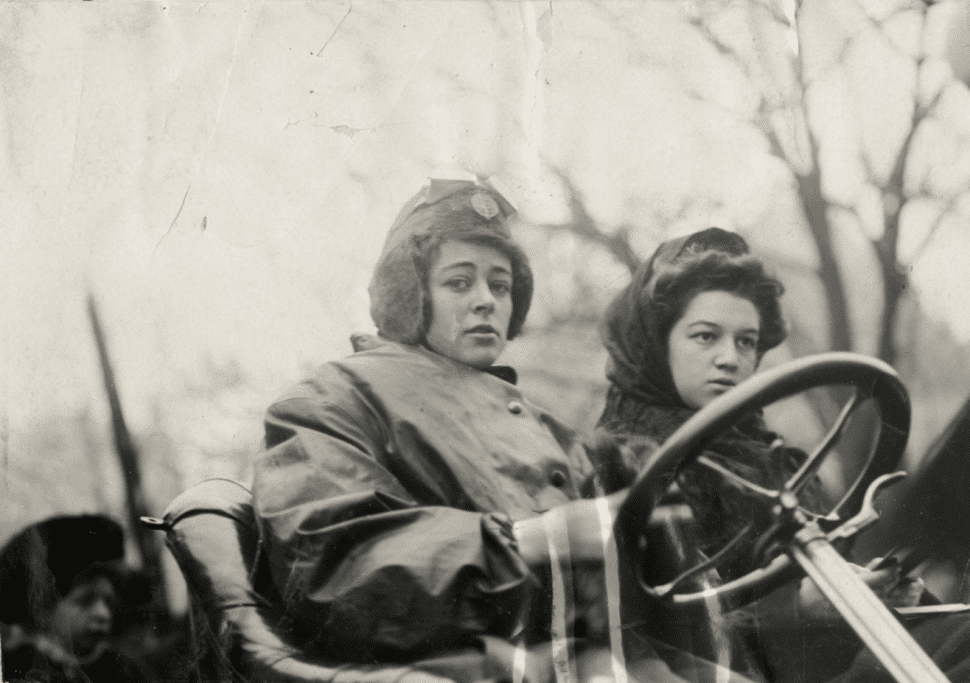 Lady Maxwell: Remembering Alice Ramsey's transcontinental journey
[Editor's Note: Contributor Francesca Steele sent us this story on Alice Ramsey just in time for the presentation that Renee Crist, the curator of collections at the LeMay–America's Car Museum, will give this coming week on Emily Anderson and her 1909 Maxwell DA along with Alice Ramsey's 1908 Maxwell Model K Runabout. Crist's presentation will take place at 11:30 a.m. on March 10 at the museum. For more information about the presentation, visit AmericasCarMuseum.org.]
"A few of our most skeptical friends told us after our return that they didn't feel any too sure we would actually get that far, …" —Alice Ramsey, Veil, Duster, and Tire Iron, 1961
A warm south-westerly blows across the grassy sand dunes of Point Montauk, Long Island. It is the first leg of a two-day motor car endurance race assembled by the New York Automobile Trade Association. For notoriety, drivers, clubs and manufacturers race around Land's End in cars from the luxuriously powerful 50hp Rainier, driven by racing phenom Joan Cuneo, to the popular and economical one-cylinder Brush runabout.
On the final stretch a flag man waves to a convoy of three stalwart Maxwells. In front, 21-year-old Alice Ramsey is followed by Maxwell company man F.O. Hinhauser. Holding up the rear is 31-year-old Maxwell sales manager, Cadwallader "Carl" Kelsey. Finally, the evening beacon of the lighthouse promises dinner at $1.25 per person. As noted with great displeasure by the Brooklyn Daily Eagle, this was twenty-five cents more than the previous year. Carl assembles team Maxwell over lobster Newberg and presents an idea to Alice.
"You are going to be the first women ever to drive an automobile across the United States of America, from Hell Gate, … to the Golden Gate, … and in a Maxwell!" —Alice Ramsey, Veil, Duster, and Tire Iron, 1961
By 1906, nearly a dozen men had crossed the country by automobile gaining for themselves status and renown in American lore. But the siren's song of the open road for adventure seekers like country doctor Horatio Nelson Jackson, who took the journey on a $50 wager, had also been heard by the women of America.
Mrs. Minerva Teape and daughter had attempted the drive in a two-cylinder Waltham after suffering the loss of her youngest child the previous year, believing a journey from Portland, Maine, to Portland, Oregon, could soothe her malaise. Yet she turned back in Omaha due to infirmity. Mrs. Murdock attended her husband with five children and a friend in a Packard from Los Angeles to New York. She claimed she missed the landscape when traveling by train. Was Alice ready for such a long drive?
At Montauk, Alice finished with a bronze medal and a perfect score. In the A-Class, cars selling for $850 or less, Mr. Hinhauser also received a clean score. Scandalously, marketing guy Carl was disqualified for taking a shortcut. Inspired by her win, Alice recalls in her memoir, Veil, Duster and Tire Iron, her answer to Carl's proposition.
"Why not … It's been done by men and as long as they have been able to accomplish it, why shouldn't I." —Alice Ramsey, Veil, Duster, and Tire Iron, 1961
Born Alice Huyler on November 11, 1886, to an old Bergen County family in Hackensack, New Jersey, Alice was among the leisure class. Educated at Vassar College and married at nineteen to John Ramsey, Esq., she had no needs in life, yet she was at a crossroads. Like married women at the end of La Belle Époque she could have spent her days perusing articles on ladies' tightlacing, and flower arranging for luncheons with Vassar alumnae. But Alice had other ideas; she would take the road less traveled.
Alice was eager to exercise her post-Victorian freedom as a married woman, finally able to be seen in public unaccompanied. Alice decided to hitch a high-spirited cart horse for a day ride. Returning home, she requested of her husband a tamer animal. Surprisingly, he suggested an automobile instead and already had one in mind. Shortly, a new Maxwell was delivered. For the rest of that year she would drive the natural life out of the little roadster—reportedly 6,000 miles.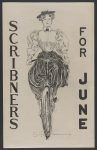 In 1908 less than than 200,000 cars were on America's roads, and women drove just five percent of them. However, women were reaching 30 percent of the workforce with money in their pocketbooks. The Ladies Home Journal had reached one million subscribers five years earlier—the first of any American magazine—Waverly Electric posted its first ad directed at women, and the Oldsmobile Curved Dash declared itself "endearing to the feminine heart."
For American manufactures interested in the female market, the new ideal captured by illustrator Charles Dana Gibson to sell everything from bloomers to bicycles was called the Gibson Girl. She was athletic yet attractive, demure yet intelligent. Like the Ford Mustang-driving "It Girl," the Gibson Girl's idealized beauty and independence appealed to the growing middle class with leisure ambitions.
In those days, Maxwell was bigger than Cadillac. Ahead of the curve in women's equality, Maxwell would be the first to form the Maxwell Women Sales Bureau, dedicated to advancing women behind the wheel. Carl Kelsey, willing to break the rules for the glory of Maxwell in the headlines, saw an opportunity: women read magazines, wanted adventures and wanted reliable automobiles. Carl imagined Alice on that adventure in a Maxwell.
"Could such dressy and fastidious women manage with little in the way of fancy clothes for so long a period? And would they accept the privations of a rugged jaunt across more or less unchartered country? What about food? Would they trust my decisions in regard to the automobile and its handling?" —Alice Ramsey, Veil, Duster, and Tire Iron, 1961
On June 9, 1909, Alice's cross-country adventure began. Spectators and press photographers assembled in front of the Maxwell salesroom at 130 Broadway in New York to wish bon voyage. If Alice had concerns, she didn't show them. Alice and three travel companions, friend Hermine Jahns and sisters-in-law Nettie Powell and Margaret Atwood, took their seats. Their 1909 Maxwell DA Touring car was specially equipped with a 20-gallon gas tank, spare parts, and a fitted luggage rack. Heavy steamer trunks were common traveling suitcases but not suitable for automobiles, so they agreed to one trunk each for clothes and sundries. A well-meaning gentleman attempted to crank the engine but Alice insisted, "We had better get ourselves started." Presenting a photo opportunity for the press, she gave the engine a crank and set a pace to Poughkeepsie.
But the Maxwell company did have concerns. At the early part of the century, America had some two million miles of rural roads, and only nine percent had improved surfaces beyond dirt. Maxwell consigned "J.D." Murphy, Automobile Editor for the Boston Herald to travel ahead by train and arrange supplies, food, hotels, and publicity events at Maxwell dealerships. Alice was gracious and describes him as a good-looking, neatly-groomed Irishman with curly hair, but admits
"It goes without saying that we would not have chosen this [his] accompaniment, but the Maxwell firm insisted that the spectacle of four women driving across country over practically uncharted wilderness was a golden opportunity for building up their own prestige in the automobile industry." —Alice Ramsey, Veil, Duster, and Tire Iron, 1961
On their fourth day of driving, the women arrived in Buffalo for their first formal reception, Alice was amazed that Hermine, Nettie, and Maggie had managed to cram "beflowered and beribboned hats of ample dimension" into their cases. Alice herself followed a new mode and chose a simple emblem for her driving cap, her Montauk bronze medal.
After 19 days on the road, Alice was informed by locals in Boone, Iowa, that the car was too heavy for the terrain to Omaha, and putting the Maxwell on a train was suggested. Alice had other plans. "J.D." would accompany her along the next 150 miles to Omaha and put Hermine, Nettie, and Maggie with their luggage on the train instead. "We understand how you feel," consoled Nettie, "but the main thing is to get the Maxwell through…."
As Alice continued, she began to regard that automobiling for pleasure was one thing to the leisure class, but another for the people of the towns and farms of rural America waiting for the interstate highway. At a stop for refreshment near Reno, Nevada, Alice wrote,
"When the man announced he had only dry cereal, canned tomatoes and coffee, I'm sure I shuddered… the poor man was doing the best he could. We did not even ask to supplement it with the usual bread-and-butter and sugar. Frankly I believe it is good for us not to be able to get just what we want sometimes; but to be obliged to accept what is at hand, make the best of it and, in addition, be thankful." —Alice Ramsey, Veil, Duster, and Tire Iron, 1961
At sunrise on August 4, the women entered the magnificent Sierra Nevada range exclaiming, "What blue skies and clear, sparkling water!" and only 200 miles to go. And by twilight on the sixth, they arrived in Hayward, California, less than 30 miles to their destination. Alice remembered stopping to ponder the upcoming denouement.
"Even as far back as 1909, the advertising profession would not have looked with approval on our entrance to the Golden Gate in the hours of darkness, so we spent the eve of our arrival in Hayward after a perilous snack of hot tamales and cheese omelettes!" —Alice Ramsey, Veil, Duster, and Tire Iron, 1961
On August 7 in San Francisco, they arrived to cheering crowds, flower bouquets and the press. "A cavalcade of escorting Maxwells greeted them. What a day." At the St. James Hotel, satchels of mail had been waiting. Alice's friends had vicariously traveled the 3,800 miles in 59 days. Perhaps pasting newspaper clipping into keepsake albums or keeping Alice informed on the society papers; who married whom or who won that year's Cup at the Bay Shore Horse Show. If Alice can do it, they probably thought, then why can't we.
The following year Blanche Stuart Scott, driver and aviation enthusiast, completed the coast to coast journey in a Willys-Overland. And when Blanche moved on to airplanes, the press moved on along with her. Alice had been forgotten as the first woman to drive across America and by 1925 Maxwell itself disappeared into the Chrysler Corporation.
In 1961 Alice set the record straight by writing Vail, Duster and Tire Iron, republished and annotated as Alice's Drive in 2005 by G.M Franzwa. In 1960, she was awarded Woman Motorist of the Century by the American Automobile Association. Television journalist Charles Kuralt once interviewed Alice for his television magazine, On the Road. She was 90 years old, and still sharp as a tack. When asked how she found her way, she quipped, "mostly by following telephone poles." She traveled often until she passed away in 1983 at the age of 96.
In 2000, Alice became the first woman inducted into the Automotive Hall of Fame. If you were lucky in 2009, you may have seen the spirit of Alice Ramsey traveling the highway as Emily Anderson in a reconstructed 1909 Maxwell, or Alice in the landscape on a mural of sagebrush and blue skies created by artist John Ton—a public reminder of women pioneers in the early era of the automobile. Sadly in 2016, Alice's mural was demolished and replaced by, you guessed it, a parking lot.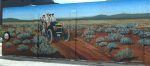 Alice Ramsey maquette and mural. Images courtesy the artist, John Ton.
No longer forgotten, we can thank trailblazing women like Alice for bringing us safer roads, better roadside cuisine, and larger trunk space.