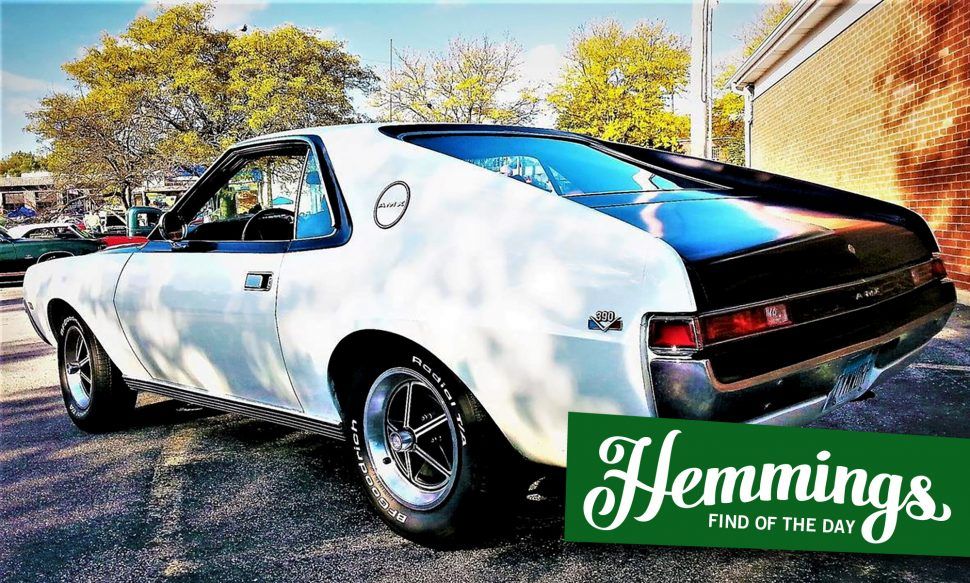 Hemmings Find of the Day: 1969 AMC AMX
1969 AMC AMX for sale on Hemmings.com, with the 390 cu. in. V-8 and optional Go Pack. From the seller's description:
Many hard core car buffs my not realize the AMX, shattered 106 national, and international, speed and endurance records, before it was introduced to the public, Feb 28th 1968 at the Chicago Auto Show, it was awarded the " BEST ENGINEERED CAR OF THE YEAR " by the American Society of Automotive Engineers.! The pictures and video tell much of the story on my rare and potent , 390 X code Go Pack , 1969 AMX. A certified, (with supporting notarized paper work), 56,922 mile AMX, once owned by a Top Fuel Dragster team owner / driver. Can be described as a combination of restored, and very well maintained original, benieth the undisturbed factory undercoating, rust free, and solid as they get, at 49 years and counting, ( note: paint style was inspired by a prototype AMC design , shown June of 1969, a similar paint version was a production option, in 1970 , as the shadow mask , see photo ) . Equipped with authentic group 15 front spoiler ,period correct long tube header's, Mallory dual point distributor, very rare 15″ Kelsey Hayes Magstar wheels dated 8 22 68 , replaced headliner, carpet, otherwise presents much as it was in 1969.
Factory optioned, with the robust 390 X code , rated at 425 ft. lbs of torque @ 2800 rpm, (all 390,'s were built with forged steel crankshaft's and forged steel heavy duty rods ), factory over ride traction bars, optional 3:54 "Twin Grip" gear, air conditioning with original recored date coded Blackstone radiator,and date coded original rebuilt dryer , converted to 134 A , quick ratio power steering, " Command Shift " automatic, (one of 2183 390 automatic's produced in 1969,,, 20% with factory air, a USAC certified as stock , 390 automatic AMX, under the control of one Craig Breedlove , was timed at over 200 MPH at Bonneville in 1969! ) , "GO PACK", performance option, included H.D. Cooling , sport tuned suspension. , power front four piston disc brakes, positraction, all in a highly detailed slick 3000 lb. package ! Functioning detail items , include, ( recent upgrade, tachometer upgrade to three wire "air coil", calibrated see pictures, same as NASCAR tach drive and accuracy ,maintains all O.E.M. looks with the added reliability of maintaining ignition even if tach fails, unlike O.E.M. set up which would render the vehicle inoperative if the 50 year old electronics failed. Backed by a six year warranty,) rare, " Weather Eye " factory air conditioning , with date coded recored original radiator, and date coded rebuilt a/c dryer, AM radio with indicator light, working clock, automatic trunk light, dash lights , interior lights, glove box light , headlight warning buzzer , back up lights,factory OEM hi,/ low , horn's , electric wiper's. and washer's, fully reclining leather seats, doors lock smoothly with the original key. Sure footed handling, big time torque and performance, (even by todays standards ) , heavy duty front sway bar, the right gear , power factory 4 piston disc brakes, factory a/c, make for a rare great driving experience, one of AMC's, and America's great classic performance machines !, feel free with any question's , Thank you for looking!
Price
$34,900
Location
WONDER LAKE, Illinois
Availability
Find more AMCs for sale on Hemmings.com.