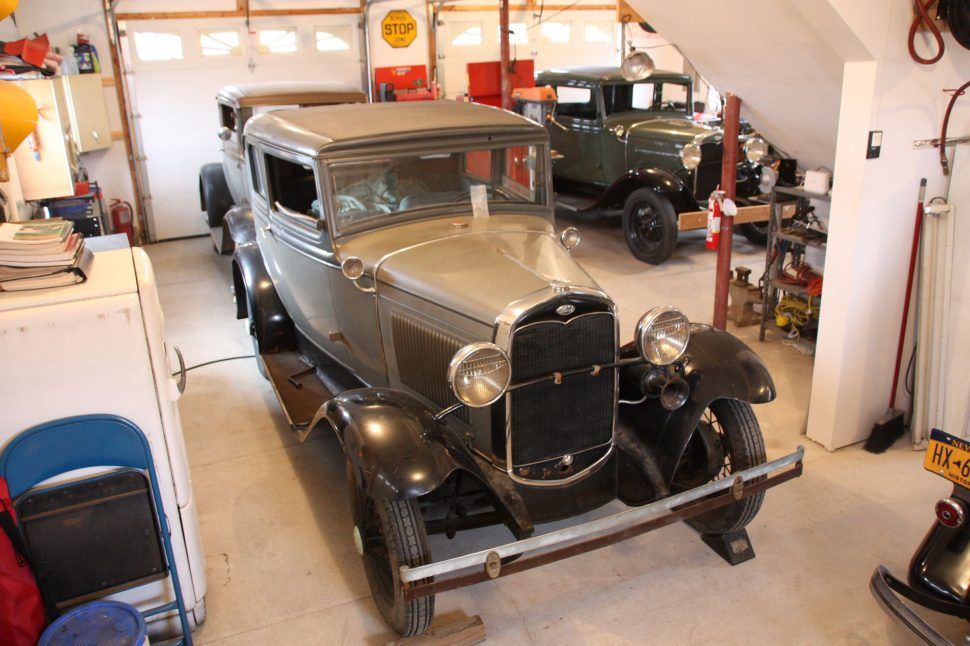 How the prewar Ford restoration business is evolving, as seen at Columbia Early Ford
If you're not into pre-WWII cars, or even if you are, you might expect the proprietor of an outfit specializing in early Fords to be at least 80 years old. After all, conventional wisdom says Model T's, Model A's, and Early Ford V-8's are only relevant to those who grew up with them, right? Not so at Columbia Early Ford. Owner Eric Jones is only 52 (though he's got 40 years' worth of experience with Model A's and early V-8's) and he largely doesn't mess with anything newer than 1953, when domestic production of the venerable Ford flathead V-8 ceased. On the day we stopped in, his workspace for customer cars and personal projects contained three Model A's and a '35 Ford. Columbia's facilities, which encompass three buildings, contained no car newer than a 1946 Ford Fordor.
The ardor for early Fords hasn't cooled, but it has changed and with it, the economics of the restoration business. Shops can support themselves these days working on Chevelles and Camaros, Mustangs and Torinos, and any Mopar with a 426 Hemi or potent wedge motor under the hood—but it's unlikely you'll find many really big operations turning out restored or hopped-up early Fords. Specialists that depend on a certain volume have dealt with that by expanding up into the muscle car era and beyond. Dennis Carpenter, for example, lists parts for Fords as new as 1979 now. Another big name in the early Ford hobby, Bob Drake, now deals in Fords as new as 1966.
Back in 2006, Dan Strohl talked to the early Ford suppliers at Dennis Carpenter, including the firm's namesake, who observed "We don't see any less interest in [early Fords] today. We just see less people spending big money to fix them up." Surely, the '70s and '80s saw many, many early Fords restored by those who remembered them when they were new or nearly so. The mania for those cars, on the back of which Hemmings grew to what it is today, was much akin to the muscle car craze that has ebbed and flowed since the '90s.
Dennis Carpenter's general manager, Harvey Alexander noted "You see people doing the least amount of stuff necessary. Most will basically leave the car alone. Mechanically, they'll get it running right. Cosmetically, they'll get it pretty, but we don't sell body welting like we used to, and most folks won't even remove the doors."
Part of that comes from the fact that, well, a lot of the better early Fords have already had extensive work done. Go to the right set of auctions and it's like you've stepped onto a used-car lot circa 1954—there are lots of aged restorations for sale. They don't need to be broken down and re-restored, but often they need some love to get back to their glory days. In many ways, the early Ford scene has come a full circle back to what it was in the 1950s, before the commodification of old cars, back when people restored cars as a hobby rather than as an investment.
Eric is a fascinatingly diverse guy—he's an English major that first made his living as a contractor specializing in historic preservation. He started Columbia "ten to fourteen years ago" with friend Byron Wyant, now 73, who today is an informal advisor to the business. You'll note how that timing coincides with the big guys mentioned above finding that frame-off restorations were no longer the bread-and-butter of the early Ford business.
Columbia came about almost by chance. When Eric plugged into his local chapter of the Early Ford V-8 Club of America, he discovered he was practically the youngest member by far and many older members were increasingly unable to do the physical work associated with keeping their cars in running, driving condition. He began making house calls to those members and helping out. It made him realize there was an opportunity in the offing.
Nowadays, Eric rarely makes house calls to doctor old Fords, but they're welcome at his clinic—a bright, clean, comfortable space (his past as a contractor allowed him to scavenge heating and A/C units for his shop) filled with '30s-'50s jazz music. The soundtrack, he explains, is "something I picked up in college when I used to hang around in art studios. It helps me think."
Eric says that both the parts business and the restoration work cater mostly to people freshening up previously restored cars or unrestored originals. The exception being the continued enthusiasm for early Ford-based hot rods, which are more often built up from parts long ago salted away by forward-looking restorers, removed by street-rodders, or simply saved by chance and subsequently scavenged by Eric and his network of contacts.
Hammering home this very point is Eric's personal '32 Ford, a rare Victoria body atop an original frame and slated to get a late flathead. The self-imposed timeframe for the technology and style of the car will be the 1958-'62 era—essentially the flathead's last hurrah before it was completely eclipsed by newer overhead-valve V-8's.
The venerable Ford "Deuce" holds a special place in Eric's heart. He has a particular niche of his business devoted to buying and selling '32 Ford parts. "I love buying '32 collections," he says. Eric's not the first guy to whom collecting parts is a big part of the hobby, but lucky for the rest of us, he's no hoarder. Everything except what's been earmarked for his Vicky is for sale. On our visit we immediately spotted many of those goodies, including several instrument clusters and a cherry K-member that Eric described as "pit free and maybe the nicest I've ever seen."
No longer are most of the cars under his care owned by older folks who can't work on them. Instead, they're often owned by the descendants of those folks who may not have the time or the mechanical inclination to do their own work but want to continue enjoying old Fords—or even the mechanically competent who just want an early Ford specialist to examine their car. The same is true of the people who buy parts from him—they're not the same people they were 20 years ago and while they may be do-it-yourselfers, they're not performing ground-up restorations but are instead maintaining and rehabilitating.
"This is the future of the business," Eric says, "Many small operations." He lists several small builders in New York's Capital Region. But while Columbia's physical scope may be regional, and many of its customers local, its reach is international thanks to the internet. Eric admits having become "the go-to guy" for many folks thanks to the service he provides. Service that he sums up as "the customer and the car getting the right amount of attention."