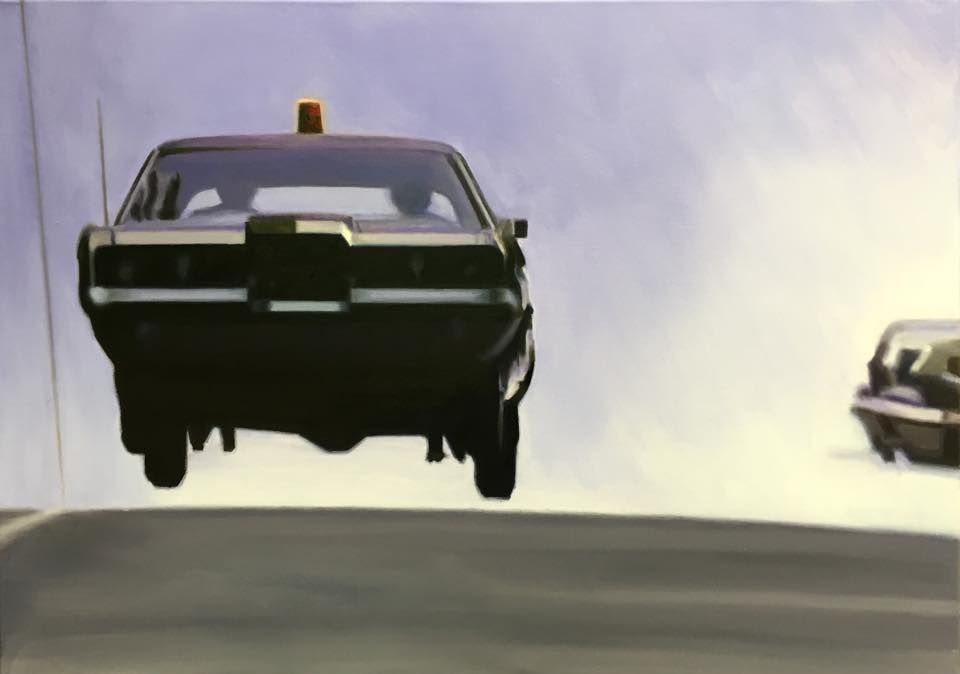 Making fine art of old detective television show cars with painter Ben Addison
The images of cars in motion that Ben Addison paints come across as both familiar and jarring. Sure, the settings, the lighting, even the cars themselves tickle at the "I've seen that somewhere" parts of the brains of anybody who's gorged on police and detective shows and movies of the Sixties and Seventies. The angles look right for a Hollywood production. That lens flare didn't just come from nowhere. Who'd just go and paint a 1971 Ford LTD with all four wheels off the ground?
But something else–mostly the motion, but also the lack of faces, the absence of specific information that would soothe that brain tickle–gives one reason to pause. The cars stand out from their backgrounds. The colors seem brighter, sharper. The narrative we expect has somehow been hijacked. And the cognitive dissonance increases when we realize that Ben is a London native now living in Dusseldorf, far from the world depicted in the paintings. What's the story here?
We reached out to Ben to get the lowdown on his series of automotive paintings ahead of his first exhibition in the U.K., "And… Action!" which starts on March 13 at the Ben Oakley Gallery in London.
Hemmings Daily: First off, tell us a little about your background and what drew you to painting in general.
Ben Addison: I was born and raised in London, Mum was a fashion designer/illustrator and Dad was an interior designer (e.g. Gatwick airport 1972). American pop culture and design have always affected my sense of aesthetics. I studied graphics and illustration in the Eighties but flunked as I was so involved in music. I pursued that for 30 years before moving to Germany and having a family. I'm still involved with music and have taught fashion illustration, English, drums and worked at Dusseldorf airport and various voice-over agencies before settling into English classes, recording and touring (Corduroy – Acid Jazz records) and painting. I've always wanted to paint, but work, fatherhood and not knowing what I wanted to paint have meant a late start. I've been painting in oils for almost four years; a painter friend bought me some oils and invited me to use his studio.
HD: These all appear to be scenes from American action movies from the Sixties and Seventies. You can almost hear the funk soundtrack to a lot of them. Are you painting individual frames from those movies? And what attracts you to those movies?
BA: I grew up in the Sixties with a lot of U.S. TV and cop shows were/are among my favourites: Streets of San Francisco, Kojak, Dan August, etc. U.S. car design has always fascinated me: the size, the lines, the details. Four years ago, I started snapping images from these shows on my phone and then with DVDs, picking the most interesting frames.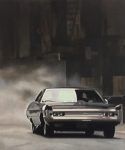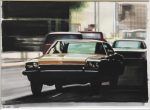 From left: "Into the light" and watercolor by Ben Addison.
HD: Outside of collector car enthusiast groups, how are cars like these perceived in the U.K. and mainland Europe? How are the action films that these cars appear in perceived there?
BA: I'd say pretty much all of Europe holds U.S. land yachts and muscle cars right up there in terms of design and coolness. Younger people regard period film and TV as amusing and old fashioned (inevitably), but a lot of my generation feel that Sixties design (clothes, hair, interiors as well as cars) still looks more mature, considered and exciting. Contemporary design departments seem to be full of people with less imagination and often training, than before.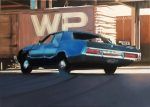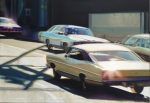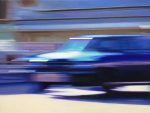 From left: "Harry up," "Don't call it Frisco," and "Two for one deal at Musso's" by Ben Addison.
HD: There's a lot of blur, a lot of motion that you're painting here. Is that just because you consider a car's natural state to be in motion, because it lends a sense of dynamism to the paintings, or do you have some other reason for avoiding the typical beauty shots of a car at rest?
BA: As a child, I'd draw vehicles with speed lines. Twenty years ago, I started researching Sixties book and magazine illustrators, learning about working from their own photographs. Four years ago, I realised that oil is the best medium for blending tones and colours and my first canvas was from a snap of the Charger in "Bullitt." Many people paint car portraits, but my interest is mainly in the everyday cars from the Sixties and Seventies, in motion. Whether the car or the background is blurred, the challenge is to focus on the individual shapes and how they relate to each other.
I paint these images because, yes, I find them cool but also each photo is out of context, so I have a completely different back story for each image. Apart from being eye candy, the paintings reflect a lost sense of style (especially in Europe), as the world emphasizes more and more the selling of products over the design and even functionality of them.
HD: I really dig the practice of stripping context from an image and re-interpreting it in your own way. Can you tell us some of the image backstories you've concocted?
BA: My approach is to encourage a new back story in the viewer's mind. But, for example, I cropped a snap I took of Connery and Luciana Pauluzzi (driving) in "Thunderball" so that it became a woman alone, driving at night, hoping her lover will be at her destination, instead of delivering Connery to his hotel after meeting (one of my favourite bad guys) Emil Largo.
HD: What kind of responses have your paintings received?
BA: I've had five exhibitions in Dusseldorf so far and currently have one piece in a South East London U.K. gallery as part of a joint exhibition.
At my first German exhibition I sold the Bullitt Charger immediately and since have sold several paintings with varying subjects.
The reaction has been positive here – a lot of interest in the subjects and image choices but new things in general happen slowly and I think things will move quicker in London.
HD: Would you entertain a show in the United States, or do you think that would be placing your paintings too close to their original settings and risk re-introducing some of that context you've stripped out of the paintings?
BA: I would love a show in the U.S. and have a couple of friends in San Francisco that may help it happen. I have no problem placing my work in original contexts as they are, amongst other things, my ongoing vision of a tribute to U.S. design and popular culture from that period.
"And… Action! Oil Paintings and Drawings by Ben From Corduroy" runs from March 13-29 at the Ben Oakley Gallery in Greenwich. For more information, visit BenOakleyGallery.com, Ben Addison's Instagram page, or Ben Addison's Facebook page.