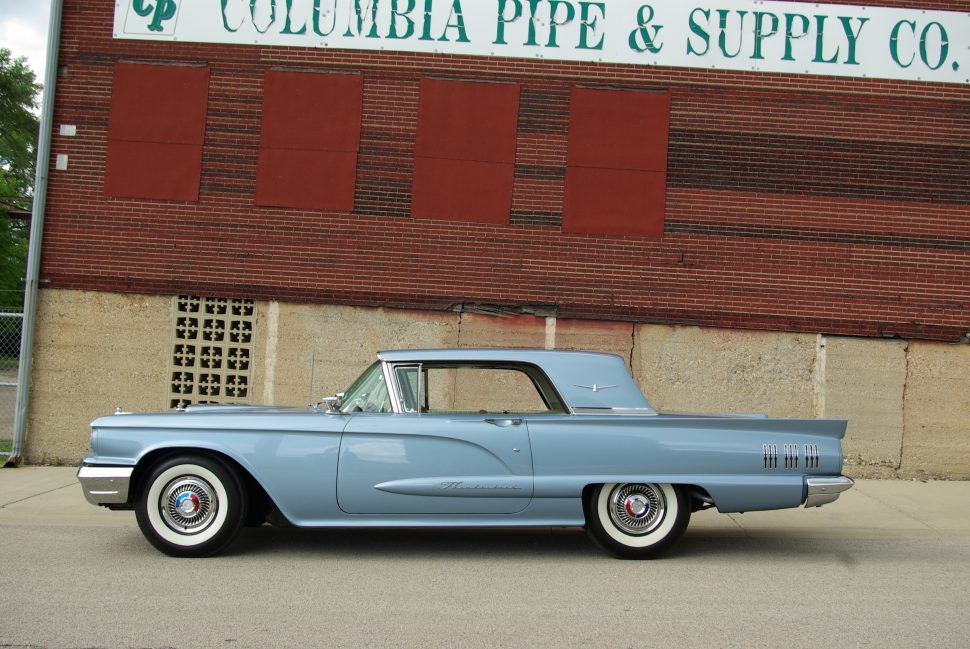 The Ford Thunderbird "Squarebirds" remain a masterpiece of Fifties Detroit design
Hot on the heels of the new Corvette, Ford introduced its 1955 Thunderbird to great fanfare and thunderous approval when the sporty two-seater premiered at the 1954 Detroit Auto Show. With its appealing shape, distinctive style and a 292-cubic-inch V-8 putting out either 193 or 198 horsepower, depending on transmission pairing, it was a huge success with 16,155 examples sold that first year. Compared to its crosstown rival the Corvette, which only attracted 700 buyers that same year, Ford hit a grand slam right out of the box. It seemed everyone wanted to own a new Thunderbird.
In preparation for its upcoming restyle for the 1958 model year, how could Ford possibly update the car while ensuring its continued sales success? Shocking as it seemed at the time, the Thunderbird was stretched to accommodate five passengers instead of just two. Ford's sanity was called into question, but clearly its marketing staff knew what they were doing. As shown by the following production figures, overall three-year sales of the new "Squarebird" were nearly 374 percent higher than the combined three-year production run of the ever lovable "Little 'Bird." The public loved the restyled Thunderbird and flocked to Ford showrooms throughout the country to get one of their own.
Early Thunderbird sales
First-generation
1955: 16,155
1956: 15,631
1957: 21,380
Total: 53,166
Second-generation
1958: 37,892
1959: 67,456
1960: 92,843
Total: 198,191
Throughout its existence, Thunderbirds have always been blessed with fantastic styling, cutting-edge design, and all-around inviting characteristics that are as distinctive as they come. Yet, as much as I appreciate the Little 'Birds of 1955-'57, they never really did much for me–that is, until I saw a black '57 fitted with blackwalls on American Torq Thrust wheels. Talk about transforming a car from a pretty little thing to menacing street fighter; all it took was a simple tire and wheel change. Now that's the tough expression that I like, and should an early 'Bird ever find its way into my garage, that's how it's going to look, except mine will be refinished in a rich navy blue with an interior covered in red leather, lowered slightly, with a solid lifter cam and dual Smittys' out back for a little music; it will most probably be the smaller '55 model. All else will remain the same. Oh, and a Sun tach will be strapped to the steering column.
The jet-aged inspired look of the 1961-'63 "Bullet 'Birds" remains quite radical to this day. I mean, who in their right mind still doesn't go "wow" whenever the back end of one of these dramatic machines comes into view? The 1964-'66 models are equally stylish in their own way, especially the Landau versions with their little extra dash of classiness. And unlike many enthusiasts, I sincerely believe that the 1967-'69 Thunderbirds are without question matchless in their styling, as unique as any car ever made. I've been wanting to own one ever since I first saw a brand-new gold four-door model parked on the streets in Brooklyn back in 1967, and still hope to someday.
But my all-time favorite Thunderbird has always been the Squarebird. For some reason, these cars press my button like few others can, perhaps, because Detroit's class of '58 is one of my favorite years in terms of styling. The cars were lower and wider, and the idiosyncratic four-headlamp front ends gave them a distinguished appeal that few other model years can ever hope to achieve. And right in the midst of these restyled gems sat the new four-seat Thunderbird.
In order to truly appreciate what the 1958-'60 Thunderbirds are all about, you have to stand back and look at them as individual models, and not compare them to the cute early 'Birds or the sleeker Sixties models. They are their own creation, endowed with inimitable shapes and exclusive design elements not seen on any other car of the era.
While the shape of the Squarebirds may appear to be a little bulky and somewhat awkward from some angles, once you get beyond that and start seeing all the not-so-subtle styling contours as their own objects, you will quickly appreciate the car as a sculptural masterpiece of Fifties Detroit design.
Any of the three Squarebirds would be a joy to own; however, it's the 1960 model, with its three-taillamp rear that's on my top-ten list of must-have American cars. In fact, the very car featured here, which I had the pleasure to drive a few years ago, is the ideal combination of perfect colors – Acapulco Blue Metallic and tan interior. For Squarebird lovers, it doesn't get much better than that.
Clearly Ford's advertising for "America's most individual car" was spot on when they stated: "New Ford Thunderbird seats four – now it's twice the fun to own one!"