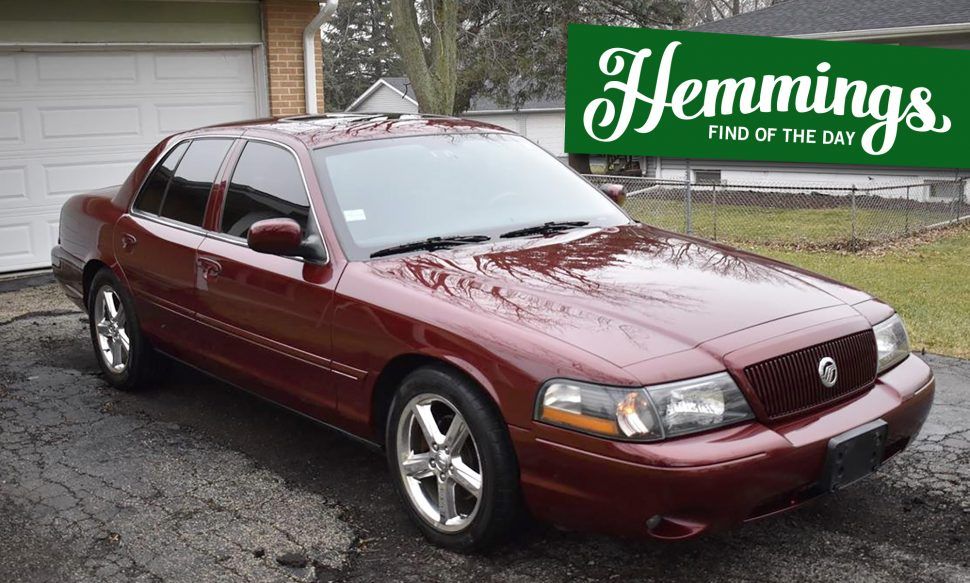 Hemmings Find of the Day: 2004 Mercury Marauder
It's a 2004 Mercury Marauder for sale on Hemmings.com. From the seller's description:
2004 Mercury Marauder. 2nd owner. 1 of 980 cars painted in Toreador Red which was only available in 2004. Purchased with 71K on it in 2014 from Heiser Ford Lincoln (in Milwaukee Wisconsin) who took it in from the original owner who, coincidentally, purchased it from them when it was new. It has been primarily used by me as a secondary vehicle in nice weather. I've only put 28K on it in the past 6 years. It has been well maintained. The factory recommends premium fuel so that's all that's ever been used in it. This is the same 4.6 engine that was used in the 2004 Mustang Mach 1. It has the 3:55:1 limited-slip police interceptor rear end, as well as the aluminum driveshaft. This is not the kind of car you drive because of its MPG rating. As I tell most people, it'll pass everything but a gas station. And because it's based on the comfortable Grand Marquis, it's pretty much a high-speed sofa.
Option-wise, everything works. Even the tape deck! New timing chains and guides were installed in March 2017. The air pump unit was replaced a few years ago for the shock system. The airbag was inspected at that time and deemed to be in good condition. It has newer tires and the brakes are good. Calipers are painted the same color as the body. The K&N cold air kit was installed on the vehicle by the 1st owner, The original air cleaner comes with the vehicle as well as the owner's manual and original DVD from the factory. It has an aftermarket sunroof that was also installed before I purchased it. Works fine with no leaks or issues.
The car has a few scratches on the rear bumper that were there when I bought it. There are other blemishes as well but overall, the vehicle shows nice. The interior has no rips or tears in the seats or the dash though there is a mystery stain on the edge of the passenger seat. I have never been able to figure out what it is or how to get it out. There is a small crack in the windshield that has also been there since I purchased it. I added some crack sealer just to be safe several years ago. It's never changed, leaked, or gotten larger so I've never considered it to be an issue.
Price
$10,500
Location
Tinley Park, Illinois
Availability
Find more Mercurys for sale on Hemmings.com