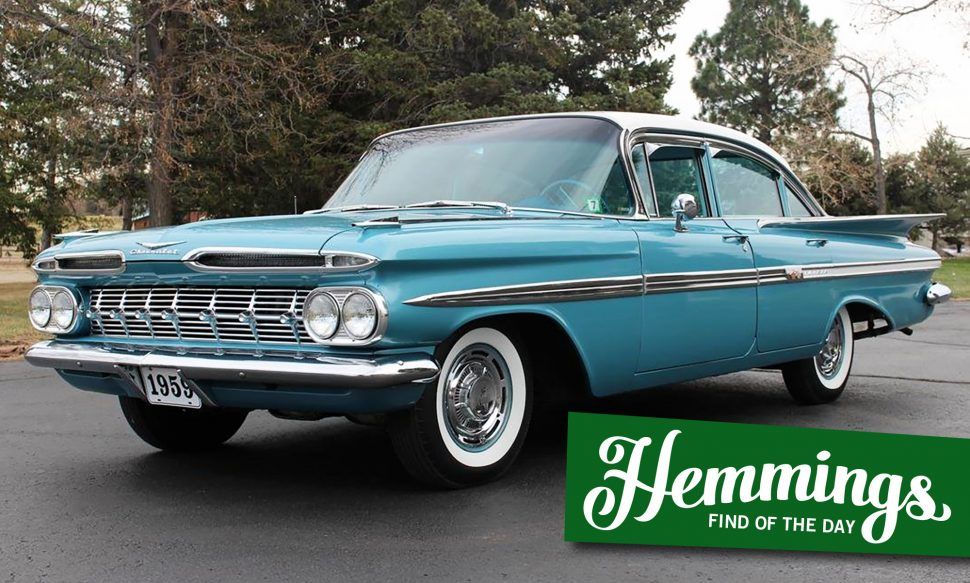 Hemmings Find of the Day: 1959 Chevrolet Impala
An interesting history comes with this 1959 Chevrolet Impala for sale on Hemmings.com. From the seller's description:
1959 Chevrolet Impala Sedan, Sold new in Montrose, Colorado to WWII vet Marvin McGaughey who was General Patton's private driver when he returned home from war. McGaughey retired in '59 and treated himself to this beautiful Impala. He would proudly own this car for 48 years until his passing in 2007. This Impala was cherished, driven only on special occasions and currently has 36,000 actual miles. His daughter has been its care taker for the last 12 years.
Every aspect of this Impala is original and immaculate. The paint has never been touched-up or even faded, all the bright-work is factory and the glass is original and perfect. The interior has had plastic covers on the seats, door panels and visors since day one. The dash, gauges and steering wheel looks like a new '59 Chevrolet. Every light, gauge, instrument and control work perfect…. like a new car.
Under the hood is untouched and factory. The Power-Pac 283 does not leak a drop and sounds like a sewing machine. Nothing has been repainted or touched up under the hood. The undercarriage is perfect with no undercoating or rust. The floors are red oxide and the frame still has most of its chassis black. Many factory inspection marks and stencils are still intact. This car retains its original exhaust system, T-3 headlamps and spare tire/jack. This car had all five original tires, but the four on the ground were unsafe. I have replaced the four tires with wide whitewall radials.
Included with this car is the original order form from Musgrave Chevrolet Inc. by Mr. McGaughey, sales invoice (showing a '54 Chevy trade), owners guide, warranty booklet, two sets of original keys with the dealers leather keychain and original temporary paper license plates.
To sum up this Snowcrest White over Crown Sapphire Impala, two words come to mind…TIME CAPSULE. This car is truly spectacular.
Price
$33,500
Location
ARVADA, Colorado
Availability
Find more Chevrolets for sale on Hemmings.com.